Jet.com Gets A Big New Funding Round — Now All It Has To Do Is Launch
The new online retail project from Diapers.com founder Marc Lore is getting plenty of hype from investors, even though it has yet to go live.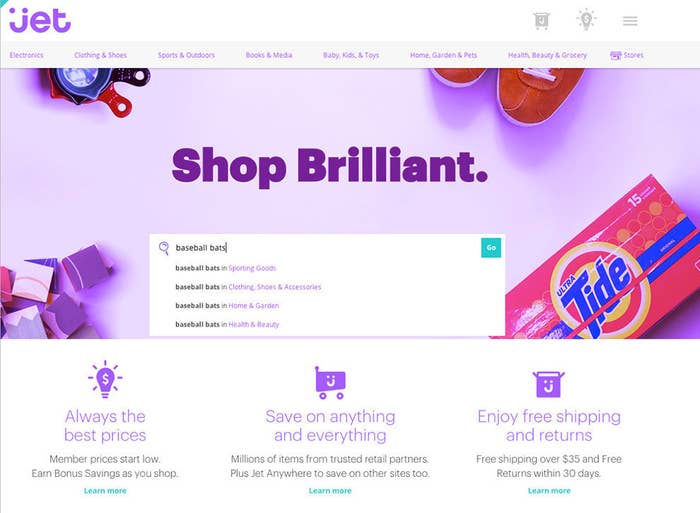 It turns out that promising to undercut Amazon — and the rest of the retail industry — in what could easily become the mother of all price wars is an attractive proposition to big investors.
Jet.com, the online retailing venture that promises to always offer the cheapest prices on the internet, announced on Wednesday evening it has raised a new $140 million round of venture capital, on top of the $80 million it had previously raised.
The fresh cash "will help us accelerate our ability to deliver on our core promise of radical price innovation in e-commerce," said founder Marc Lore in a statement posted to his blog. "We believe that there is big opportunity to deliver meaningful value to mass consumers by optimizing the underlying economics of online shopping and unbundling the embedded retail costs that drive up price."
The funding values the company at around $600 million, according to the Wall Street Journal, which was first to report the round.
That's a healthy valuation for an online retailer whose core promise is being extremely cheap, and particularly for one that has still not launched. It has signed up over 350,000 "Jet Insiders" who will have early access to try the site. It will open sign-up for the general public in the late spring.
Jet will operate as a members-only online service, charging an annual fee for subscribers to access its online marketplace. The company says it has developed a proprietary software system that will apply ever-increasing discounts to baskets of goods from third-party retailers that are plugged into its system.
"Jet is able to dynamically adjust prices in real time in response to the unique composition of a shopper's basket, always maximizing for cost-savings," said Lore. "Customers are seamlessly guided towards orders that are economically more efficient to fulfill. And because Jet only profits off the annual membership fee, the full benefit of that efficiency gets passed back to customers in the form of lower prices."
As BuzzFeed News reported in January, the company's big promise is simple: It will always be cheaper than all of the competition, including Amazon. Now all it has to do is launch, and deliver on that promise, and not get killed by Amazon in the process.