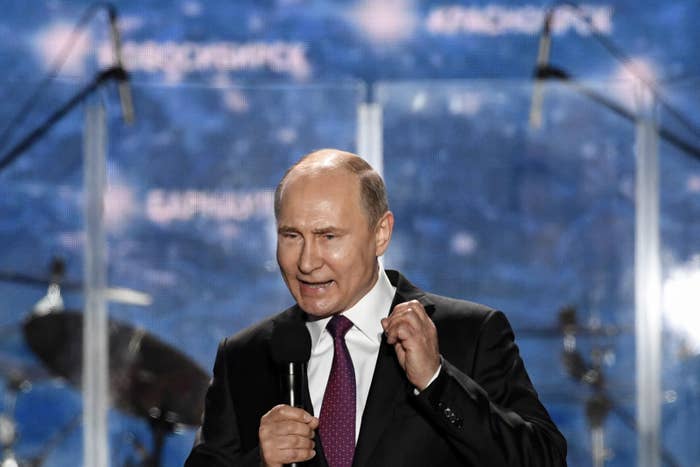 The Treasury Department this morning imposed economic sanctions on the 13 Russians who were indicted in February for meddling in the 2016 presidential election.
The sanctions were in direct response to the meddling, which involved creating fake personas of Americans who ran social media campaigns and organized rallies to boost Donald Trump's candidacy and weaken Hillary Clinton. The effort was run by the Russian Internet Research Agency (IRA), which also was indicted in February by special counsel Robert Mueller.
The sanctions appeared to support Mueller's indictment, which Trump sought to temper at the time by saying that it showed "no collusion" between his campaign and Russians. He even criticized his national security adviser, Army Lt. Gen. H.R. McMaster, for telling a conference in Germany that Mueller's indictment provided "incontrovertible" evidence of Russian interference.

On Thursday, however, senior officials seemed to be endorsing Mueller's conclusions without reservation.

The IRA "created and managed a vast number of online personas" and "posted thousands of ads that reached millions of people online, all while hiding its Russian identity," a senior national security official told reporters on a conference call.
Mark Warner, the ranking Democrat on the Senate intelligence committee, said in a statement that the sanctions are a "welcome, if long-overdue, step by the Trump administration to punish Russia for interfering in the 2016 election" but that they "do not go far enough."
Noting that most of the people and organizations sanctioned today by Treasury had already been sanctioned or indicted, Warner said, "With the midterm elections fast approaching, the administration needs to step it up, now, if we have any hope of deterring Russian meddling in 2018."
The Treasury Department also imposed new sanctions on two Russian security agencies for their role in a devastating cyberattack last year that started in Ukraine and spread around the world, causing billions of dollars of damage.

"The Administration is confronting and countering malign Russian cyber activity, including their attempted interference in U.S. elections, destructive cyber-attacks, and intrusions targeting critical infrastructure," Treasury Secretary Steven T. Mnuchin said in a statement. "These targeted sanctions are a part of a broader effort to address the ongoing nefarious attacks emanating from Russia."
Asked by a reporter this morning whether Trump would speak about Russia's election meddling, a senior national security official said, "I'm not in any way qualified to answer that question," and added, "I'll leave that to his communications team." Trump repeatedly has denounced Mueller's probe as a "hoax."
The sanctions related to election meddling were imposed under an executive order initially signed in 2015 by President Barack Obama and renewed by Trump a year ago. They freeze US assets of the targeted individuals and companies, and prevent US residents from doing business with those individuals and companies.
The sanctions mark one of the boldest moves by the Trump administration in response to the 2016 election meddling. Among those sanctioned were Yevgeny Prigozhin, a close associate of Russian President Vladimir Putin whom Mueller called the financial force behind the IRA. The US government previously had imposed sanctions on Prigozhin, but the other 12 people who worked on the meddling operation were being sanctioned for the first time.
The sanctions against the Russian security agencies were imposed under a law enacted in August aimed at forcing the White House to penalize Russia, Iran, and North Korea. Sanctions are being imposed against Russia's military intelligence agency, the GRU, which "was directly involved in interfering in the 2016 election through cyber-enabled activity," a senior national security official said.
The Obama administration previously imposed sanctions on both the GRU and Russia's primary law enforcement service, the FSB, after Russia annexed part of neighboring Ukraine in 2014.
"This is a series of actions, and we'll continue to pressure Russia to change their behavior," a senior national intelligence official said.
The sanctions come a month after the White House promised "consequences" when it declared Russia responsible for authoring the NotPetya malware, regarded as the most costly cyberattack in history.
"The Russian military, of which the GRU is a part, was also directly responsible for the NotPetya cyber-attack in 2017," the Treasury Department's statement said.
Taking the form of ransomware — a malicious program that takes over a computer and demands payment in bitcoin before leaving the user alone — NotPetya was originally deployed in Ukraine in June 2017. It quickly infected Windows systems around the world, bringing entire multinational corporations to a halt: Danish shipping giant Maersk had to reinstall 45,000 computers, and all employees at pharmaceutical giant Merck couldn't access their email accounts for days.
In February, nations in the Five Eyes alliance — the US, UK, Australia, Canada, and New Zealand — took the unprecedented step of each publicly accusing the Russian government of authoring NotPetya.
Earlier this year, Democrats criticized the Trump administration for not imposing additional sanctions against Russia under the 2017 law. The administration said at the time that the mere threat of sanctions under the law was sufficient.
Collier reported from New York.