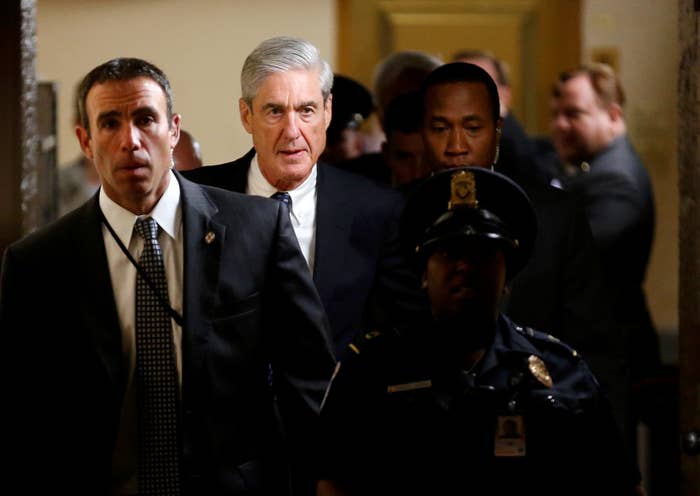 WASHINGTON — Senate Republicans said Tuesday that they don't believe Donald Trump will interfere with special counsel Robert Mueller's investigation and gave no indication that they would try immediately to protect Mueller from being fired.
The day after Mueller announced two indictments and a guilty plea, Senate Majority Leader Mitch McConnell told reporters that he has no plans to push bipartisan legislation that would make it harder for a president to remove a special prosecutor. "We've got plenty of things we have to do between now and the end of the year that will take up floor time," he said.
Other Republicans, including Trump critics, said they don't see an immediate need for legislation that would require judges to approve a special counsel's dismissal.
"There'd be such an outrage over it. I don't even think it's a reality," Sen. Bob Corker of Tennessee told reporters about the possibility that Trump would try to have Mueller removed. "The large majority of people on our side of the aisle would not want to see any interference."
Sen. John McCain, an Arizona Republican who has sharply criticized Trump, also downplayed the possibility that Trump would intercede. "I doubt that's going to happen," he told reporters.
"There'd be such an outrage over it. I don't even think it's a reality."
Democrats in the Senate disagreed and emphasized the risk of presidential interference as they tried to build support for two bills introduced in August after Trump said he would object if Mueller began investigating his family's finances.
"We're on the cusp of a major constitutional crisis," Sen. Richard Blumenthal told BuzzFeed News. Blumenthal, a Connecticut Democrat and a sponsor of one of the bills, said Trump's comments about Mueller "indicate he may take action to fire the prosecutor if he feels the investigation is coming too close."
Mueller announced Monday the indictment of Paul Manafort, who was chairman of Trump's campaign from May 2016 to August 2016, and Manafort's business partner Rick Gates for alleged financial crimes between 2006 and 2015 related to their work advising a Ukrainian political party. Mueller also announced that George Papadopoulos had pleaded guilty in early October to one count of lying to the FBI about his contacts with Russians while he was advising the Trump campaign on foreign policy.
Deputy Attorney General Rod Rosenstein named Mueller, a former FBI director, special counsel in May to investigate any collusion between the Trump campaign and Russian officials involved in Russia's interference with the 2016 election.
Stephen Vladeck, a University of Texas law professor who testified at a Senate hearing in September about the two special-prosecutor bills, told BuzzFeed News that the legislation would not progress until Republican leaders believe such action is necessary.
"The bills are not going anywhere until someone like [Majority] Leader McConnell thinks the politics are such that they ought to go to the floor," said Vladeck, who supports the bills. Vladeck said Trump's actions toward Mueller would depend on how close the investigation gets to the president, and on Trump's assessment of "the blowback of shutting it down."
One of the special-prosecutor bills, sponsored by Sen. Lindsey Graham, a Republican, and Democratic Sens. Blumenthal, Cory Booker, and Sheldon Whitehouse, would require a panel of federal judges to approve an attorney general's request to remove a special counsel. The other Senate bill, sponsored by Republican Thom Tillis of North Carolina and Democrat Chris Coons of Delaware, would require the attorney general to prove to a panel of judges that he or she had fired a special counsel for good cause.
The bills would take current Justice Department regulations protecting special counsels and make them law. The concern among scholars and lawmakers is that because those rules are controlled by the executive branch, an administration could rewrite them to enable a president to fire a special counsel.
Graham told reporters Monday that he saw no "urgent need" to pass his bill. "I don't think anyone in their right mind at the White House would think about replacing Mr. Mueller," Graham said, according to Time magazine.
Booker disagreed, telling BuzzFeed News that his bill is a "common-sense, credible way to go, not just for this president but for presidents 20 years from now, 40 years from now." He declined to speculate whether he thought Trump would fire Mueller, saying, "I have learned not to make any predictions about Donald Trump."