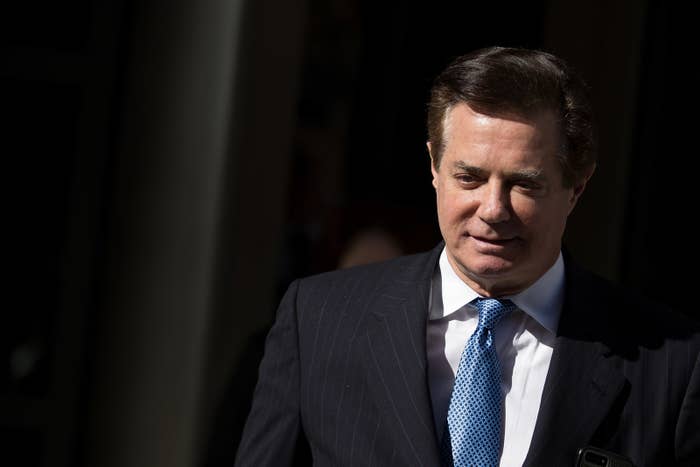 President Trump's former campaign chairman Paul Manafort was an early target in Robert Mueller's investigation into Russian election interference, according to a newly released Justice Department memo.
Deputy Attorney General Rod Rosenstein told Mueller in August 2017 that he was authorized specifically to investigate allegations that Manafort colluded with the Kremlin in its interference in the 2016 presidential election, and that Manafort received money illegally from Ukrainian politicians he represented from 2006 to 2015.
The classified memo provides the first official confirmation that the Justice Department considered President Trump's former campaign chair central to the special counsel probe that has yielded five guilty pleas and the indictment of 13 Russians.
The Justice Department filed the memo in court late Monday to rebut Manafort's efforts to have the criminal charges against him dismissed. Manafort contends that Rosenstein's appointment of Mueller in May 2017 was illegal and that Mueller had exceeded the investigative authority that Rosenstein provided.
Mueller has charged Manafort with a series of crimes including money laundering and bank fraud in connection to his work for pro-Russian officials in Ukraine before he joined Trump's presidential campaign in March 2016. Manafort was campaign chairman from May 2016 to August 2016.
The copy of the Rosenstein memo filed in court covers three pages and is heavily redacted other than the allegations against Manafort that Rosenstein authorized Mueller to investigate. Rosenstein wrote the memo on Aug. 2, 2017, two and a half months after he appointed Mueller, a former FBI director, as special counsel.
Rosenstein's May 17, 2017, appointment order is written broadly — and vaguely — to give Mueller wide authority and to allow the order to be released publicly. The order authorizes Mueller to investigate possible coordination between the Kremlin and Trump associates and "any matters that arose or may arise directly from the investigation."
The August memo, which had been secret until Monday, provides a more specific description of Mueller's authority and lists at least a page and a half of specific allegations that Mueller can investigate.
In a legal brief accompanying the memo, Mueller says Manafort's indictment "falls with within the Special Counsel's authority." The brief and the memo also show Rosenstein's support for the investigation, even as he's come under fire from President Trump.
"Every key step in this case—including the investigative path and the Indictment itself—has been authorized by the Acting Attorney General through ongoing consultation," Mueller wrote in the filing.