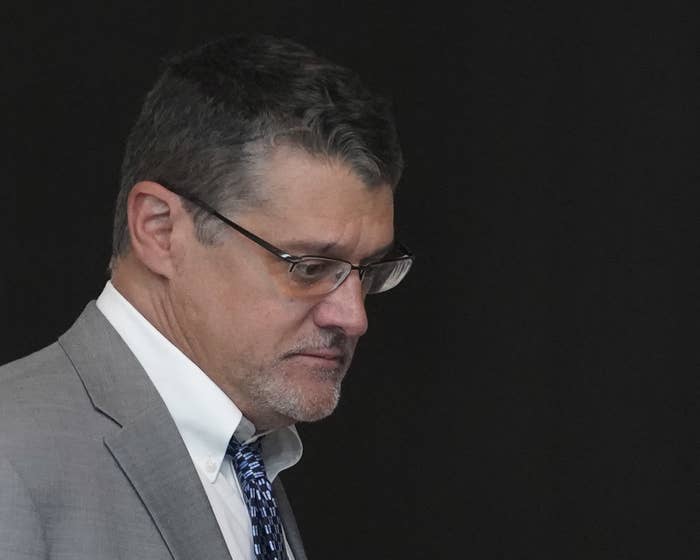 The head of a research firm that investigated presidential candidate Donald Trump for more than a year has told congressional investigators that his research into Trump real estate sales revealed "patterns of buying and selling that we thought were suggestive of money laundering."
Glenn Simpson, a former Wall Street Journal reporter who founded Fusion GPS, told the House Intelligence Committee in November that his investigation of Trump businesses and their possible connection to illegal transactions bore further study, though he deferred when asked if he'd found "evidence" of money laundering. "'Evidence' is a strong word," he said.
A transcript of his appearance was released late Thursday.
The Trump Organization dismissed Simpson's allegations as "false, reckless and irresponsible."
Simpson's firm produced a now-famous intelligence dossier, published last year by BuzzFeed News, that alleges a "conspiracy of cooperation" existed between the Trump campaign and the Kremlin. His remarks to House members were the first time, however, that he'd addressed his suspicions about money laundering — an issue that is gaining increasing attention.
BuzzFeed News reported earlier this month that 21% of Trump condos in the US were sold to shell companies that paid cash. Those two characteristics – shell companies buying properties without a mortgage – are warning signs that buyers may be engaged in possible money laundering, the Treasury Department says. The sales, which dated to the 1980s, generated a total of $1.5 billion, BuzzFeed News found. They include condos that Trump developed and sold himself, as well as condos developed by others in Trump's name under licensing deals that pay Trump a percentage of each sale.
In his November interview, Simpson encouraged the intelligence committee to issue subpoenas to the developers of seven Trump-licensed condo high-rises that were built along the beach in south Florida between 2003 and 2010. BuzzFeed News found that one-third of the condos in those buildings were bought by cash-paying shell companies, and the buyers paid a total of $556 million for 536 units.
Simpson said he "began to conclude" that Trump attracted development partners, who would finance high-rise condos, by "telling them we've got lots of Russians who are going to buy these properties, and that's why we should do this project."
After the Simpson transcript was released late Thursday, Rep. Jackie Speier, a Democrat on the intelligence committee, told CNN, "I think there is plenty of evidence to suggest that there has been money laundering going on in many of the real estate deals that were done by the Trump Organization."
Trump has denied any collaboration with Russians, who meddled in the 2016 presidential election, and has called Simpson's dossier "made up" and "fake."
In an email to BuzzFeed News, Trump Organization lawyer Alan Garten said Simpson "has already admitted to spreading unsubstantiated and ultimately baseless information. It's no wonder why he is being sued for defamation. Having found no evidence of collusion, this is yet another attempt to divert the public's attention."
While much of the House interview with Simpson covered familiar ground, parts of it were surprising in their detail as Simpson explained how he came to hire a former British intelligence officer to investigate Trump's dealings in Russia and why he trusted the officer's findings.
Unlike Simpson's interview with the Senate Judiciary Committee, in which staff questioned him about unrelated work Simpson did for a law firm defending a Russian company accused of money laundering, House members focused on Trump's businesses and his possible ties to wealthy Russians.
Simpson made a previously unreported allegation against a Soviet-born real estate broker who handled dozens of sales at Trump-licensed high-rises in Miami. He called Elena Baronoff "a suspected organized crime figure" with links to a businessman in Sicily who "has a lot of interesting relationships with the Russians as well." Baronoff died in 2015.
Simpson's Nov. 14, 2017, interview was voluntary, and he fielded questions from both Democratic and Republican members of the committee. The questioners included Republicans Mike Conaway of Texas, Tom Rooney of Florida, Trey Gowdy of South Carolina, and Mike Quigley of Illinois, as well as Democrats Speier and Adam Schiff of California, the senior Democrat on the committee.
Simpson raised questions about the funding sources for the development of some Trump-licensed condos in the US and abroad. He said that in some projects, the developers were able to attract commercial financing by overstating the number of units that had been sold in the initial phases of a development. Simpson cited the Trump SoHo, a development in lower Manhattan in which Trump had an 18% interest.
A lawsuit filed by some early Trump SoHo purchasers alleged that the developers, as well as Donald Trump Jr. and Ivanka Trump, overstated sales to inflate prices. The Manhattan district attorney's office reportedly investigated and brought no charges. Trump settled the lawsuit by paying the plaintiffs $2.8 million to refund most of their payments, according to a news report.
CORRECTION
Simpson previously met with the Senate Judiciary Committee and was interviewed by committee staff. A earlier version of this post misidentified the committee, and said that senators conducted the interview.