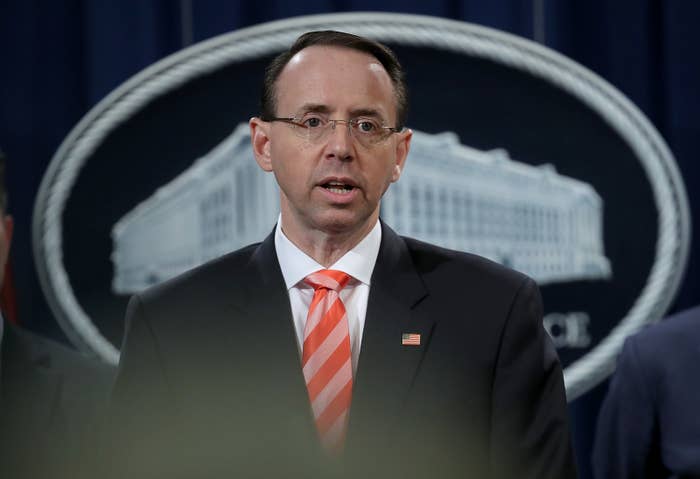 A senior White House official tried to tamp down on speculation that Deputy Attorney General Rod Rosenstein would soon be fired by President Donald Trump, saying that his supposed firing only "was imminent to the press and the echo chamber."
"I don't think it's likely to happen," said the source, who spoke on the condition of anonymity. The source declined to elaborate on Trump's thinking or to speculate on other possible personnel moves.
The source's comments came as White House press secretary Sarah Sanders also again said on Sunday that she wasn't aware of any imminent plans, and Republican Rep. Trey Gowdy said he didn't "see a basis" for the deputy attorney general's firing.

Trump triggered the speculation on Monday when he criticized Rosenstein and special counsel Robert Mueller after the FBI raided the office and hotel room of his longtime personal lawyer Michael Cohen. Trump has recently lashed out on Twitter against the Department of Justice and Rosenstein. On Capitol Hill, Republicans are irked with the DOJ and Rosenstein, accusing them of slow walking document production to committees. White House officials have started to hint that should Trump fire Rosenstein, the document issue would be the justification why.
Asked on Monday why he didn't fire Mueller, Trump replied, "If you know the person in charge of the investigation, you know about that, Deputy Rosenstein — Rod Rosenstein." Rosenstein appointed Mueller and oversees Mueller's investigation into Russian meddling in the 2016 presidential election and possible coordination with the Trump campaign.
Trump continued his attack on Wednesday, criticizing Rosenstein on Twitter for having approved an FBI request for a warrant to monitor Carter Page, a former Trump campaign adviser.
The source's comments to BuzzFeed News came shortly after leading Republican lawmakers publicly urged Trump not to fire Rosenstein or Mueller.
Gowdy, the chair of the House Oversight and Government Reform Committee, told Fox News Sunday that it would be "legitimate" for Trump to be upset if he believed Rosenstein "was not producing documents to Congress." That was a reference to Republican complaints that Rosenstein was slow to give lawmakers an unredacted copy of the document that triggered the FBI's investigation of the Trump campaign and Russia.
But if Trump wants to fire Rosenstein "to get at Bob Mueller," Gowdy added, "I don't think that's appropriate."
"As for Rod Rosenstein, I don't see a basis for firing him in his handling of this probe," Gowdy said.
Maine Republican Sen. Susan Collins and House Speaker Paul Ryan, appearing separately on other interview shows, urged Trump not to interfere with Mueller's investigation.
Sanders said on ABC's This Week that she was "not aware of any plans" to fire Rosenstein or Mueller. But she added, "We do have some real concerns with some of the activities and some of the scope that the investigation has gone."
Sanders' comments Sunday were similar to what she said on Tuesday, the day after the raid, when she told reporters that she hadn't "had any conversations" with Trump on whether he had discussed firing Rosenstein or Mueller.