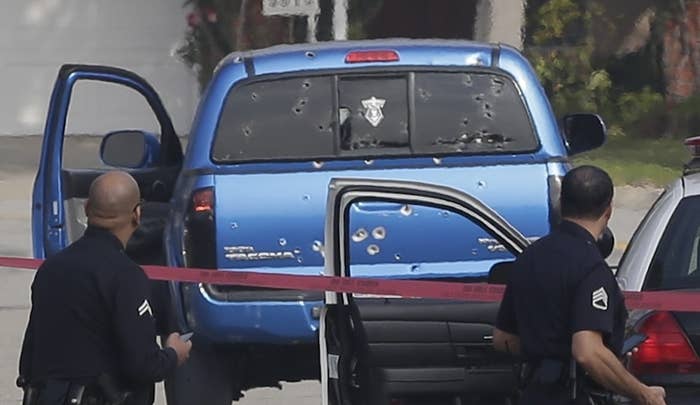 "I will bring unconventional and asymmetrical warfare to those in LAPD uniform whether on or off duty," Christopher Dorner threatened in a manifesto posted online. LAPD Chief Charlie Beck called the ex-LAPD officer's rampage, a "vendetta against all of Southern California law enforcement."
Dorner is believed to be responsible for at least three deaths so far, and southern California law enforcement are scared for their own lives and the lives of their families — so scared that they may be shooting innocent people.
Already two innocent women driving a car similar to Dorner's have been shot by anxious police officers. Beck confirmed that at 5:15am on Thursday officers fired on a vehicle matching the description of the suspect's. "Tragically, we believe that this was a case of mistaken identity by the officers," Beck said Thursday.
Beck described the shooting as occurring within the patrol area of one of the security details dispatched to protect those threatened by Dorner's manifesto, "one of the people that was under the most serious level of threat," Beck said.
He continued, "The LAPD officers assigned observed a vehicle matching the suspect's vehicle driving down the street with the lights turned out. Officers approached the vehicle and an officer-involved shooting occurred. Individuals in that vehicle were hit by gunfire; both were transported to the hospital."
Those women, it appears, were delivering newspapers.
One of the victims sustained a minor gunshot wound, and is in the process of being released. Beck said the second victim is "in stable condition" with two gunshot wounds.
The L.A. Times is reporting a second shooting, with no injuries involved, also took place in Torrance this morning.
Speaking of Dorner, Chief Beck said, "He knows what he's doing — we trained him. He was also a member of the armed forces. It is extremely worrisome and scary — especially to the police officers involved."
"We have a trained and heavily armed person who is hunting for police officers," Chief Sergio Diaz of the Riverside Police Department said, sounding a similar note at separate a press conference Thursday morning. "This is somewhat unprecedented."
Asked whether or not police consider themselves under attack, Riverside Lt. Guy Toussaint answered, "Yes I do."