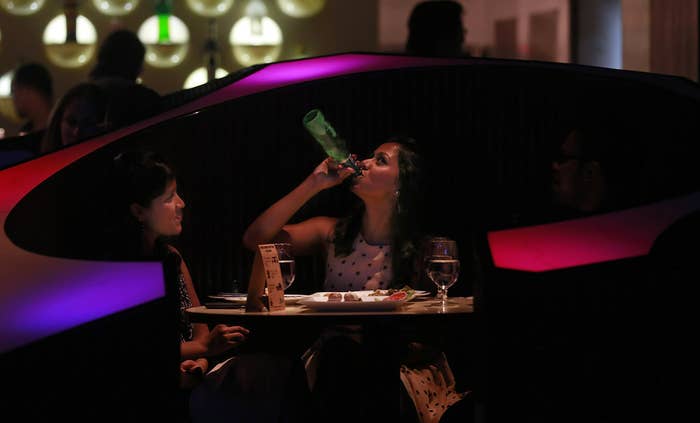 Of the 814 million Indians eligible to vote from April 7 to May 12 in the world's largest election, more than 378 million are between the ages of 18 and 35.
More than 100 million people have been added to the electorate since 2009. A majority of these first-time voters are young, urban Indians who spend most of their waking hours on the internet. A group that once flaunted their views as "nonpolitical" on Facebook now post and tweet about little other than India's general elections and the men primed to lead the world's largest democracy.
While voter turnout among young voters has traditionally been less than the average, this election could change that. And if their tweets translate into actual votes, these young, educated, and ambitious Indians could transform the political landscape.
Here are three reasons why India's young, educated elite finally appear to have caught election fever:
1.
The candidates running for prime minister:
Each of the two men in the running to become India's prime minister are divisive choices, and have essentially driven the online and offline discourse about this election.
Narendra Modi, the candidate for the right-wing Bharatiya Janata Party, is the man favored to win in polls.
Modi, a Hindu nationalist, was in charge of Gujarat during the state's 2002 communal riots, which killed 1,000 people, mostly Muslims.
Modi's name was cleared in an investigation ordered by India's Supreme Court. But his role during the riots and their aftermath is still subject to contentious debate.
Modi is a powerful and provocative orator, and his persona of a humble tea seller turned potential prime minister has captivated many. Young, middle-class Hindus, tired of an incompetent government, also seem attracted to his model of economic development and clean governance.
Modi's opponent, the heir apparent of India's largest political dynasty and the ruling Congress Party's prime ministerial candidate, lacks Modi's controversial past — and his charisma. Rahul Gandhi, however, gets his share of the spotlight owing to his "brain farts" and ill-preparedness in interviews.
The young scion's inexperience make him a weak contender to lead India but a great candidate for internet memes.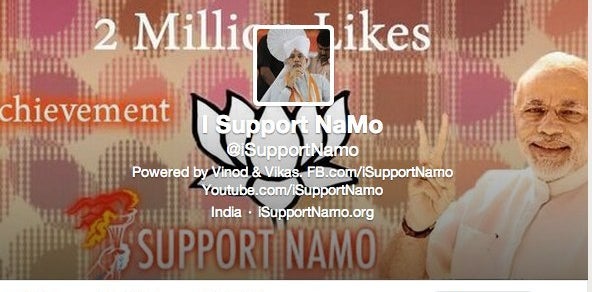 There are estimated to be more than 100 million active Facebook and Twitter users in the total electorate of 800+ million. At 10%, internet penetration is low in India, but according to a Google survey last October, four out of every 10 urban Indian voters are online.
The most visible chunk of India's virtual vote bank is a collective of right-wing, pro-BJP, Modi worshippers who have been branded the "Internet Hindus."
Often described as trolls and "Moditards" by liberals and anti-Modi factions, this faction has dominated much of the election's social media landscape. (Modi himself has an active Twitter account, with 3.6 million followers.) Their loyalty to Modi, or NaMo as he is popularly referred to, is as impenetrable as their contempt for those whom they refer to as "sickulars" or "pseudo-secularists."
Many of them, like @ISupportNaMo (25.8K followers) and @ModiArmy (88.2K followers), mobilize their army of supporters into trending pro-Modi hashtags such as #AbKiBaarModiSarkaar (this time it's Modi's government), and #ModiManifesto.
Browse through the comments section of any online article or blog post that is even slightly critical of Modi, and you will find it filled with rabid insults for the writer and impassioned defenses for Modi.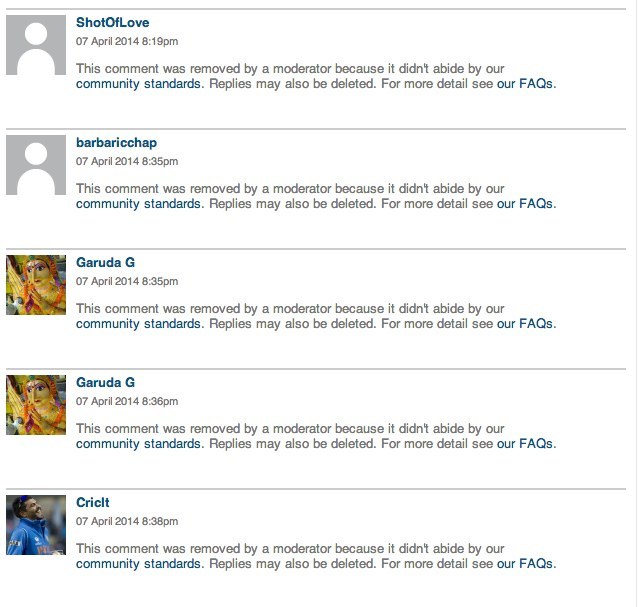 Thane Richard, a writer and founder of the Dabba, an independent digital radio station covering Indian culture and politics, said he expected the raucous response to his viral piece on Modi in Quartz: "India crosses the moral line of no return if Narendra Modi becomes prime minister."
The story was widely shared by Modi's detractors and torn apart by his loyalists. In an email to BuzzFeed, Richard said, "Sadly, the responses I got were pretty on par with what I expected. I see the knee jerk reaction amongst many Indians when it comes to disagreements, especially political, to criticize the speaker rather than the argument."
Social media also played a huge role in the popularity of the Aam Aadmi Party (Common Man Party) or AAP, founded in 2012 by anti-corruption activist-turned-politician Arvind Kejriwal. Kejriwal's media savvy and online campaigns were crucial to his victory in becoming the chief minister of Delhi. He resigned 48 days later, but AAP is set to cause a small yet significant dent in the general elections. Kejriwal has more than 1.5 million followers on Twitter and tweets at least twice a day on average.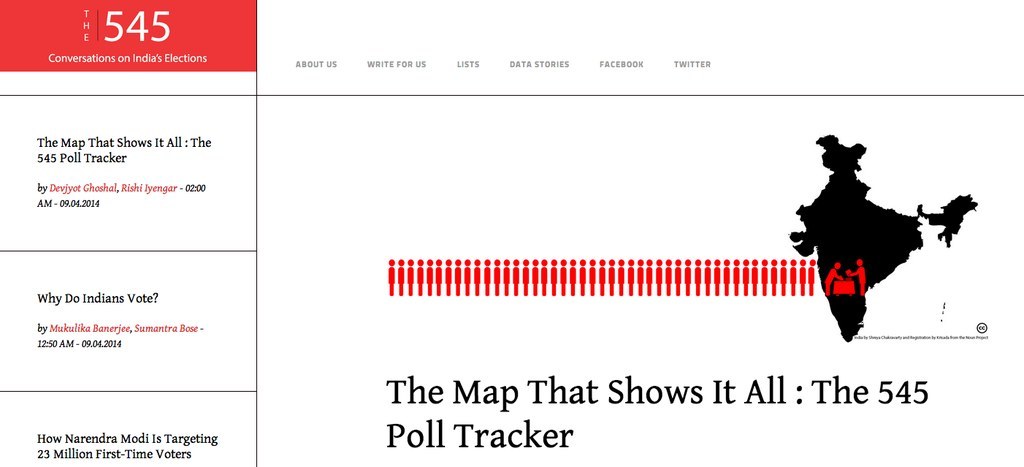 Early this year, six Columbia Journalism School students from India started The 545, a website that focuses on the Indian general elections.
The audience for The 545 was intended to be "people exactly like us," Anand Katakam, one of the founders, told BuzzFeed, referring to his co-founders, the youngest of whom is 21 and the oldest, 28. "It was based on the question, 'What would I share with my friends online?'"
Katakam, 23, said he follows the elections closely through his Twitter feed, but believes that social media has been more of an advantage to politicians to engage with, and hear from, the public directly. Which is why political parties executed social media campaigns and used a significant portion of their ad spends on digital marketing.
Various YouTube videos, using humor and/or music to support, resist, or lampoon parties and candidates, have also driven online political engagement. This video, made by a popular comedy collective about how the Indian political discourse "would make Gandhiji turn in his grave," has over a million views.
A Delhi-based reggae band's music video, expressing concerns about the impact of Modi's nationalistic policies on artistic freedom, gained nearly 15,000 views in two days.
3.
Social justice: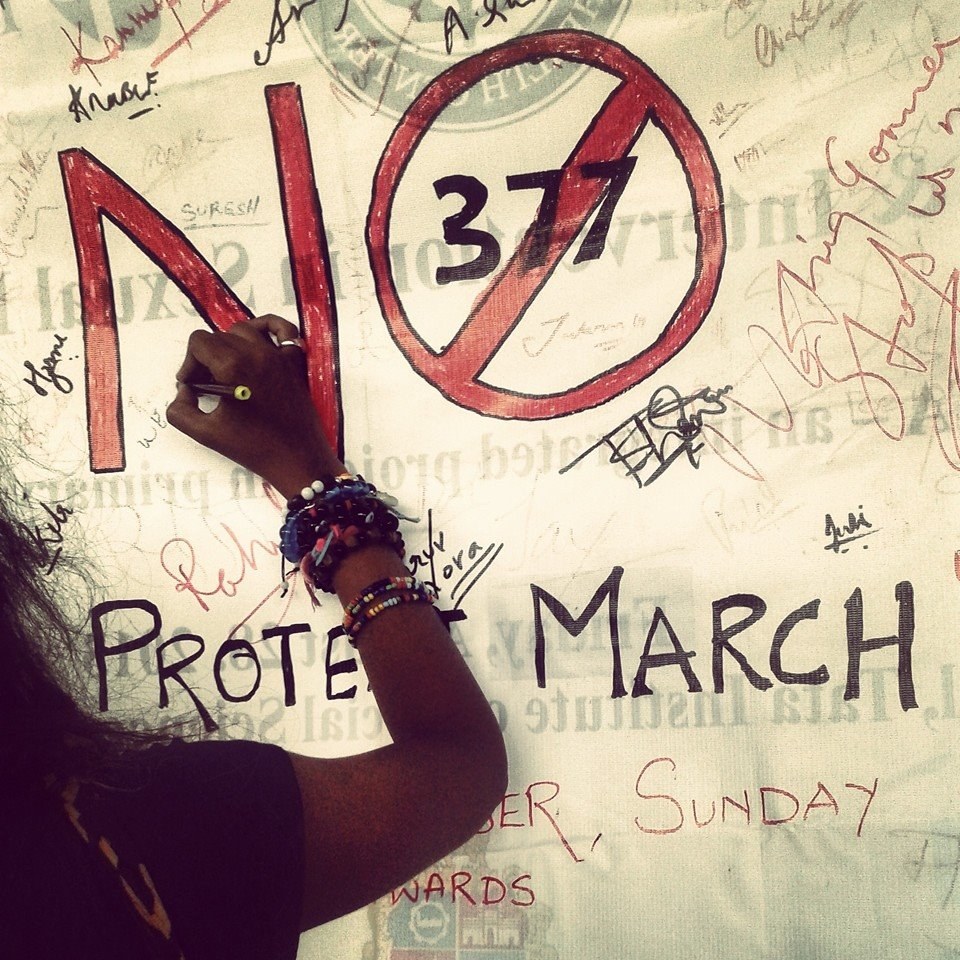 Another indicator of young adults' stake in the elections is their recent transformation from armchair activists to visible advocates for social issues. They were at the forefront of the public outcry after the horrific Delhi gang rape in 2012 and were rewarded with reformation in India's rape laws. Their anti-corruption crusades and demonstrations to decriminalize homosexuality have caught the attention of political authorities.
The collective outrage over India's poor record of handling rape cases acted as a catalyst for gender justice and equality to become a major election issue. Indian women account for 48.5% of the electorate, and young, urban women are the driving force behind the movement for gender reforms. A "Womanifesto," created by women's rights activists and lawyers, was promised a place in party agendas.
In this op-ed, Shashi Tharoor, a prominent Indian minister, described the huge number of first-time voters as a "youthquake" that could revolutionize "forms of political engagement, the expectations from government, and the political landscape itself."
Tharoor said, "India's growth story can be written by these first-time voters in the 2014 Lok Sabha if they warm up to the responsibilities of governance, not just through exercising their franchise, but also by remaining engaged with issues dear to them and by exploiting all the exciting possibilities that are offered by the Digital Age."