This is Gary Johnson, the former governor of New Mexico and the 2016 Libertarian candidate for President of the United States of America.
On Thursday's Morning Joe, Johnson was asked what he would do about Aleppo if he were elected president. Johnson asked, "About?" and host Mike Barnicle repeated, "Aleppo." Johnson then said, "And what is Aleppo?"
This is the precise moment Johnson came to realize he had no idea what Aleppo is.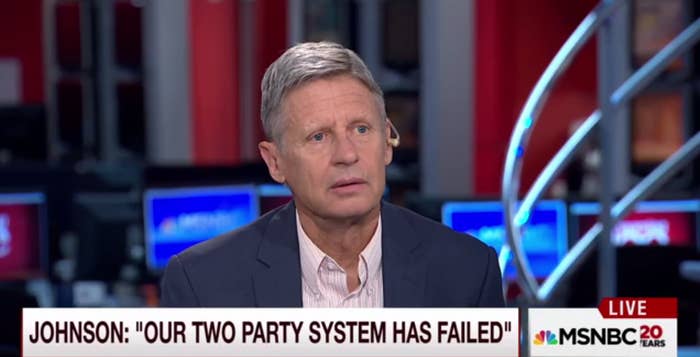 "You're kidding," Barnicle said, to which Johnson shook his head and said, "No" as four people just stared at him.
After the show, Johnson said he was "guilty" of not being able to identify the city in the epicenter of the Syrian war. "I'm frustrated with myself," Johnson told Mark Halperin of Bloomberg. He then compared it to his previous error of not knowing about Colonias, an area in New Mexico.
Johnson later released a statement saying he "blanked" when asked about Aleppo.
"Can I name every city in Syria? No," his statement reads. "Should I have identified Aleppo? Yes. Do I understand its significance? Yes."
He said he blanked when asked the question because he immediately thought about an acronym, not the Syrian conflict.
"I blanked," he said. "It happens, and it will happen again during the course of this campaign."