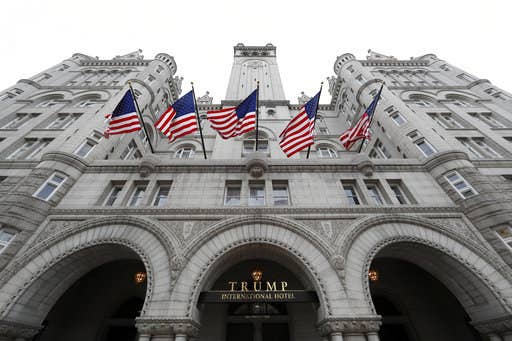 A Pennsylvania man in possession of illegal firearms and ammunition was arrested at the Trump International Hotel in DC — averting a "potential disaster," police said Wednesday.

Bryan Moles, 43, of Edinboro, Pa. was arrested from his hotel room in the early morning on charges of carrying a dangerous weapon, possession of firearms without a license, and illegal possession of ammunition.
Police recovered an AR-15 assault rifle and a Glock 23 handgun from Moles' vehicle at a parking garage, along with 30 rounds of 7.62-mm ammunition and 60 rounds of .223-caliber ammunition, according to an incident report provided to BuzzFeed News.
Moles was once a doctor at St. Vincent Hospital in Erie, PA. "Dr. Bryan Moles has not worked for our health system since 2013. We do not have any comment on matters related to him during or after his employment with our organization," a spokesperson told BuzzFeed News.

The assault rifle was in "plain view" of the vehicle while the handgun was recovered from the glovebox, the report said.

At around 12:30 am local time, DC police and Secret Service agents responded to a tip received by the Pennsylvania State Police that Moles was heading to DC with weapons in his vehicle, DC Police Chief Peter Newsham said at a press conference Wednesday.

Moles checked into the Trump International Hotel at around 1 am and was arrested shortly after without incident, "bringing this potentially tragic situation to a peaceful end," Newsham said.
He was interviewed and is "sharing information," the chief said.

Newsham said that police did not have enough information "at this point" to charge Moles with making threats. However, the chief said he was "very concerned" with this "peculiar circumstance."

"When you have someone armed with those type of weapons coming into this area, it's a serious concern," Newsham said. "We averted a potential disaster here in our nation's capital."

The tip from a concerned citizen indicated that Moles was headed to the Trump International Hotel, which is located five blocks away from the White House.

On a Facebook page that appeared to belong to Moles, a post written on Friday read, "If you had to choose between a Hilton Hotel and a Trump hotel, which would you choose and why?"

According to the Facebook page, Moles is a lead trainer and therapist at Boro K9 and Service, a "veteran-owned and operated" non-profit organization where dogs are provided to vets, first responders, and others with PTSD.

Newsham declined to confirm reports suggesting that Moles was a veteran and a Trump supporter.

The Secret Service said that it was investigating the incident. "At no time were any Secret Service protectees at risk," a spokesman said.

"We take very seriously when anyone threatens harm in our city," DC Mayor Muriel Bowser said at the press conference.
A spokesperson for the US attorney's office said that Moles would not be making a court appearance on Wednesday because he wasn't brought over to the courthouse in time.

Zoe Tillman contributed to this report.