U.S, NATO Say Renewed Russian Troop Buildup Heightens Threat Of Ukraine Invasion
NATO and the U.S. believe the threat of an invasion has increased after 20,000 combat-ready Russian troops amassed on eastern Ukraine's border.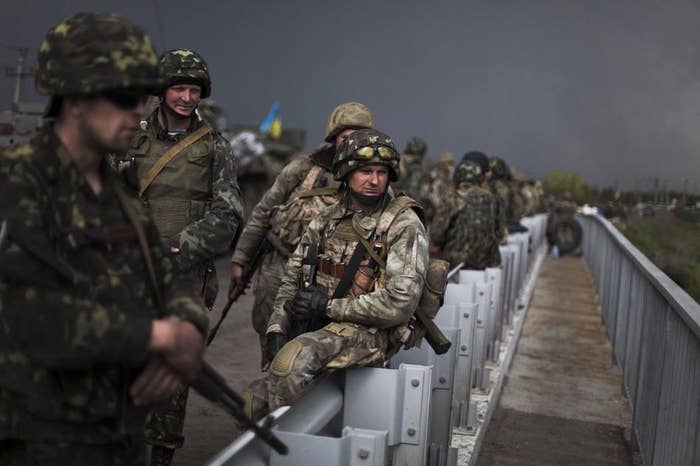 The buildup of around 20,000 combat-ready Russian troops at the Ukrainian border has increased the threat of an invasion by Vladimir Putin's army, said Defense Secretary Chuck Hagel on Wednesday, the Associated Press reported.
Hagel agreed with Polish Prime Minister Donald Tusk who said Wednesday there was an increased risk of a direct intervention by Russia's military in Ukraine over the last couple of days.
In June, Russian troops at Ukraine's border dropped from some 40,000 to less than 1,000 but then Russia started to build up its military force again.
Hagel told reporters in Germany that the threat of a Russian invasion was a reality because of the "the build-up of Russian troops and the sophistication of those troops, the training of those troops, the heavy military equipment that's being put along that border."
NATO is also concerned that Russia could use the pretext of a humanitarian or peace-keeping mission to invade Ukraine, Reuters reported. According to the U.S., Russia is continuing to train and equip separatists fighting Ukrainian forces.
"We're not going to guess what's on Russia's mind, but we can see what Russia is doing on the ground – and that is of great concern," NATO spokeswoman Oana Lungescu told Reuters in a statement.
A NATO officer who spoke to Reuters said the Russian troop build-up at the border included tanks, infantry, artillery, air defense systems, logistics troops, special forces, and various aircrafts.
Russia has rejected all Western and Ukrainian claims that it has amassed military troops at the border and has also denied claims of arming pro-Russian rebels battling Ukrainian forces.