University Of Oklahoma's Shuttered Fraternity Hires Timothy McVeigh's Lawyer
The local Sigma Alpha Epsilon chapter at University of Oklahoma has hired Stephen Jones, the high-profile attorney who represented American Oklahoma City bomber Timothy McVeigh, to sue the school.
The now-shuttered Sigma Alpha Epsilon (SAE) chapter at University of Oklahoma has hired attorney Stephen Jones, who defended Oklahoma City bomber Timothy McVeigh, to sue the school for shutting the fraternity down.
Jones confirmed to the Associated Press on Friday that he was hired by alumni members on OU's SAE chapter.
At a press conference on Friday Jones said that universities have "no right to censor speech, no matter how distasteful," as all speech — with minor exceptions — was protected by the First Amendment.
"To censure or discipline someone with nothing more than speech, thats a long way from the cup to the lip," Jones said.
He said the first concern of the SAE local chapter who hired him was not a legal solution but the physical safety of members who he said have received death threats.
While not ruling out the possibility of a lawsuit, Jones said that their preference was to "proceed in a non- legal, non-adversarial solution."
He said he saw this as a First Amendment case but that there were other legal issues pertaining to real estate law including the ownership of the fraternity house and the property it stood on, as well as the due process of the students involved in the video and their safety.
Jones, whose brother-in-law is an SAE member for over 40 years, said that he understood that OU president David Boren was angry, but felt that the punishment was "a little overboard" and that "a more measured response" would have been better.
He was not representing the two fraternity members who were expelled from the university by Boren for leading the racist chant caught on video.
However, he said that the two students were not expelled, but that they "withdrew" from the university. "If they withdrew under threat of expulsion, they would need due process."
The national SAE organization said in a statement that were not involved in retaining Jones and had "no further information about his intentions."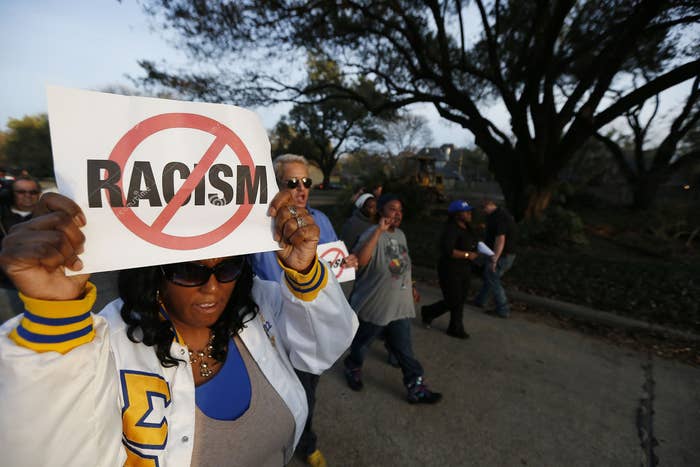 Jones told NewsChannel4, who first reported the story on Thursday, that the local chapter was outraged by Boren's actions against the fraternity.
From NewsChannel4:
Jones told NewsChannel 4 the group is outraged over President Boren shutting down the fraternity house and branding all SAE members as racists and bigots.

Jones says the two students who were expelled because of the incident have apologized sincerely for their remarks, and now the incident is being exploited.

He said they lacked judgment in a social setting, but they should not be tarred and feathered as racists.
"Obviously there are issues about First Amendment rights, due process and real estate issues, but we're still gathering documents," Jones told the AP.
Jones' law office did not respond to a request for comment, but a representative who answered the phone told BuzzFeed News that Jones was discussing "with [unspecified] clients" about whether to hold a press conference.
The fraternity's national headquarters said that while they were not involved in pursuing legal representation against the university, "certain local alumni" may have.
In a statement issued Friday, the national fraternity said:
The Sigma Alpha Epsilon national headquarters, or national fraternity, has not retained legal representation, nor do we intend to pursue any action against the University of Oklahoma. Based on reports that have been brought to our attention, certain local alumni may have retained legal representation, but we cannot validate those reports nor are we involved in that matter. There has been no communication from the alumni advisory group to the national headquarters since the chapter closing. We support and respect the university administrators' decision to revoke recognition of the group.
Incidentally, Jones lost the 1990 U.S. Senate race as a Republic nominee against the then-incumbent Sen. David Boren, now OU's president. According to a 1997 New Yorker report, Jones received only 17% of the vote, "the lowest share for any major-party candidate in an Oklahoma Senate race in the twentieth century."