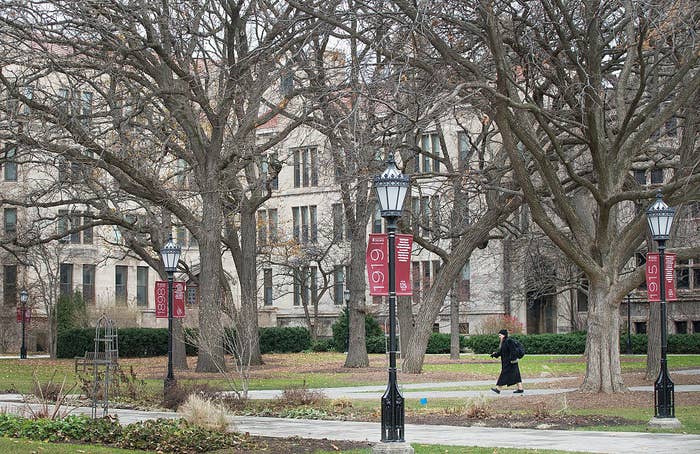 A male student who was investigated twice for sexual assault by the University of Chicago is suing the school for "creating a gender biased, hostile environment against males."
The student, identified only as John Doe in the lawsuit, is also suing one of his accusers for defamation after she tweeted that he assaulted her and many others on campus.

The lawsuit, filed in federal court on Aug. 24, seeks $175,000 in damages.

The complaint stated that the school violated Title IX "by creating a gender biased, hostile environment against males, like John Doe, based in part on UC's pattern and practice of investigating and disciplining male students who accept physical contact initiated by female students, retaliating against male students, and providing female students preferential treatment under its Title IX policies."

It also said the university was "motivated by pro female, anti-male bias" adopted partly after it was publicly criticized for "turning a blind eye to female complaints of sexual assault."
While Title IX lawsuits by male students — who allege gender discrimination in university investigations of sexual assaults — have largely been unsuccessful, a federal court in August revived a lawsuit by a male student who accused Columbia University of anti-male bias in its response to a female student's allegation of sexual assault, Inside Higher Ed reported.

John Doe was first accused of sexual assault in 2014 by a woman identified in the lawsuit as Jane Roe. A disciplinary panel rejected Roe's claims and exonerated John Doe that year.

The lawsuit, which does not name Roe as a defendant, said she began a "vendetta" against John Doe, including putting his name on a Tumblr page accusing University of Chicago students of sexual assault.

The complaint blames the university for refusing to address Roe's "sexual harassment and retaliation against John Doe." The complaint also says that the university violated Title IX by removing John Doe from a physics lab he shared with Jane Roe even though he was found innocent of her allegations.

Roe's friend, identified as Jane Doe in the lawsuit, accused John Doe of sexually assaulting her in December 2013. Both Jane Roe and Jane Doe dated him, the suit said.
According to the complaint, Jane Doe posted a series of tweets in May 2016 stating that John Doe assaulted her and "many others" on campus. At the time, John Doe, who is majoring in Philosophy and Theatre and Performance Arts Studies (TAPS), was directing a play. After her tweets accusing John Doe of sexual assault, a group of students urged people to boycott the play "put on by perpetrators of sexual assault," the Chicago Maroon reported. Students also held a protest on the play's opening night.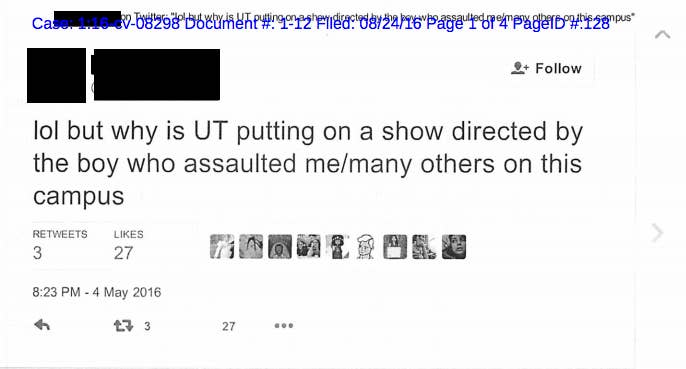 John Doe then filed a Title IX complaint in May 2016, which notified the university of Jane Doe's "defamatory" tweets and harassment, but the university decided not to take action against her. The complaint said that the university's inaction to discipline Jane Doe showed how it "similarly situated female students more favorably than male students with regard to Title IX complaints."

Jane Doe did not delete her tweets as of Aug. 20, despite being served a cease and desist letter from John Doe, the complaint said.

After John Doe's unsuccessful Title IX complaint against her, Jane Doe filed a Title IX complaint against him in June 2016, accusing him of sexually assaulting her in 2013. The university agreed to pursue an investigation into John Doe based on her complaint.

In the lawsuit, John Doe said he did not sexually assault Jane Doe and that she initiated and consented to all physical contact between them. According to the complaint, her "sole motivation" for filing the Title IX complaint was to "retaliate" after John Doe tried to assert his Title IX rights, and because "she was angry with John Doe" after she learned that he had been involved with her friend, Jane Roe.

The lawsuit accused the school of Title IX violations by "subjecting John Doe to a disciplinary proceeding on basis of his male gender."

The university discriminated against John Doe because of its "archaic assumptions that female students do not sexually assault or harass their fellow male students because females are less sexually promiscuous than males," the complaint said.

It also said that the university engaged in its gender-biased behavior "partly because of fear that President Obama's Administration might cut off UC's access to federal funding if UC did not provide preferential treatment to females."

Attorneys for John Doe did not respond to a BuzzFeed News request for comment.