Donald Trump Says He Doesn't "Feel Very Strongly" About Prosecuting Hillary Clinton
Trump told the New York Times that while investigations into Clinton were not off the table, he didn't want to "hurt the Clintons."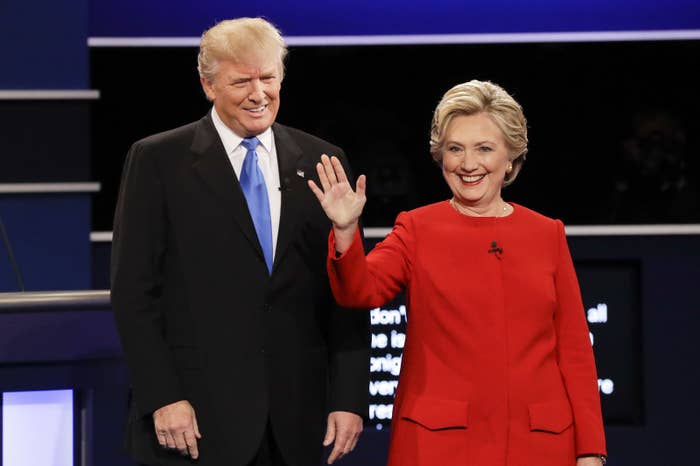 At an meeting with the New York Times on Tuesday, Donald Trump suggested that while further investigations into Clinton — a core focus of his campaign — were not off the table, he didn't want to "hurt the Clintons."

When Trump was pressed on whether he would follow through with his campaign claims of prosecuting Clinton for her private email server, he responded, "It's just not something that I feel very strongly about," according to Times reporters live-tweeting the meeting.

When asked if investigations into Clinton were off the table, Trump said "no," but added that he didn't want to "hurt the Clintons," a Times reporter tweeted.

"I don't want to hurt the Clintons, I really don't," Trump said. "She went through a lot and suffered greatly in many different ways."

Trump's senior adviser Kellyanne Conway had earlier suggested that he will not pursue further investigations into Clinton in connection with her private email server and the Clinton Foundation.
Despite what Trump said during the campaign and Conway's remarks on Tuesday, such a decision is to be made independently by the attorney general.
On MSNBC's Morning Joe, host Joe Scarborough asked Conway: "We had the breaking news this morning that Donald Trump's not going to be pursuing investigations against Hillary... Do you think he'll encourage Republicans on the Hill to stay away from that as well and focus more on their legislative agenda?"
Conway responded: "I think when the president-elect, who's also the head of your party, tells you before he's even inaugurated that he doesn't wish to pursue these charges, it sends a very strong message, tone, and content to members."
She added: "I think Hillary Clinton still has to face the fact that a majority of Americans don't find her to be honest or trustworthy, but if Donald Trump can help her heal, then perhaps that's a good thing. Look, I think he's thinking of many different things as he prepares to become the President of the United States, and things that sound like the campaign are not among them."
Trump would be breaking away from a core focus of his campaign by not investigating Clinton. "Lock her up" was a rallying cry during Trump's rallies, encouraged by him and his surrogates. During the second presidential debate, Trump directly threatened Clinton that he would jail her if he became president.

"If I win, I am going to instruct my attorney general to get a special prosecutor to look into your situation because there has never been so many lies, so much deception," Trump told Clinton.
When she responded, "It's just awfully good that someone with the temperament of Donald Trump is not in charge of the law in our country," he cut in, saying, "Because you'd be in jail."
At that time, former Attorney General Michael Mukasey, who served under President George W. Bush, criticized the suggestion by Trump that he would prosecute Clinton.
"[T]he attorney general is independent in deciding what cases to prosecute and what legal positions to take even if the president says, I think you ought to take a different position," Mukasey told NPR's Ari Shapiro. "But the attorney general obviously carries out the president's policies in terms of emphasizing which laws to enforce more vigorously. But if you're talking about who to prosecute, that's a whole different thing."

Rudy Giuliani, a contender for Trump's secretary of state, said Tuesday, it was a "tradition in American politics" to "put things behind you" after winning the election.

Talking to the press pool about Trump's reported decision not to investigate Clinton, Giuliani said, "Look there's a tradition in American politics that after you win an election, you sort of put things behind you. And if that's the decision he reached, that's perfectly consistent with sort of a historical pattern of things come up, you say a lot of things, even some bad things might happen, and then you can sort of put it behind you in order to unite the nation."

Giuliani said he would be "supportive" of Trump's decision not to pursue an investigation, but also would be supportive of "continuing the investigation."

"I think the president-elect had a tough choice there — you could go either way," he said. "If he made the choice to unite the nation, I think, all those people who didn't vote against him, maybe, could take another look at him."