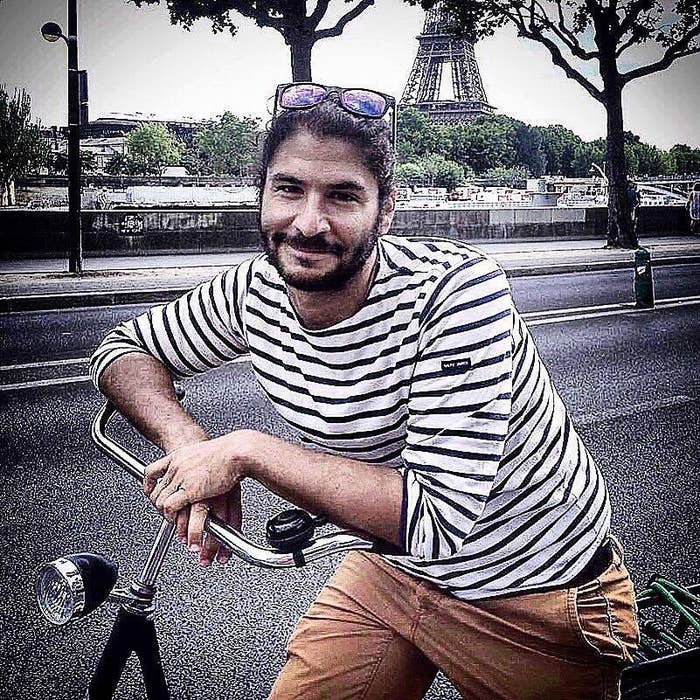 An American photojournalist said he was detained and interrogated by U.S. officials for 10 hours at Miami airport on Sunday because, he said, he's a Paris-born Arab who has worked extensively in the Middle East.
In a series of tweets, Kim Badawi, a U.S. citizen, said federal officials subjected him to "physiological torture" and "unfounded accusations."
Badawi told BuzzFeed News that he wanted to make people aware of his experience because "this should not happen to any American citizen."
Badawi, 35, a Brazil-based freelance journalist, said he was flying from Rio de Janeiro to Texas with his Brazilian partner to be with his family for the holidays. He was about to catch his connecting flight in Miami when he said he was invited by Homeland Security officials in a large waiting room with mirrors.
"I was the only one with a blue passport in the room," said Badawi, referring to the color of a U.S. passport. His parents — who are also U.S. citizens — registered him as American at birth in Paris.
Badawi began his career documenting the plight of refugee families from Mississippi to Texas in Katrina's aftermath and has traveled to Europe, North America, and the Middle East — where he photographed the Arab Spring, according to the French-American Foundation.

He said he felt that his detainment "was a given because I'm an American and I'm born in France and that I work as a journalist and I've traveled to different parts of the Middle East." He said the officials went through all his contacts, emails and WhatsApp messages on his phone, he said.
Badawi said the officials first took his cellphone away and did not inform his partner about his whereabouts while she tried to reach him frantically for hours at the airport.
"They asked me what I'm working on and my position on the Syrian refugee crisis," said Badawi, who is currently doing a photography project on Syrian refugees in Brazil.
Badwai said he answered them diplomatically about his thoughts on the refugee crisis, but then the questions turned to "my roots and origins."
He said officials questioned him about his reasons for being in Brazil. When he said he had a four-year visa on his French passport, their follow up questions were, "When exactly did you become American?" and "At what age did you become American?"
Badawi said that he was asked about the Paris attacks and when he replied he was upset because Paris was the city he was born and raised in, the officers responded, "But wait a minute, I thought you're American?"
"As if somehow I couldn't possibly be all-American, French or Middle Eastern for that matter, all at once," said Badawi.
He said they asked if he knew anyone was involved in the Paris attacks "on the terrorists' side." They also allegedly asked him if he knew people "who didn't agree with American policy on refugees."
"All this amidst the two televisions blasting from two corners of the room a special report on "Muslims in France", "terrorism" and "the Syrian refugee crisis," Badawi said an in email to BuzzFeed News.

A spokesman for Customs and Border Protection (CBP) in Miami did not confirm or deny the incident occurred, citing privacy concerns. The Department of Homeland Security referred questions to CBP.
The CPB spokesman said in a statement to BuzzFeed News that "Everyone is subject to CBP inspection when they arrive in the U.S."
The statement read:
"There are many reasons CBP officers decide to examine someone; some referrals for additional screening are for reasons other than information in law enforcement databases, such as the individual's circumstances of travel or random selection. CBP does not assume that travelers have done anything wrong - because very few travelers actually violate the law.

As part of an inspection, travelers may be asked questions regarding: citizenship, the nature of their trip, and anything the traveler may be bringing back to the United States that was not in their possession when they departed. CBP may also examine the traveler's baggage, including electronic equipment, which CBP does have the legal authority to do.

For travelers who seek resolution regarding difficulties they experienced during the screening process, the Department of Homeland Security Travel Redress Inquiry Program (DHS TRIP) is a single point of contact for submitting a request for redress. The Privacy Act prohibits U.S. Customs and Border Protection from providing information regarding individual travelers."
According to Badawi, the interrogation also focused on his travels to the Middle East. He said that after officials went through his passport they asked him, "Why do you have so many Arabic stamps in your passports?"
Badawi said he explained that he had worked as a Middle East correspondent for several news outlets such as the Wall Street Journal and CNN. He said he was repeatedly asked to verify the specific dates and locations of his travels.
"It was blatant, that nothing I was asked could not have been verified online or by publication date," Badawi said.
After three to four hours, Badawi said he asked the officers if he could inform his partner that they were going to miss their connecting flight but was refused the use of his cellphone.
"I thought to myself, 'are they allowed to do this? What are my rights exactly?'" When he asked an officer if he should call his lawyer he was told that he was not under arrest but being detained for investigation, Badawi said.
Officials also went through Badawi's luggage and his cellphone, he said.
Badawi said that when an official discovered that he was an Arab while searching through his emails, a few officers around him "rolled their eyes and coughed up, 'You are Arab? We didn't know.'"
While the officials didn't directly ask him about his religious identity, Badawi said they "poked at certain things." He said that they asked him if he "needed time to go pray" and why he was carrying little carved wooden saints in his hand baggage. They were gifts for his friends and family, Badawi told them.
"In the name of security I watched as two officers went through my selfies, intimate photos...and pick through random contacts on my phone. I felt violated, but tried to stand tall," Badawi said.
He said the officials were "fascinated by every single interaction" he had with his contacts in his phone in relation to the Syrian refugee project. One of his contacts, a Syrian refugee who Badawi asked about the Paris attacks, had responded, "I don't really care about Paris. That type of stuff happens everyday in Syria."
Officials pressed Badawi to give them information on the refugee, he said. He told them the interviews were confidential and that their questions "violated the rights of my sources, and as a journalist."
According to Badawi, officers spent the next six hours going through 10 years of his contacts and professional and private conversations. He said he was made to justify "every post, blurt, or other person's internet rant."
Badawi said that several airport officials did not tell his partner where he was being held for more than 10 hours.
One officer told her that he was never on the flight from Rio to Miami — she responded by saying she sat next to him and waved his boarding pass at the officer.
The officer allegedly told her that she did not know who Badawi really was and that Badawi was "involved in terrible things," Badawi said. "She was so scared. She almost started breaking down."
Badawi said that he was a "transparent person" and that a lot of his personal information was available online. "You don't need to be an ex-girlfriend stalker to ask me the questions that Homeland Security asked me in the loop for 10 hours," he said.
"The most alarming thing is I'm an American and I travel a lot. I can't afford spending 10 hours at the airport," Badawi said.