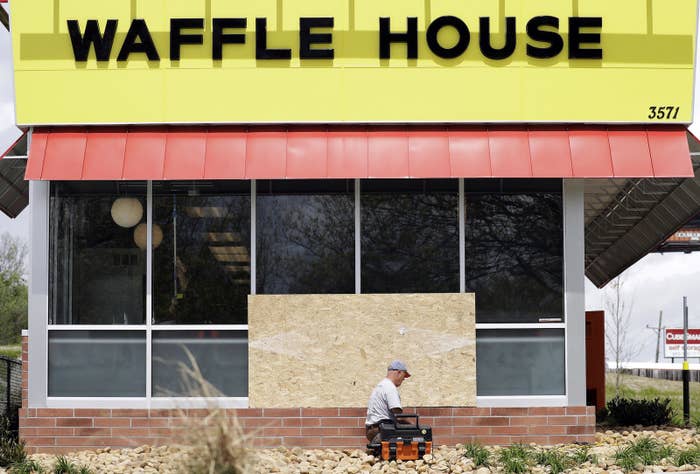 Federal authorities on Monday said they are investigating the father of Waffle House shooting suspect Travis Reinking after he returned his son's guns to him after they were confiscated by Illinois authorities last year. Reinking was arrested for using one of the weapons, an AR-15 rifle, to massacre four people Sunday.
The actions of the suspect's father, Jeffrey Reinking, have also highlighted an Illinois gun law that one state senator calls a "loophole" in the system.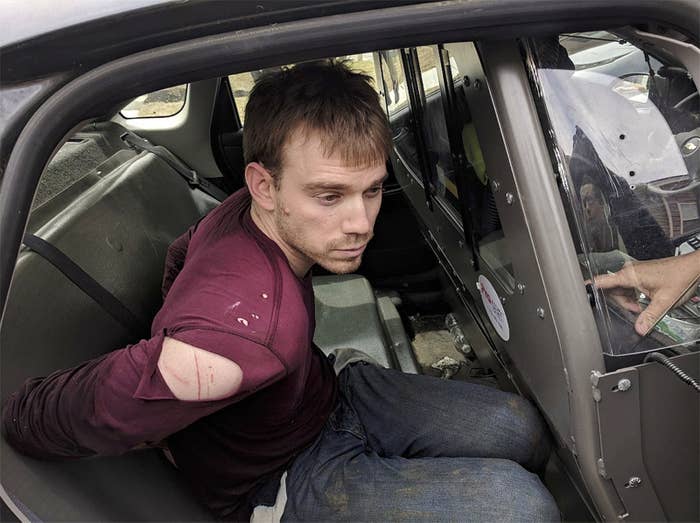 Democratic State Sen. Julie Morrison told BuzzFeed News on Monday that the state's Firearm Owners Identification card (FOID) Act, which allowed the father, 54, to keep his son's weapons, and then return them to him, "should be looked into."

"It does highlight a problem," she said, adding that not relinquishing weapons to a family member "is something to consider."
Travis, 29, was arrested in Tennessee on Monday, after a massive hunt.
Authorities found him with a backpack containing a silver semiautomatic weapon and .45-caliber ammunition, one of three weapons belonging to Reinking that authorities have recovered since the shooting.
Illinois authorities, acting on a request from the FBI, confiscated four of Travis's firearms, prohibited him from possessing guns, and revoked his mandatory FOID card after he was charged with a misdemeanor in 2017 for entering a restricted area of the White House.
Under Illinois' FOID Act, a person whose FOID card has been revoked, such as Travis, can transfer their weapons to anyone else with an active FOID card, such as Jeffrey, during the revocation period. The person has to submit a form to state police listing his or her guns and identifying the active FOID holder who will hold the guns for them during the revocation.
"Jeffrey was advised that he needed to keep the weapons secure and away from Travis," an officer noted in a Tazewell County sheriff report from Aug. 24, 2017. "Jeffrey stated he would comply." And County Sheriff Robert M. Huston told reporters Sunday that Jeffrey assured his deputies that he would "he would keep them secure and away from Travis."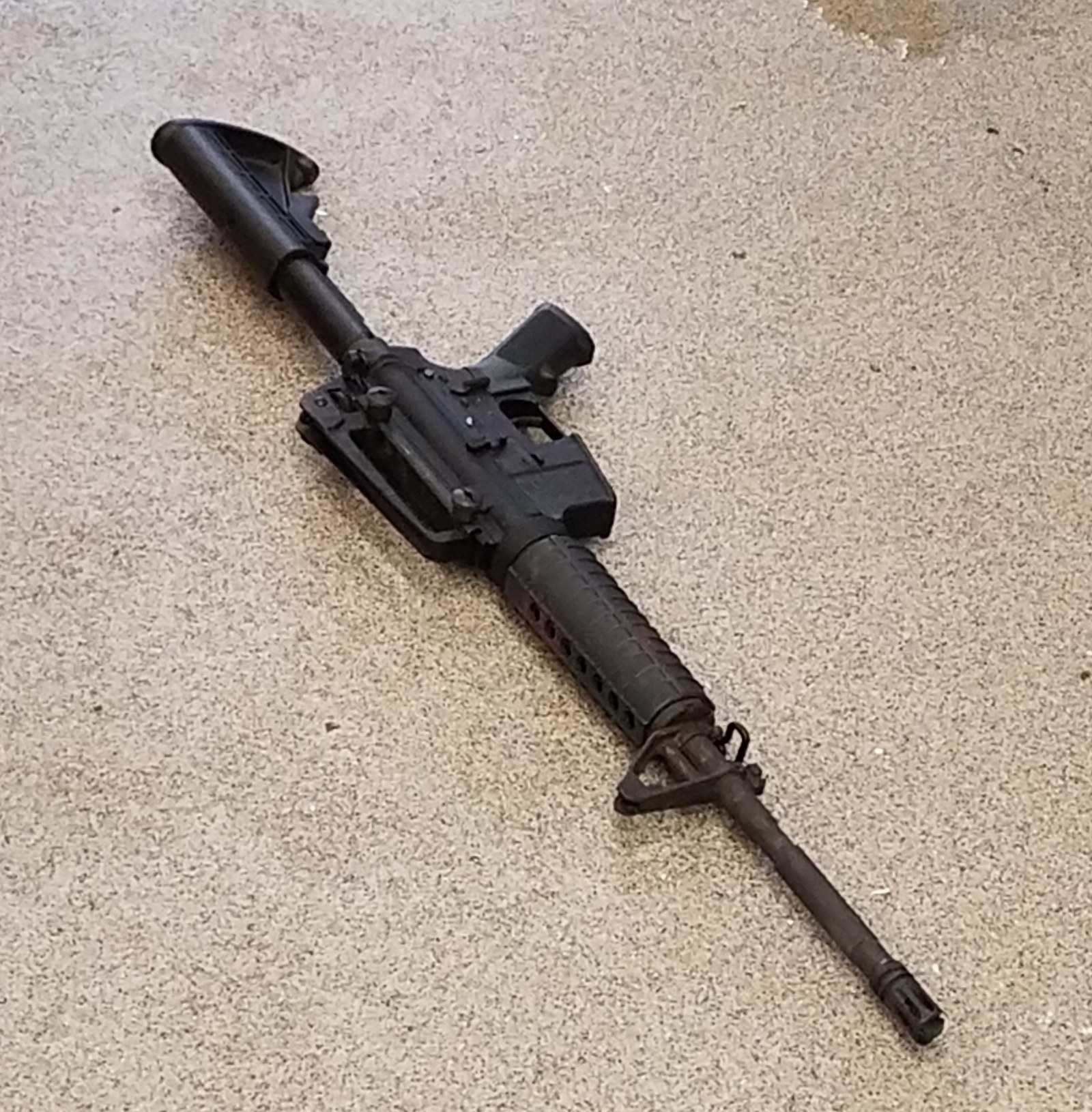 But Jeffrey has acknowledged to law enforcement that he returned the guns to his son, though it is unclear where or when the transfer took place, a spokesperson for the Metropolitan Nashville Police Department told BuzzFeed News on Monday.
And Marcus Watson, acting special agent in charge with the ATF in Tennessee, said Monday that, "If you transfer weapons knowingly to a person that is prohibited, that could potentially be a violation of federal law." He added, "all federal departments are looking at him for any potential violation of federal crime laws or the homicide that was committed."
Multiple calls to a numbers belonging to Jeffrey went unanswered.
Legal experts and gun control advocates said that if Jeffrey Reinking did in fact give his son his guns back, it could spell trouble.
George Mocsary, an assistant professor in the Southern Illinois University School of Law, told BuzzFeed News on Monday that under the FOID Act, knowingly transferring firearms to someone who does not have a valid FOID card or whose card is revoked is a Class 4 felony punishable by one to three years in prison if convicted.
In Mocsary's opinion, if the police statements bear out, "the law does hold him responsible."
He added that such cases were "extraordinarily rare" because relatives of gun owners would usually be careful about not allowing their loved ones to illegally possess firearms. "The best way to deter this from happening [in the future] is to make sure that the father is punished," he added.
Morrison, the state lawmaker, sponsored a "red flag" bill, which "empowers a close family member or law enforcement officer to alert the court system when an individual with access to a firearm is displaying threatening or unsafe behavior that could lead to injury to themselves or to the general public." The bill proposes that a judge can require the person to temporarily turn over any firearms in their possession if the court finds sufficient evidence to show the person is a danger to themselves or others.
The state Senate passed the bill in February and the state House is currently discussing changes to the legislation, Morrison said, adding that the FOID Act is "absolutely on the radar."
"I will be examining the FOID Act carefully," Morrison said, but she was cautious about suggesting any amendments to it without discussing it with courts, state police, and local law enforcement.
"I can't imagine how bad the father feels. He made a tragic mistake by giving the weapons back to his son," Morrison said. However, she said that it was a "loophole" that the guns ended up in the hands of Reinking who had "demonstrated mental health challenges and the inability to be a responsible gun owner."
Ari Freilich, a staff attorney at Giffords Law Center to Prevent Gun Violence, which advocates for strict gun control, told BuzzFeed News that states should pass laws that ensure a court can order a person who presents a danger to himself and to public safety to relinquish their guns to either law enforcement, a licensed dealer, or to an independent third party approved by the court.
Freilich did note that Illinois' gun safety laws were much stronger than many other states.
"Most states," he said, "don't even have a FOID card that can be revoked."