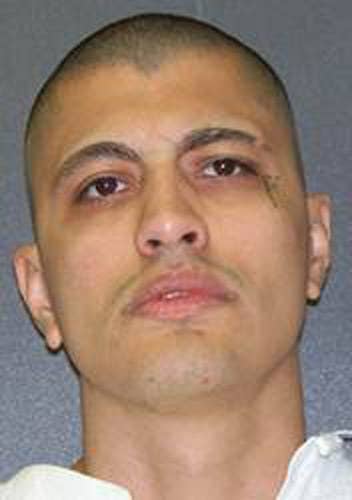 Texas on Wednesday executed Licho Escamilla for fatally shooting a Dallas police officer outside a night club in 2001.
Escamilla was pronounced dead at 6:31 p.m. In a final statement, the 33-year-old thanked his family and supporters.
"Shelby, God bless your heart To my family, I love them and everybody that showed support," Escamilla said. "Thank you to all of my cousins and aunts and uncles that showed support and that prayed for me. From California to New York thank you for all of your support. Pope Francis, God's children has asked the State of Texas to switch my death sentence to life in prison. But the State of Texas has refused to listen to God's children, they will have to take that up with God. Let everyone know it's not over. To Wesley Ruiz aka Slope, keep your head up, keep your faith in God. To my family I love y'all. That's it Warden."
The Supreme Court last week had declined to intervene in the execution of Escamilla, who is now the 12th inmate to be executed in Texas this year.
Escamilla was convicted and sentenced to death for fatally shooting 34-year-old Officer Christopher Kevin James outside a Dallas night club in November 2001.
Escamilla, who had a history of violence, was 19 at the time of the crime and was a suspect in a another killing days before he shot and killed James.
Escamilla's attorneys argued that he suffered from inexperienced and ineffective counsel during his trial. They also stated that Escamilla experienced a troubled childhood with an alcoholic and abusive father and that he admired his older brothers' involvement in gangs selling drugs.
Escamilla started abusing alcohol and marijuana at an early age, his lawyers said.
They also argued that Texas's lethal injection protocol violates their client's Eighth Amendment protection from cruel and unusual punishment.
The courts, however, rejected Escamilla's appeals to stop his execution on any of those grounds.
James was working security at a northwest Dallas club in 2001 to earn extra money for the new house he had bought with his wife of one month, the Dallas Morning News reported. He also had an 8-year-old daughter, Shelby.
When James and three other off-duty workers attempted to break up a brawl outside the club, Escamilla began shooting at them, wounding one officer and striking James, who fell to his knees. Escamilla then stood over James and shot three rounds to the back of his head, killing him.
After being wounded in the gunfight with other officers, Escamilla was arrested while trying to carjack a vehicle.
Escamilla's violent streak continued during his trial in 2002 when threw a pitcher of water toward the jury after they convicted him. He had to be restrained by several bailiffs.
The district attorney at the time called Escamilla "evil."
"My heart is heavy with the thought that because of a choice Licho Escamilla made, two lives have to be lost," James's daughter, Shelby, told BuzzFeed News on Wednesday.
"Although growing up without my dad was a struggle, my faith in God has sustained me and allowed me to feel no malice for Licho. Only forgiveness for him, and sadness for his family," she added.
While several states have faced a shortage in the supply of lethal injection drugs, Texas has been consistently able to procure pentobarbital, which it uses in its one-drug execution protocol.
Lawyers for an Oklahoma death row inmate have claimed Texas is making its own execution drugs. The Oklahoma inmates' legal team made this claim after learning that Texas supplied three vials of its supply of pentobarbital to Virginia for its execution of serial killer Alfredo Prieto on Oct. 1 — a move that led Prieto's lawyers to raise their own, ultimately unsuccessful, lawsuit.
The Texas Court of Criminal Appeals on Monday indefinitely halted the Nov. 3 execution of Julius Murphy, in the wake of new claims of prosecutorial misconduct raised by Murphy's lawyers.