The US Department of Justice is investigating the death of Terence Crutcher, an unarmed black man who was shot and killed by a Tulsa police officer during a stop on Friday.

Video released by the police department Monday showed Officer Betty Shelby, who is white, shoot Crutcher after his car had stalled in the middle of the street. Another officer, Tyler Turnbough, also fired his Taser during the encounter, which was captured by a dashboard camera. Both officers have been placed on administrative leave, police said.

The DOJ said Monday that it had opened an investigation into the use of force by the Tulsa Police Department.

"Throughout the investigation, the Justice Department, which will be separate from the state's investigation, will seek to determine whether a Federal Civil Rights violation occurred," U.S. Attorney Danny C. Williams said at a news conference Monday. "The investigation will include a comprehensive review of the events surrounding the Friday night shooting that resulted in Mr. Crutcher's death."

Shelby's attorney, Scott Wood, told CNN that the officer thought Crutcher was retrieving a weapon from his car when she opened fire.

A police spokesperson also said that officers responding to the scene thought Crutcher reached his hands into the driver's side window of his car.

No gun was found on Crutcher or in his vehicle, police said.

On Tuesday, attorneys for Crutcher's family said that the video showed the driver's side window was rolled up.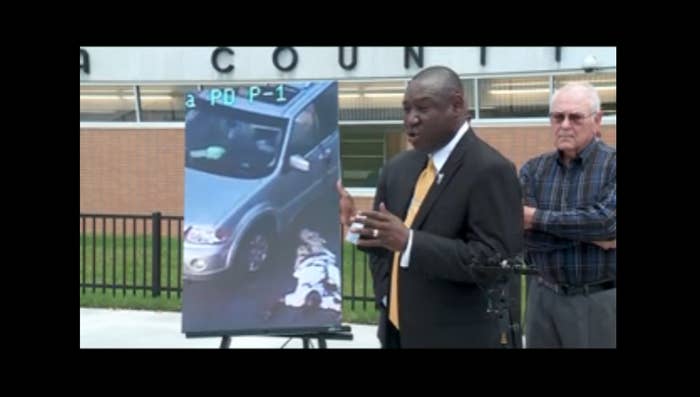 "When you look at this video, you can clearly see the window is up so how could he be reaching into the car?" Benjamin Crump, who is representing the family, said at a press conference.

"We do not believe that this shooting was justified," Crump said. "This is clearly a case of excessive force."
Shelby also told dispatchers that she was "not having cooperation from the person" at the time of the encounter, according to Tulsa Police Chief Chuck Jordan.

Dashcam video released Monday showed Crutcher standing in the middle of the street with his hands up.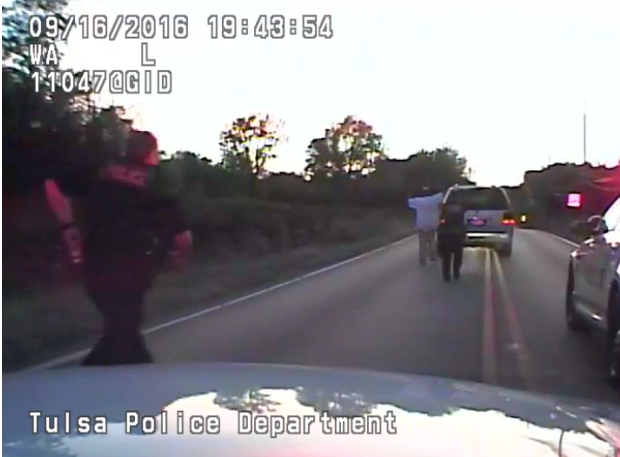 Police told media outlets Tuesday that PCP — a dissociative drug — was found in Crutcher's car. Shelby's attorney had previously told Tulsa World that her recent drug recognition training led her to believe Crutcher was high on the drug.

Attorneys for Crutcher's family said that even if he was under the influence of some substance, "in no way is this an appropriate way to treat him."

Crump called for Shelby to be held accountable for her actions.

"There were several officers on the scene," Crump said. "None of the other officers felt the need to fire their weapons and use force. That is some of our best evidence as to why lethal force should not have been employed to take the life of Terence Crutcher."

Crump said that Crutcher was not a suspect in any crime at the time he was shot. "But he was treated like a suspect when you watch the video."
Democratic presidential candidate Hillary Clinton on Tuesday called the fatal shooting "unbearable" and "intolerable."

"We have got to tackle systemic racism," Clinton said on The Steve Harvey Morning Show. "This horrible shooting again. How many times do we have to see this in our country?"



On Tuesday morning Rodney Muterspaw, Police Chief of Middltown, Ohio, said on Twitter that the Tulsa officers are "making us all look bad."
"As an officer I am so sick and drained of some cops doing things like this. You are making us all look bad. STOP," Muterspaw's first Tweet read. It was retweeted tens of thousands of times by noon.

Muterspaw, a 24-year veteran of the Middletown Police Department, later told a Cincinnati CBS affiliate that he had been in the same situation as the Tulsa officers himself many times, and that you "do whatever it takes to protect a life first."

"Life is precious man. Sorry we don't all agree," Muterspaw continued in a second Tweet, later Tuesday afternoon, after receiving thousands of both positive and negative reactions to his Tweet.

"Compassion and empathy is eternally important. Just sick of seeing death & hate. #Life"