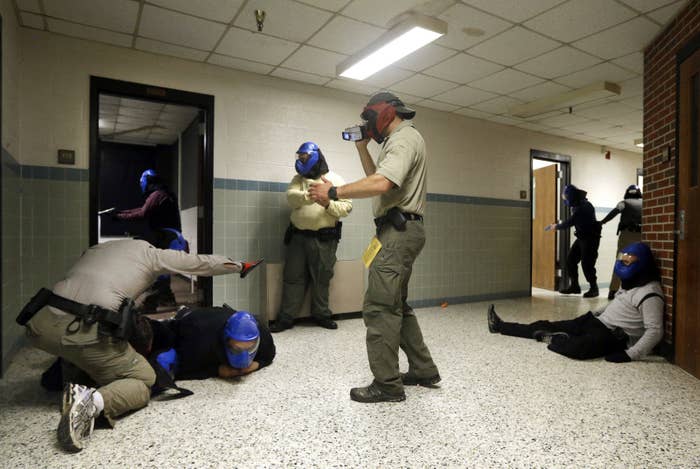 Teachers at an elementary school in Indiana were left with bruises, welts, and in some cases bloody and broken skin during an active shooter drill in January where they were shot multiple times with plastic pellets.

The incident came to light when Gail Zeheralis, a member of the Indiana State Teachers Association (ISTA), testified about it before state lawmakers on Wednesday, while urging them to amend a school safety bill to prohibit the firing of projectiles during active shooter drills.
In January, 30 teachers at the Meadowlawn Elementary School in Monticello participated in an active shooter drill conducted by the White County Sheriff's Department, according to the ISTA.
As part of the drill, four teachers at a time were taken into a small room, told to turn around and crouch down, and then rapidly shot in the back three or four times with plastic pellets from an airsoft gun, the ISTA said.
In tweets describing the incident on Thursday, the ISTA said the teachers were shot "execution style" with projectiles.
The teachers were instructed not to tell the others what had happened inside the room, and the sheriff's department did not warn any of the participants about what was going to happen, according to the ISTA.
Other teachers waiting outside the room could hear screaming from inside, before they were brought into the room and shot at.
Many of the teachers experienced soreness, bruising, and welts, while some experienced bleeding and broken skin, an ISTA spokesperson told BuzzFeed News. Not all the teachers were injured.
One teacher who was shot at four times told the Indianapolis Star that the sheriff's officials conducting the drill told the teachers, "This is what happens if you cower and do nothing."
"They shot all of us across our backs," the teacher, who did not wish to be identified, told the newspaper. "It hurt so bad."
The school's Facebook page posted a photo on Jan. 4, thanking the White County Sheriff's Department for training its staff members. "Safety is priority at ML!" the post said.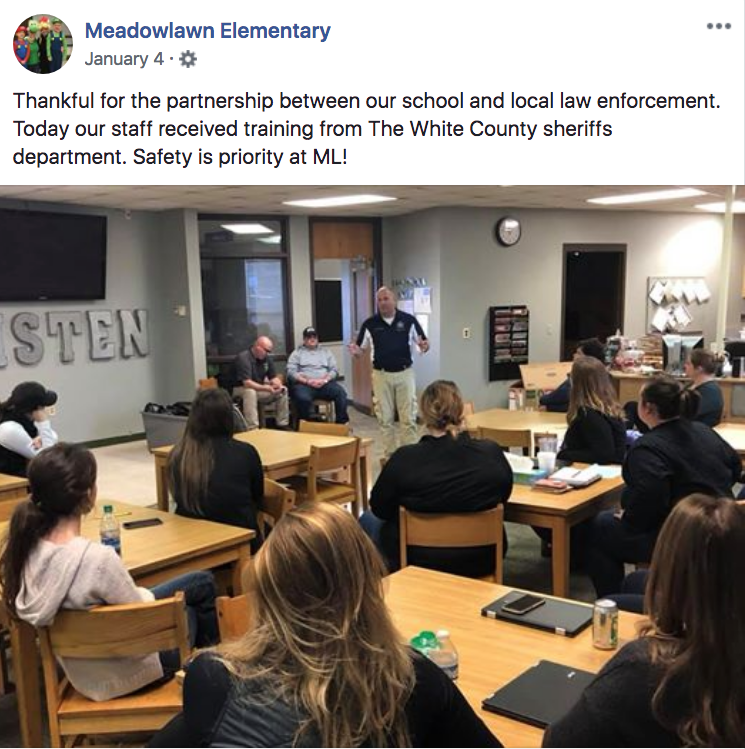 The White County Sheriff's Department told the local teachers union that shooting teachers with pellets was part of the curriculum of ALICE trainings that provide "proactive response options" during violent incidents, according to the ISTA.
ALICE — which is an acronym for alert, lockdown, inform, counter, and evacuate — "empowers individuals to participate in their own survival in the critical time between the start of a violent event and the arrival of law enforcement," the program's Facebook page says.
An ISTA spokesperson told BuzzFeed News that the sheriff's department did not apologize to the teachers and did not express any remorse for what had happened.
White County Sheriff Bill Brooks told the Indy Star that his department would no longer use the airsoft gun with teachers after receiving a complaint following January's incident.
"We were made aware that one teacher was upset," he said. "And we ended it."

Brooks said that his department had conducted similar trainings using airsoft guns with schools for several years. He described the plastic pellet as a "soft, round projectile."
"The key here is soft," he told the Indy Star.
The sheriff's department, ALICE, and Meadowlawn Elementary School did not respond to BuzzFed News requests for comment.
Keith Gambill, a middle school music teacher and ISTA's vice president, said Thursday that this was the first time the union had heard of teachers being shot at with pellets during active shooter drills at schools in the state.
"I was horrified when I learned that teachers were called into a room and this was done to them," Gambill told BuzzFeed News. "I believe educators know and understand how horrific an active shooter event is. I don't think we have to be so extreme in training individuals for this."
At her testimony before the Senate Education and Career Development Committee on Wednesday, Zeheralis thanked lawmakers for House Bill 1004, but appealed to the Republican author of the bill, Rep. Wendy McNamara, to include a sentence in the bill prohibiting the practice of firing projectiles at teachers during active shooter drills.
Zeheralis said that the risk of harming someone far outweighed whatever added realism that the drill may be intended for.

Jeff Raatz, a Republican state senator who sponsored the bill, told BuzzFeed News on Thursday that he was aware of the incident at Meadowlawn, but was not present during Wednesday's committee meeting.
Raatz said he supported a "holistic approach" to active shooter trainings where officers are "trying to create all the emotions and adrenaline" involved in such a situation, but "we certainly don't want people hurt."
Raatz said that he would reserve his judgment on the amendment until he reviewed public testimony. In cases where teachers were hurt by projectiles, Raatz said he would fault those who set up the training.
"It's like paintballing," Raatz said. "You don't know if you're going to get a welt."