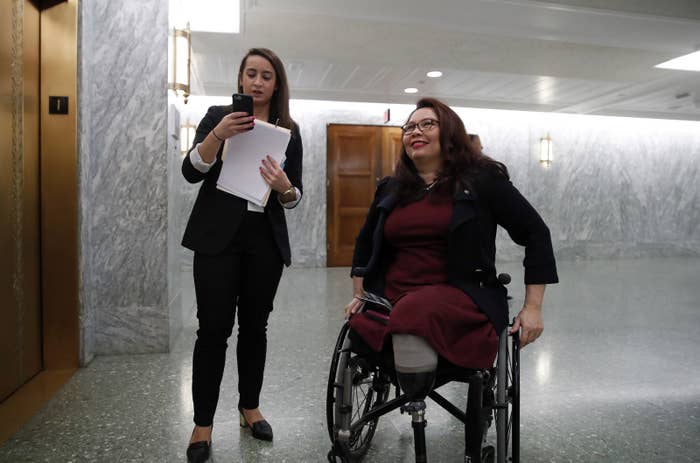 Tammy Duckworth became the first US senator to give birth while in office when she delivered her second daughter on Monday, her office announced.
Duckworth, the Democratic senator from Illinois and a decorated Iraq War veteran who lost both her legs in combat, gave birth to Maile Pearl Bowlsbey. Her daughter is named after Duckworth's husband's great-aunt, who served as an Army officer and a nurse during World War II.
In a statement, Duckworth's office said that she is "one of only 10 women since our nation's founding who have given birth while serving in Congress."
"Parenthood isn't just a women's issue, it's an economic issue and one that affects all parents — men and women alike," Duckworth said in the statement. "As tough as juggling the demands of motherhood and being a Senator can be, I'm hardly alone or unique as a working parent, and my children only make me more committed to doing my job and standing up for hardworking families everywhere."
Earlier this year, Duckworth told Politico that she was "ready to change some Senate rules" that make it difficult to be a new mother in office.
"I can't technically take maternity leave," Duckworth said in a Women Rule podcast interview. "Because if I take maternity leave, then I won't be allowed to sponsor legislation or vote during that time period."

She also pointed out that children are not allowed on the floor of the Senate.
"If I have to vote, and I'm breastfeeding my child, especially during my maternity leave period, what do I do? Leave her sitting outside?" she said.