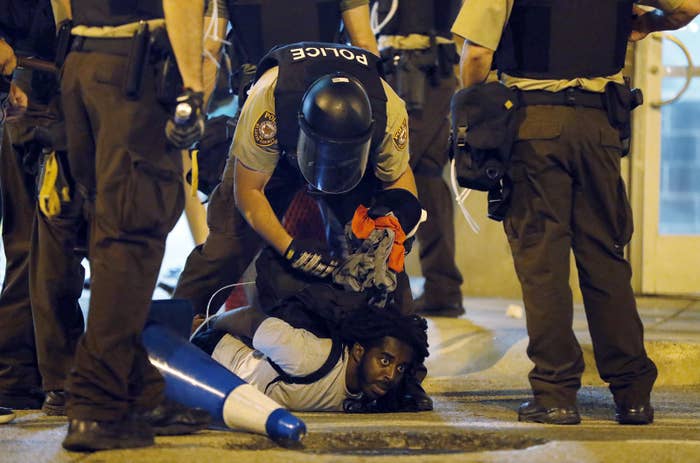 More than 300 people, including several journalists, have been arrested over 18 days of protests in St. Louis, Missouri, which began last month after a former police officer was found not guilty in the 2011 fatal shooting of a black man.

Hundreds of protesters have marched the city's streets since the Sept. 15 acquittal of former St. Louis police officer Jason Stockley, who fatally shot 24-year-old Anthony Lamar Smith after a high-speed car chase in December 2011.

While there have been many peaceful demonstrations, some have turned violent, leading to damaged property, mass arrests, and the use of pepper spray by authorities.

Police have arrested a total of 306 people since Sept. 15, a spokesperson for the St. Louis Metropolitan Police Department told BuzzFeed News on Friday.
On Wednesday, 143 people were arrested during a demonstration, the highest number of arrests since the protests began last month. Those arrested included a state representative, a legal observer, a reverend, and at least six journalists. On Sept. 17, St. Louis police arrested 123 people, while on Sept. 23, St. Louis county police made 22 arrests.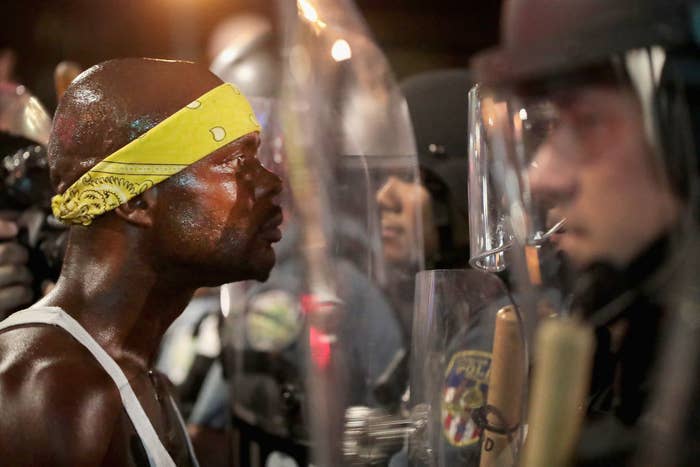 The police department has increasingly come under scrutiny over what advocates say is their unlawful use of force and and mass arrests of people, prompting St. Louis Mayor Lyda Krewson and Police Chief Lawrence O'Toole to call on the US Attorney to investigate the department's response to the demonstrations.

Krewson and Toole said they would conduct an "objective and thorough" investigation into the "troubling and difficult" allegations of police misconduct contained in several complaints and lawsuits against the department's response to the ongoing demonstrations.

On Sept. 27, the police department's internal affairs division received at least a dozen grievances in connection with their handling of the protests, the mayor's office said.

"We hold our officers to the highest standards of professionalism and any officer not meeting those standards will be held accountable," a St. Louis police department spokesperson told BuzzFeed News in response to the allegations of police misconduct.

The mayor's office did not respond to BuzzFeed News request for comment.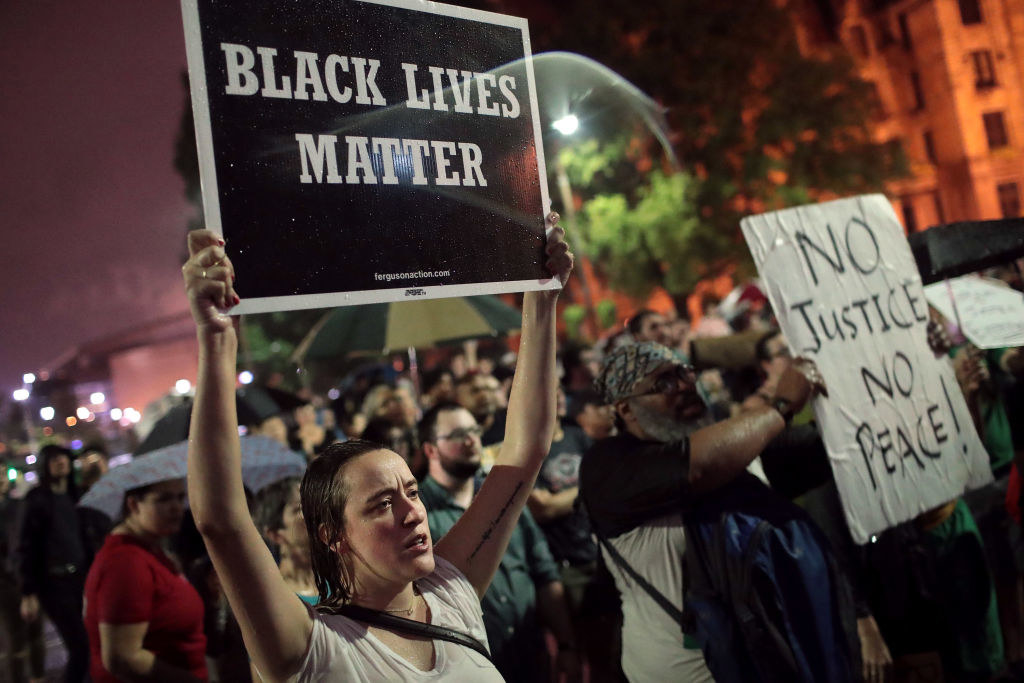 A lawsuit filed by the American Civil Liberties Union on behalf of two Missouri residents on Sept. 27, accused St. Louis police of deploying chemical agents against protesters, bystanders, and members of the press, without warning.
The lawsuit alleged that police applied excessive force against protesters, and violated their rights by "kettling and gassing" them on several occasions.
It also said that police officers commanded protesters and observers to stop recording and photographing the protests, and on some occasions deleted or ordered them to delete their recorded material and photographs.

The police have also been accused of violating the freedom of the press by arresting several journalists during the ongoing demonstrations. At least seven journalists have been arrested since the protests began on Sept. 15, according to the US Press Freedom Tracker.
Jordan Chariton, a reporter with Young Turks — a progressive media organization — told BuzzFeed News that he and his cameraman, Ty Bayliss, were among several journalists arrested on Wednesday while filming a large group of demonstrators blocking a major highway in the city.

Chariton, who recorded the moment police arrested Bayliss, said that officers first arrested legal observers who were there to monitor the protests, and then the journalists, in a move that he called "premeditated."

He said that the police then "kettled" the protesters, a tactic that has been used by St. Louis police in which they circle a large group of protesters before arresting them for failure to disperse.

Chariton said that after closing in on the protesters, police did not give anyone a notice of arrest, and did not leave any room for them to exit the "kettle."

He said that after a tense standoff, he heard a police officer say, "You're all going to jail" before the arrests began.

Chariton said that police told him and other journalists they were being arrested for "being on the highway." He said they "did not care" that they were members of the press.

"I actually saw one of the officers run into a legal observer with his shield," Chariton said.
Steven Hoffman, a legal observer with the National Lawyers Guild who was among the 143 people arrested on Wednesday, told the St. Louis Post-Dispatch that he did not know what charges he was facing, and that police did not give protesters an opportunity to disperse.

He said he was "thrown down" by officers when he did not immediately comply with their demand to sit on the ground, the Post-Dispatch reported.

A St. Louis Post-Dispatch reporter, Mike Faulk, alleged that he was assaulted by police while being arrested during a mass arrest on Sept 17.

The newspaper condemned his "inappropriate and highly disturbing" arrest and demanded the police to drop the charges against him.

According the the paper, police arrested Faulk even after he repeatedly identified himself as a credentialed member of the media.

Faulk said that he didn't resist and was "forcefully pushed to the ground by police officers and a police officer's boot was placed on his head," according to a letter the paper's attorney sent to the mayor and police chief. "As a result of this unneeded and inappropriate force, Mr. Faulk suffered injury to both legs, his back and wrist," the letter said.

After being restrained with zip ties, "a police officer deliberately sprayed him in the face with pepper spray, mace or some other stinging substance," according to the letter. Police held him for 13 hours in the jail and denied his repeated requests for medical attention.

Faulk returned to the Post-Dispatch newsroom limping, with bloodied knees and pepper spray on his skin, the paper reported.
"I was acting lawfully, doing my job, when St. Louis police officers assaulted me," Faulk said in a tweet after his release. "I am not guilty of anything."


"When St. Louis police arrested Mike, after he fully identified himself while covering the protests, they violated basic tenets of our democracy," Post-Dispatch Editor Gilbert Bailon said after his arrest. "Additionally, the physical abuse he suffered during the arrest is abhorrent and must be investigated."

Bailon also called for city leaders to implement policies that would prevent journalists from being arrested without cause.

Mayor Krewson told the Post-Dispatch that she had asked for a review of the situation described in the letter. "We certainly don't want to arrest reporters who are just doing their jobs," she said.
Drew and Jennifer Burbridge, married documentary filmmakers covering the protests on Sept. 17, filed a lawsuit against the city after they alleged they were beaten, pepper-sprayed and arrested by police, the Riverfront Times reported.

In the lawsuit, Drew Burbridge alleged that he was sprayed twice with a chemical agent, bound by zip ties, and kicked and knocked unconscious by police officers.

"Do you want to take my picture now motherfucker?," one officer told Drew Burbridge, according to the lawsuit. "Do you want me to pose for you?" the officer reportedly said.

He was separated from his wife, Jennifer, who alleged that she was taunted by officers who asked her if she "liked" watching her husband being beaten and told her "Come back tomorrow and we can do this again."

Scott Olson, a Getty photographer covering the protests, was arrested as well.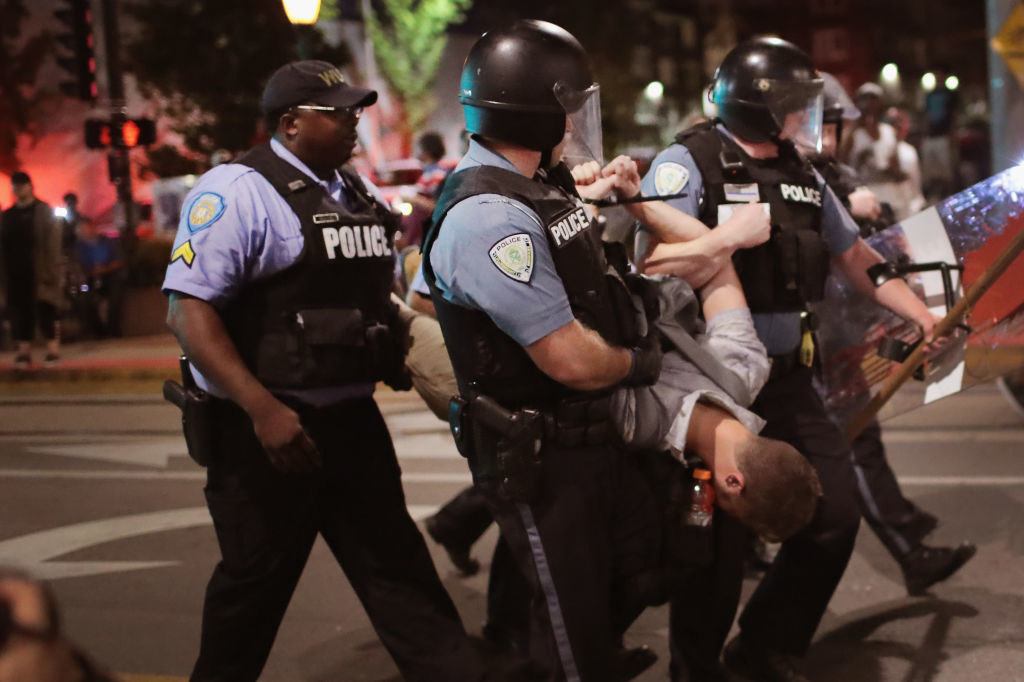 Several media advocates slammed the St. Louis Police Department for their alleged mistreatment of Faulk and other members of the press after the Sept. 17 mass arrest.

"Faulk was doing his job, informing the people. There is simply no justification for his arrest and mistreatment," NewsGuild President Bernie Lunzer said in a statement.

Calling attention to the increasing assaults and arrests of reporters, Lunzer said, "This is a dangerous trend that impedes journalists' right to report and the people's right to know."
Chariton, of the Young Turks, accused the mainstream media of not covering the weeks-long protest and for not speaking out about the arrests of journalists on Wednesday, most of whom were independent media members including Aminah Ali, the founder of Real STL News, People's World reporter Al Neal, independent journalist Jon Ziegler, and freelance photographer Daniel Shular.
"If more action isn't taken, then it can become a normalized thing for journalists to be arrested," he said.
CORRECTION
A quote about Mike Faulk returning to the newsroom was from a Post-Dispatch report. A previous version of this post misstated this.