Donald Trump's election win has had a "profoundly negative impact" on students and schools, according to a new report released Tuesday by hate-watch group, the Southern Poverty Law Center (SPLC).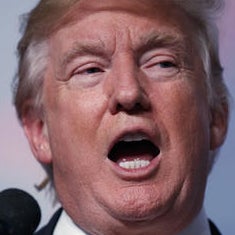 The report, titled "The Trump Effect," said that 90% of the 10,000 educators who responded to an online survey by SPLC, reported that the school climate had been negatively affected, while 80% described "heightened anxiety and concern" from marginalized students, including immigrants, Muslims, African Americans and LGBT students, who were "worried about the impact of the election on themselves and their families."
Educators also said there was a rise in verbal harassment, the use of slurs and derogatory language, and disturbing incidents involving swastikas, Nazi salutes, and Confederate flags.
The SPLC has collected 867 reports of hate incidents in the ten days following Trump's victory, with schools being the most common venue for the incidents, according to another report.
"In order for our children to survive, to grow, to thrive, they have to feel safe at school and feel their parents are safe," Randi Weingarten of the American Federation of Teachers, said at a press conference Tuesday. "Since this election more and more of them do not feel safe."
Weingarten said teachers in the union had reported a disturbing trend of hateful actions in schools since the election. She criticized Trump for not responding to a letter signed by 200 organizations asking him to denounce hateful actions done in his name.
"He said he would speak up for the little guy," Weingarten said. "He refuses to speak up for the littlest guys — our children — who are being taunted and bullied by those who use his name as a weapon."
The report said that 9 out of 10 educators who responded had seen a "negative impact on students' mood and behavior following the election" which many of them worried would continue for the remainder of the school year. Four in 10 educators reported hearing derogatory language directed at students of color, Muslims, immigrants and LGBT students.
More than 2,500 educators described specific incidents of bigotry and harassment, that they said could be directly traced to the election rhetoric, including incidents of racist graffiti, assaults of students and teachers, fights and threats of violence.
SPLC addressed those who have characterized reports of hate crimes as isolated, exaggerated and, some as hoaxes, saying, that their survey of educators, conducted via email and social media, "offers the richest source of information about the immediate impact of the election on our country."
As part of the report, teachers described hate incidents that occurred in their schools post-election.
The report said that the biggest fear of Trump came from immigrants, with nearly 1,000 teachers naming "deportation" or family separation as a major concern among students.