Donald Trump on Monday called the deal between Ted Cruz and John Kasich to keep him from securing the nomination "weak and pathetic."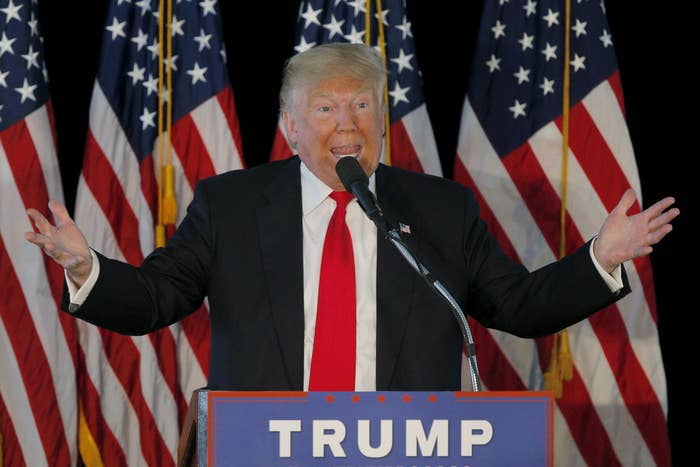 At a rally in Rhode Island, Trump slammed the Cruz–Kasich alliance — in which the two campaigns plan to cede key upcoming states to each other in an effort to stop Trump from winning enough delegates to get the nomination — that was announced Sunday night.
Trump called the alliance "a collusion" that showed how weak and "pathetic" the candidates are.
"If you collude in business or in the stock market they put you in jail," Trump said. "But in politics, which is a rigged system, you're allowed to collude. And actually I was happy because it shows how weak they are, how pathetic they are."
Trump said that it took two longtime politicians to try and beat him "and yet they're way behind me."
"When I heard [the announcement] I loved it," he said. "It shows they're just getting killed."
Trump went on to say he had a new catch phrase for Kasich — "One for 41," as he had won only one race in 41 states.
"I laugh, especially with Kasich as he's going nowhere," Trump said.
Trump also mocked Kasich's eating habits, telling the crowd, "I have never seen a human being eat in such a disgusting fashion."
"This guy takes a pancake, and he's shoving it his mouth," Trump told the cheering crowd. "It's disgusting."
Trump later added, "I never saw a guy eat like this. I told my son not to watch...'little bites, little bites.'"
The Republican frontrunner also compared Kasich to a stubborn child.
"I want it, mommy — I don't care," Trump said, mocking Kasich. "I want it, daddy — I don't care."
Trump also took aim at Cruz, calling the Texas senator "a basket case" who was "stuttering and stammering" while talking about the economy.