President Donald Trump used his first meeting with congressional leaders on Monday to reiterate a false claim about losing the popular vote because of "millions of people who voted illegally."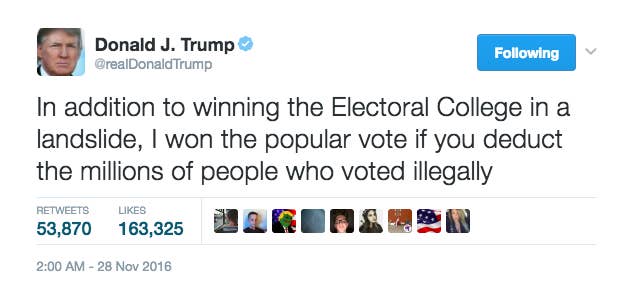 Trump's press secretary, Sean Spicer, on Tuesday said the president's "long-standing belief" about voter fraud was based on "studies and evidence people have presented to him."
video-cdn.buzzfeed.com
Spicer did not say what this evidence was. He also did not elaborate on what those "studies" were. He only cited a "2008 Pew study" that, according to Spicer, said "14% of those who voted were non-citizens."
Spicer appeared to be confusing a Pew study with a 2014 debunked study by a political-science blog hosted by the Washington Post.
Members of Trump's team, including his son Eric Trump, have frequently cited that debunked study to falsely claim that 14% of non-citizens were registered to vote.
Speaker Paul Ryan told reporters Tuesday that he had seen "no evidence to that effect" when asked about Trump's unsubstantiated claims of voter fraud.
After other reporters pressed Spicer on whether the president would call for an investigation into his allegations of voter fraud, Spicer said, "He won very handily with 306 electoral votes, 33 states. He's very comfortable with his win."
He said Trump had "made the comment in passing" on Monday based on his "long-standing belief."
When a reporter asked Spicer why the president would not investigate "the biggest scandal in American electoral history" based on his beliefs, Spicer replied, "Maybe we will." When asked later if an investigation was possible, he said, "Anything is possible."
Spicer has appeared before the press three times since Trump's inauguration. On Saturday and Monday, he falsely said Trump's inauguration was the most witnessed or watched in history.