Russian Ruble Crashes To Historic Lows
The ruble fell by 20% Tuesday despite measures taken by the country's central bank. President Obama decided to sign legislation imposing further sanctions on Russia.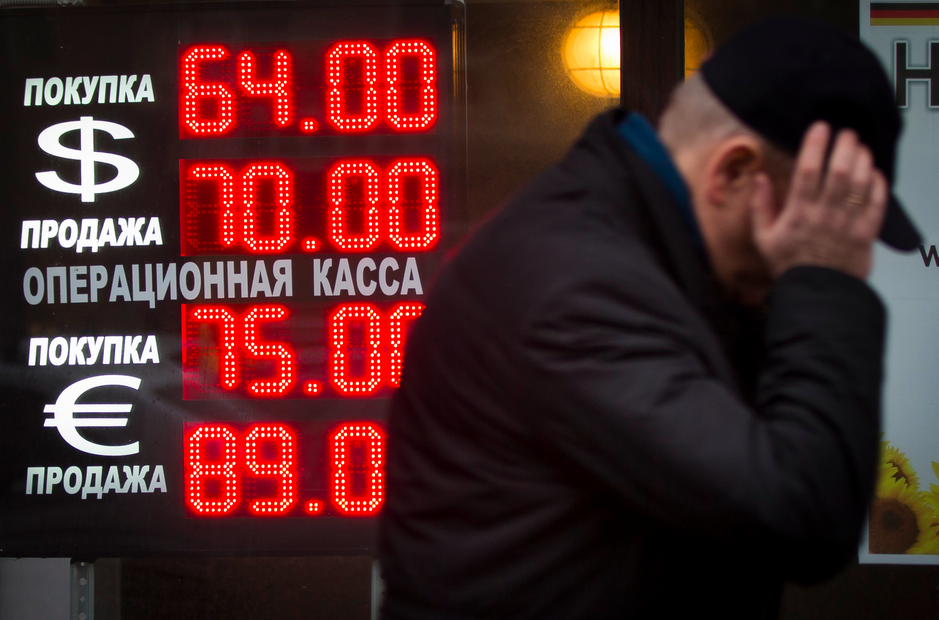 Amidst it's impending economic crisis, President Obama will sign legislation imposing further sanctions on Russia, the White House announced Tuesday. The legislation calls for measures penalizing Russia's military and energy sectors and also authorizes $350 million in aid to Ukraine, The New York Times reported.
The Russian ruble plunged to historic lows Tuesday, falling by 20%, despite a massive overnight rate hike by Russia's Central Bank.
The ruble sank to 72 to the dollar and 100 to the euro on the Moscow Exchange, losing more than 60% of its value since January.
Russia's currency has been steadily declining this year owing to the collapse of oil prices and the impact of U.S.- and EU-imposed sanctions in the wake of Russia's interference in Eastern Ukraine.
After the ruble fell 10% Monday, the Central Bank of Russia raised its short-term interest rate overnight to 17% from 10.5% — the biggest interest rate hike since 1998. Despite the rate hike, the currency continued to decline Tuesday, falling to record lows in afternoon trading.
The Central Bank's deputy chairman, Sergey Shvetsov, called the currency's decline "a nightmare" unimaginable a year ago.
Alexei Kudrin, former finance minister, said on Twitter, "The decline in the ruble and the stock market is not just a reaction to the low oil price and to sanctions, but also a lack of trust in the government's economic measures."
"We are seeing an economic crisis," Natalia V. Akindinova, a professor at the Higher School of Economics, told the New York Times.
"We are seeing a sharp devaluation of the ruble at a time when the central bank doesn't have the reserves to influence the market, as it did in the past crises," Akindinova said.
The state television advised Russians not to panic because a weak ruble would stimulate domestic production and make exports cheaper, the Associated Press reported.