Melania Trump is among the lineup of speakers at the Republic National Convention, according to the final list obtained by The New York Times.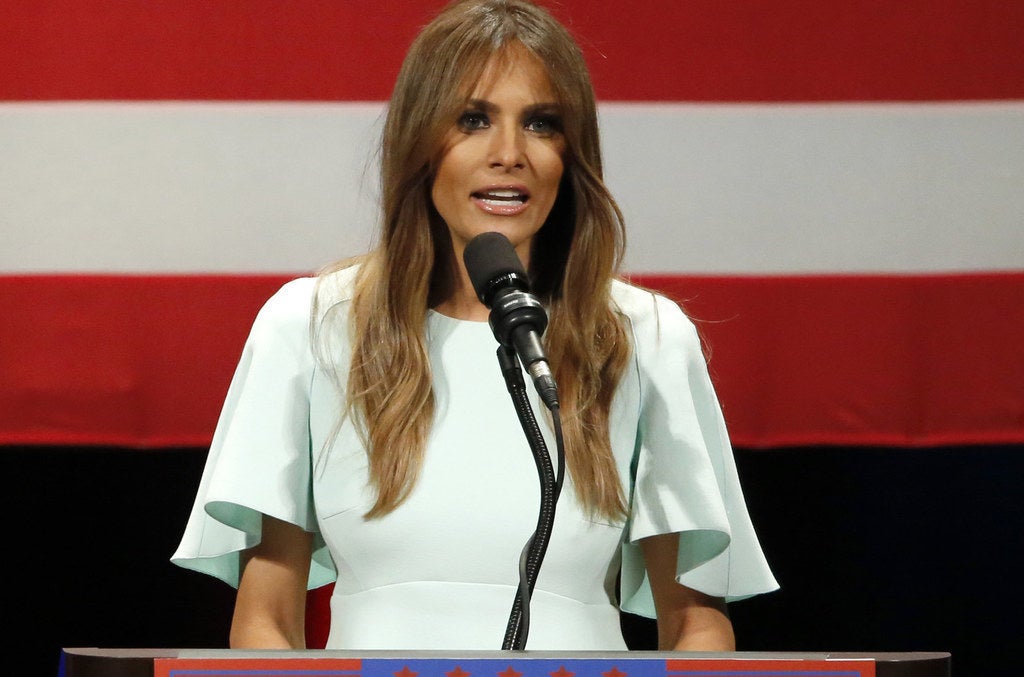 The speakers included several other members of Donald Trump's family, including Ivanka Trump and Donald Trump Jr. Some of the speakers have recently courted controversy included Peter Thiel, the billionaire Silicon Valley investor who reportedly funded Hulk Hogan's lawsuit against Gawker, and Pam Bondi, the Florida attorney general who was grilled by CNN's Anderson Cooper over her stance on the state's LGBT rights after the Orlando attack.
Dana White, the president of the Ultimate Fighting Championship — a mixed martial arts organization, and Natalie Gulbis, a golfer and Trump's friend who appeared on his reality show Celebrity Apprentice are also in the lineup.
Those notably absent included Sarah Palin, who endorsed Trump in January, and Patriots quarterback Tom Brady, who considers Trump a friend and who the presidential nominee has publicly defended during the Deflategate controversy.
Initial reports said that football player Tim Tebow was among the list of scheduled speakers but he later posted a video on Facebook calling the whole thing a rumor.
"It's amazing how fast rumors fly and that's exactly what it is, a rumor," Tebow said.
Here's the partial list of speakers released by the GOP Thursday, which does not include Tebow.
Pastor Mark Burns
Phil Ruffin
Congressman Ryan Zinke
Pat Smith
Mark Geist
John Tiegen
Congressman Michael McCaul
Sheriff David Clarke
Congressman Sean Duffy
Darryl Glenn
Senator Tom Cotton
Karen Vaughn
Governor Mike Huckabee
Mayor Rudy Giuliani
Melania Trump
Senator Joni Ernst
Kathryn Gates-Skipper
Marcus Luttrell
Dana White
Governor Asa Hutchinson
Attorney General Leslie Rutledge
Michael Mukasey
Andy Wist
Senator Jeff Sessions
Retired Lt. Gen. Michael Flynn
Alex Smith
Speaker Paul Ryan
Congressman Kevin McCarthy
Kerry Woolard
Senator Shelley Moore Capito
Dr. Ben Carson
Co-Chair Sharon Day
Natalie Gulbis
Kimberlin Brown
Antonio Sabato, Jr.
Peter Thiel
Eileen Collins
Senator Ted Cruz
Newt Gingrich
Michelle Van Etten
Lynne Patton
Eric Trump
Harold Hamm
Congressman Chris Collins
Brock Mealer
Congresswoman Marsha Blackburn
Governor Mary Fallin
Darrell Scott
Lisa Shin
Governor Rick Scott
Chairman Reince Priebus
Tom Barrack
Ivanka Trump
Attorney General Pam Bondi
Jerry Falwell Jr.
Rabbi Haskel Lookstein
Chris Cox
Senator Mitch McConnell
Tiffany Trump
Governor Chris Christie
Donald J. Trump Jr.
Governor Scott Walker