Alt-right leader Richard Spencer's gym in Virginia revoked his membership after a Georgetown University professor confronted him and called him a neo-Nazi, Spencer confirmed to BuzzFeed News on Saturday.
Fair also posted photos of the confrontation, saying that Spencer requested the help of one of the black female trainers at the gym. "Seriously? This superior race of a white man needed the help of a female African American? What kind of martial race member is he?" Fair wrote in her post.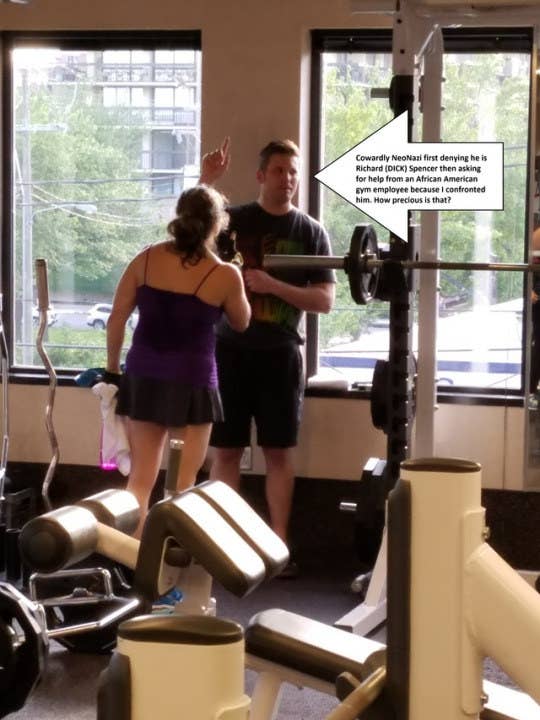 Fair said that the majority of employees of the Old Town Sport & Health gym were "women and/or old people of color" who Spencer has "has repeatedly asserted...to be inferior to his kind who are entitled to rule over us because we are not Christian, white or have a vagina."
She said the general manager of the gym had asserted Spencer's right to join the gym two months ago and had accused her of creating a "hostile environment" by confronting Spencer.
Fair told BuzzFeed News that she told the general manager that Spencer was not a "private bigot; rather a public bigot with a long history of degrading hate speech against those who are not white, Christian males."
She said that she told the general manager the employees of the gym — most of whom were not white, Christian males — could file a class action suit against the gym "for being subjected to this man due to his public hate mongering."
"Ultimately, I think the corporate office made a business decision to protect the club from such lawsuits," Fair said.
The manager of the gym did not respond to a request for comment. A gym employee who answered the phone declined to comment.
On Thursday, Fair wrote on Twitter that Spencer had been "ousted" from the gym.
Spencer, who recently led a march of people wearing white and holding torches in Charlottesville, Virginia, to protest the removal of a statue of Confederate general Robert E. Lee, told BuzzFeed News that he was disappointed and annoyed at the gym's decision to revoke his membership as he was a "model gymgoer."
Spencer said that it was unfair of the gym to kick him out when he "followed all the rules" and was "well-behaved" while Fair made "this huge scene and annoyed everyone at the gym."