President Donald Trump on Saturday slammed a federal judge — nominated by former President George W. Bush and approved 99–0 by the Senate — for blocking his immigration ban.
And he didn't stop there. Trump questioned the authority of the federal judge to halt the executive order and claimed "many very bad and dangerous people may be pouring into our country."
Reactions from Trump's political opponents were swift. New York Sen. Chuck Schumer said the president's attack on the judge showed a "lack of respect for the Constitution."
Former CIA officer Evan McMullin — who ran against Trump as an independent in last year's election — said undermining the legitimacy of a judge "is a threat to the Republic."
Washington Attorney General Bob Ferguson, a Democrat, said, "No one is above the law — not even the President."
Sen. Bernie Sanders then quoted Ferguson in his rebuke of the president.
Meanwhile, Vice President Mike Pence defended the president's comments, saying Trump was "speaking his mind."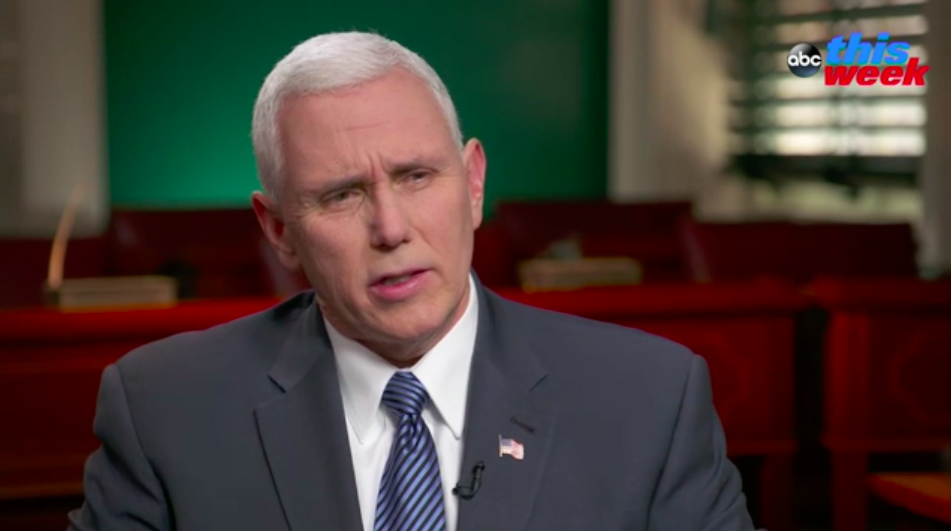 Criticism of the comments continued to pour in, however, including from New York City Mayor Bill de Blasio, who warned Trump his defiance of the judiciary might not end well for him.
Neal Katyal, who served as acting solicitor general in the Obama administration, said that he had "never seen a president attack a sitting judge this way."
Sen. Sheldon Whitehouse, a Rhode Island Democrat, said, "Trump may not like it, but our courts' authority is real."
"Judge Robart's decision underscores how rash and destructive President Trump's executive order has been. The Court found no support for the President's claim that banning refugees and legal immigrants from certain Muslim countries makes Americans safer. Indeed it has not. If anything, this half-baked effort has given the likes of ISIS its opening line in its sales pitch to recruits, undermining the image of America as a welcoming and pluralistic country and reinforcing ISIS's narrative of the western world's war on Islam. And contrary to the President's musings on Twitter, the Bush appointee who issued this order is very much a judge. President Trump may not like it, but our courts' authority is real and he should learn to respect it."
New York Congressman Jerry Nadler, a Democrat, warned Trump, "We are watching closely your contempt for our Judicial Branch."
California Congressman Adam Schiff, a Democrat, asked the president to read the "'so-called' Constitution."
Democratic Sen. Patrick Leahy, a member of the Senate Judiciary Committee, called Trump's attempt "to bully and disparage" a federal judge "embarrassing" and "dangerous."
His full statement read:
The President's hostility toward the rule of law is not just embarrassing, it is dangerous. He seems intent on precipitating a constitutional crisis. He fired the nation's top law enforcement official for recognizing that his so-called "travel ban" was indefensible. It is in fact an arbitrary and shameful attempt to discriminate against Muslims. Last year, he made baseless accusations and attacked a federal judge because of his ethnic heritage. And now he is attempting to bully and disparage yet another federal judge — this one appointed by a Republican President and confirmed by a Republican Senate — for having the audacity to do his job and apply the rule of the law.

We need an Attorney General, like Acting Attorney General Sally Yates, willing to lose his or her job to do the right thing. And we need a nominee for the Supreme Court willing to demonstrate he or she will not cower to an overreaching executive. This makes it even more important that Judge Gorsuch, and every other judge this president may nominate, demonstrates the ability to be an independent check and balance on an administration that shamefully and harmfully seems to reject the very concept.
BuzzFeed News has reached out to several members of the Senate Judiciary Committee for their responses.
Sen. Al Franken's spokesperson initially responded, saying, "I think we will have to sit this one out but will let you know if we have anything later."
On Sunday, though, Franken's spokesperson sent this comment: "Sen. Franken believes this is a perfect example of why it's imperative we have an independent judiciary."
Many others on social media referred to Trump as a "so-called president"...
...including Hillary Clinton's former press secretary...
"Imagine if a federal judge called Trump the 'so-called president?'" wrote Ryan Lizza of the New Yorker.
Laurence Tribe, a Harvard law professor, had a similar take.
Liberal political commentator Sally Kohn called Trump's tweet "incredibly worrisome and dangerous."
Some people, including CNN's Jake Tapper, noted that there was difference between a president criticizing a court's decision and dismissing the authority of a judge to make it.
But journalist Jonah Goldberg dismissed it, writing, "This is not a crisis. It's a tweet."