A heated debate about racism broke out between apparent Princeton students on Yik Yak after footage of performances by student group Urban Congo – allegedly mocking African culture – surfaced over the weekend.
Urban Congo, consisting of men from Princeton's Swimming and Diving Team, voluntarily disbanded Monday after students took to social media to express outrage over the performances, calling them racially and culturally insensitive to Africans.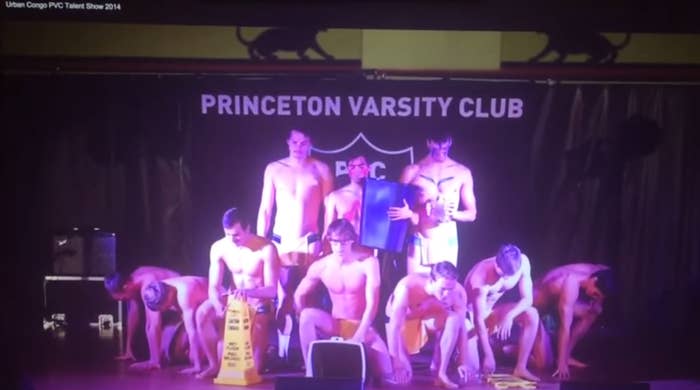 The videos showed Urban Congo performing at university events with painted streaks on their faces and bodies, wearing loincloths, and banging on objects while chanting. The student group, which was officially recognized by the university at the time the videos were taken, said they practiced "percussion experimentation."
Their Saturday night performance at a dance show was posted to Snapchat by some audience members and shared widely among Princeton students, many of whom were black and took to social media to express their outrage against the group's mockery of African tribes and culture.
After the videos were widely shared on Facebook and Twitter, much of the conversation moved to Yik Yak, an app that allows users on campus and within a 10 mile radius of each other to anonymously post and view comments (called Yaks).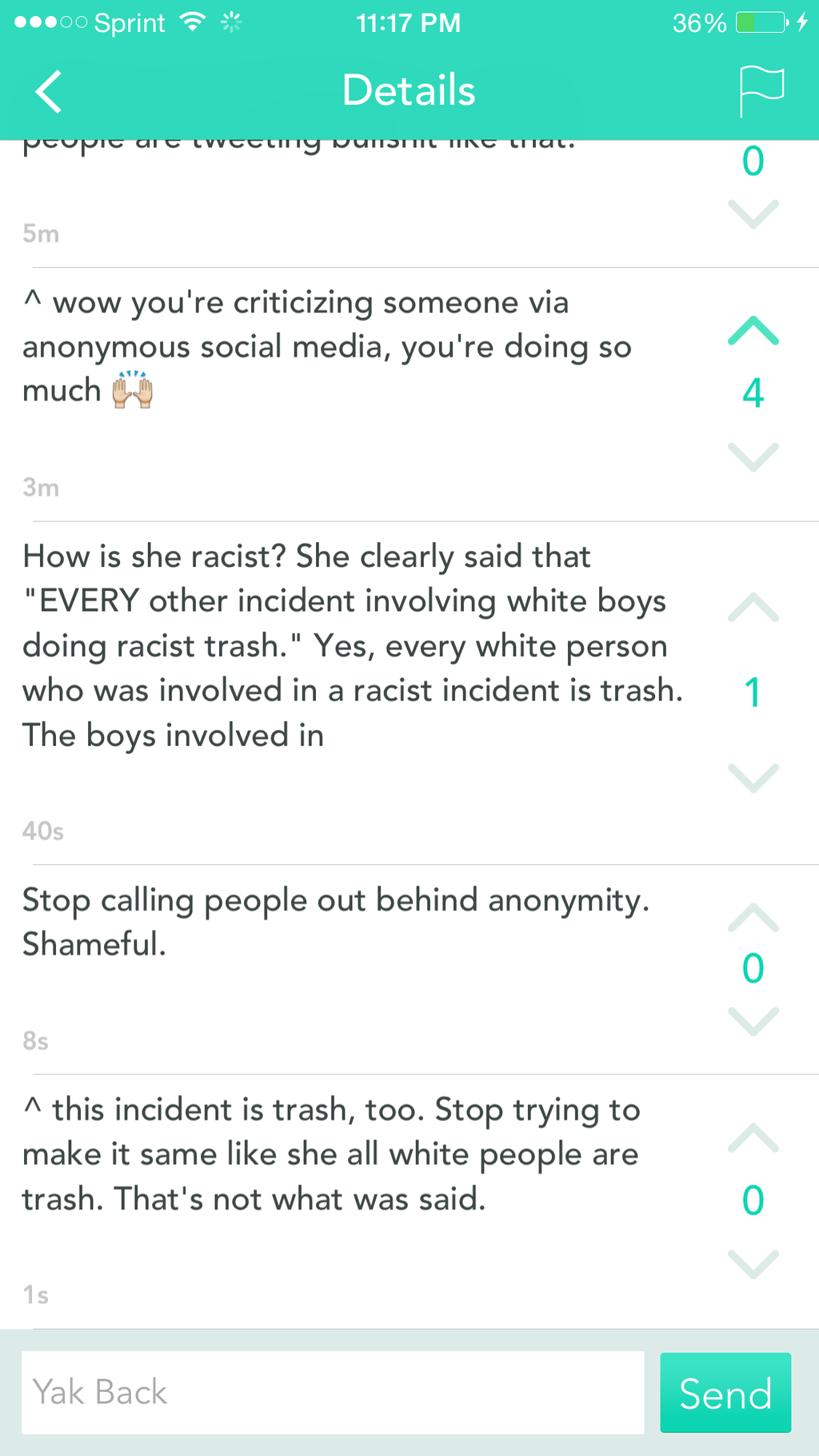 Some users – many of whom were apparently Princeton students – downplayed the issue, criticized people who were offended by Urban Congo, and defended the group's intentions.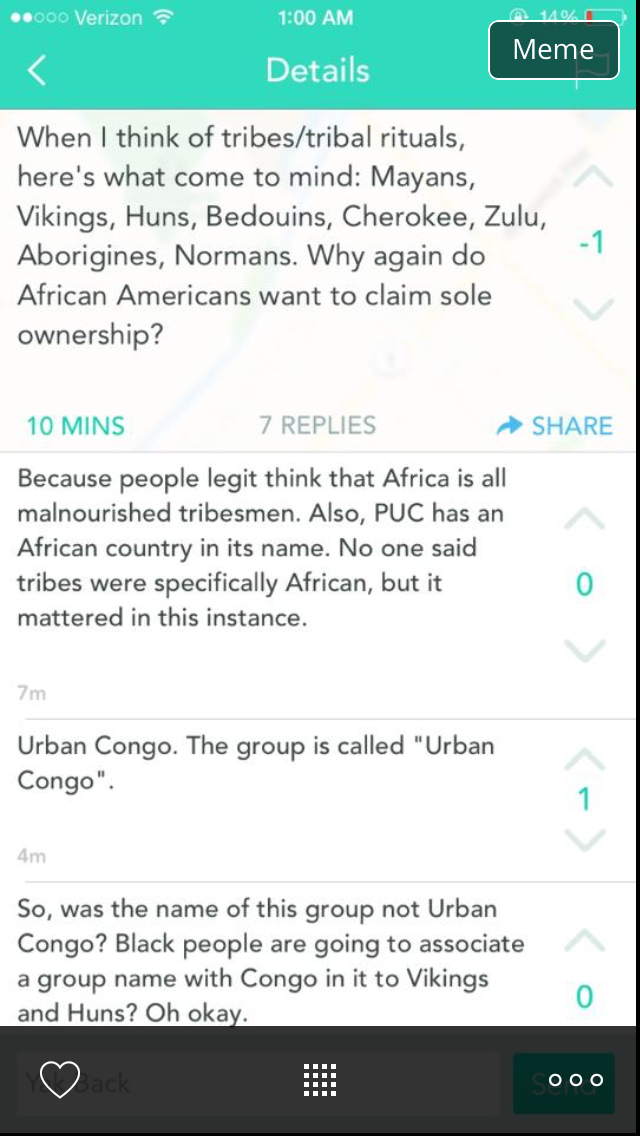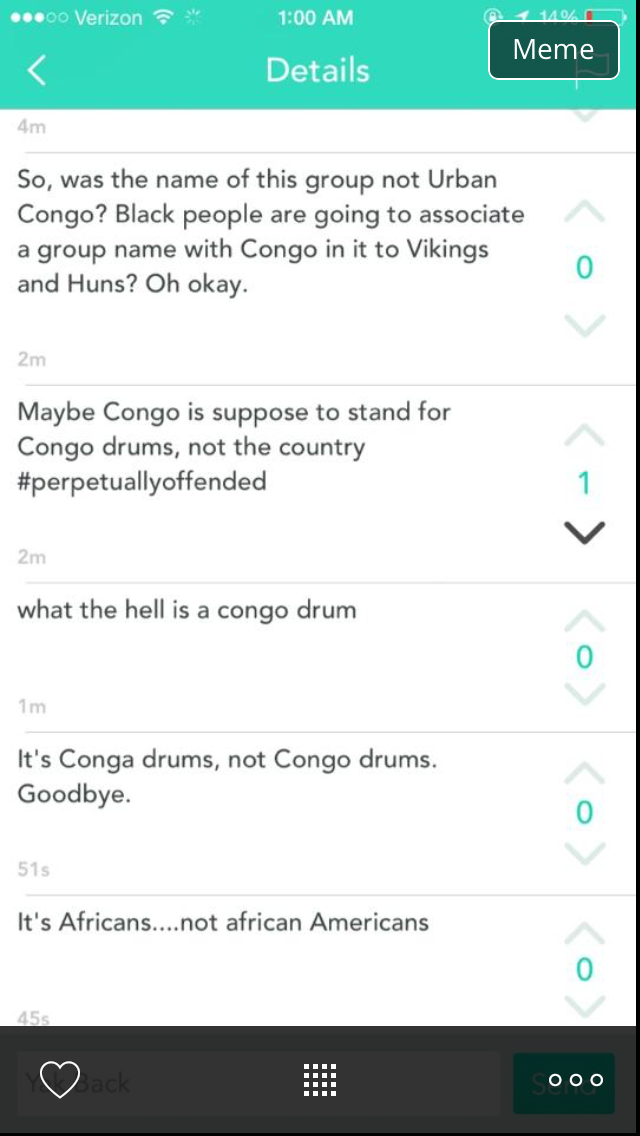 Brandon Holt, a student enrolled in Princeton's African American Studies program, told BuzzFeed News that while Facebook and Twitter were more productive in getting the group disbanded, Yik Yak was the most popular forum for discussion.
"And by discussion I mean one that, sadly, criticized the real feelings of pain experienced by students of color while making excuses for those who actually participated in creating that pain," Holt said.
Students also offered "horrific characterizations" of African culture.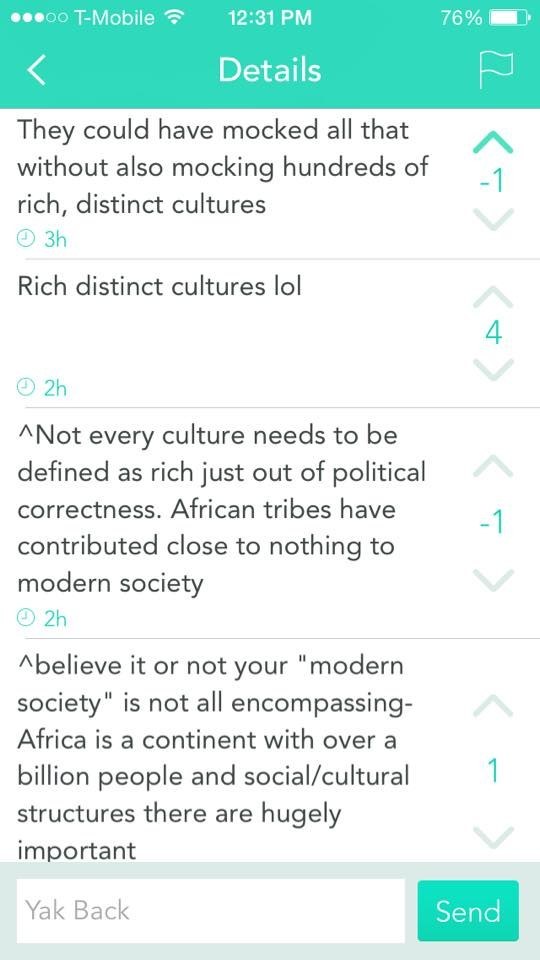 The Yik Yak users "took personal jabs at students who were offended and trivialized their experiences," Holt said.
Other students "offered horrific characterizations of African culture, as a monolithic." Reading those Yaks felt like "a mixed bag of hurt, pain, shock, and disbelief," he said.
Some users deleted the app because of the nature of the rhetoric: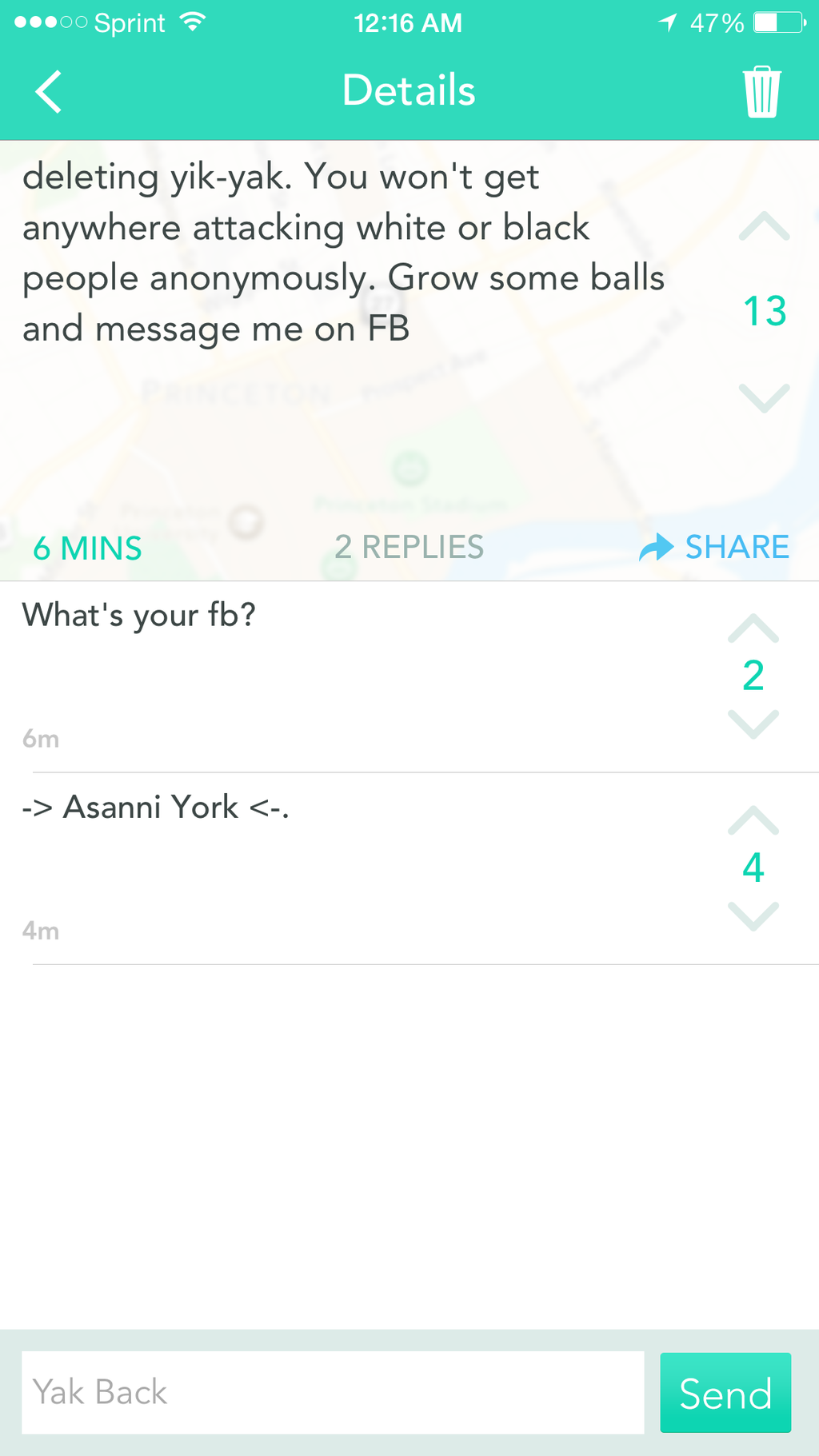 And some black students said they deleted the app because people were anonymously sharing their initials and class year.
Wilglory Tanjong, who enrolled in Princeton last year, told BuzzFeed News that she deleted the app but continued to feel threatened by Yik Yak for being outspoken about the issue. Tanjong said that most Princeton students used Yik Yak to share their "racist and ignorant" feelings.
"I along with other students have been victimized by the anonymity of Yik Yak, in which students have yakked about me, using my initials and class year: WT'18. Yet, these cowardly students have yet to address me in person," Tanjong said.
"Princeton students become very bold under this veil on anonymity," Achille Tenkiang, a Princeton sophomore from Cameroon, told BuzzFeed News.
Joanna Anyanwu, a Princeton student who shared Urban Congo's videos on Snapchat, told BuzzFeed News that she felt "physically unsafe on campus" after her initials and class year were posted multiple times on Yik Yak.
Anyanwu said she was also called a racist multiple times based on one of her tweets where she said, "This Urban Congo thing — like every other incident involving white boys doing racist trash--shows the lengths ppl will go to excuse racism."
Anyanwu said she and her friends decided to look into Urban Congo after someone she knew posted their performance on Snapchat.
After expressing her outrage on social media about the group, Anyanwu said the backlash towards her and others was "strong and swift."
"For my part, my initials and class year were posted multiple times on Yik Yak so it was very clear who people were talking about," she said. "My identity is called into question every single day that I am on this campus but seeing my initials all over the app was the first time I had ever felt physically unsafe to be on campus."
"Yik Yak users said I made them feel unsafe on campus, and a la Mean Girls, someone asked if anyone had ever felt personally victimized by me," Anyanwu said.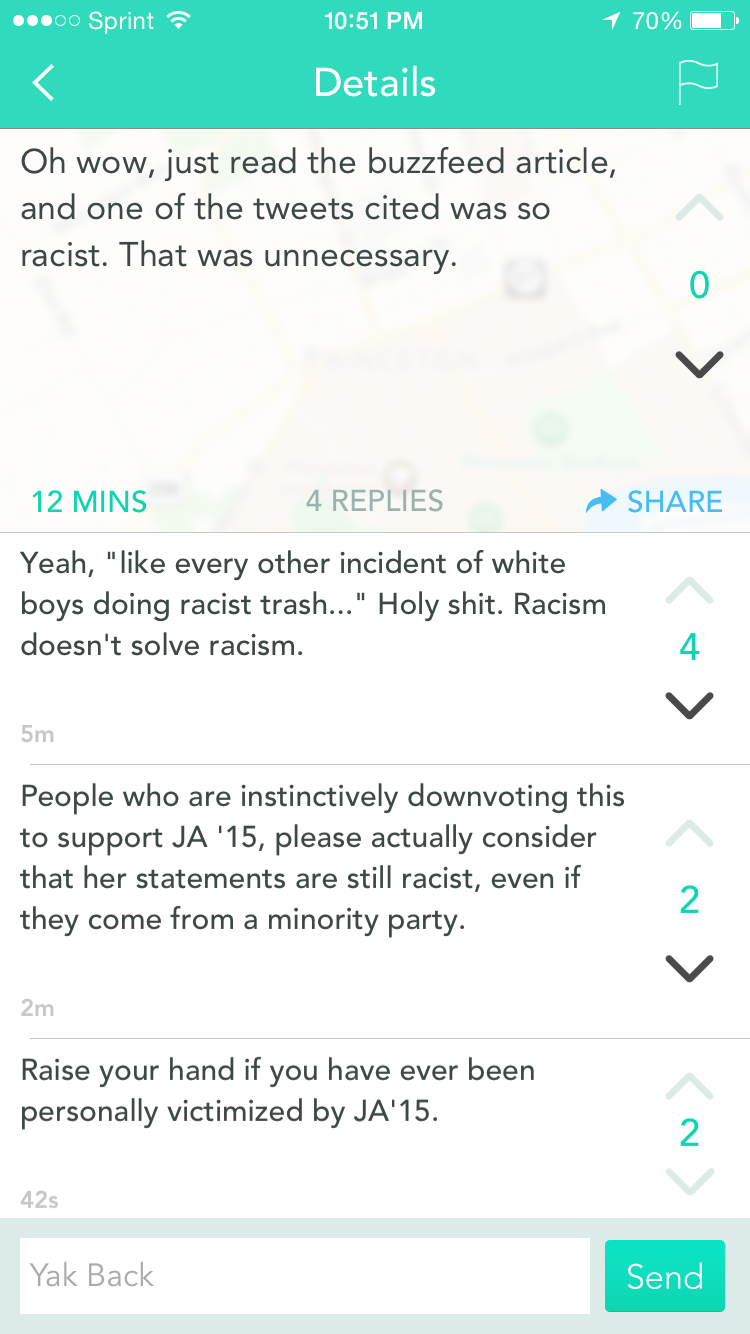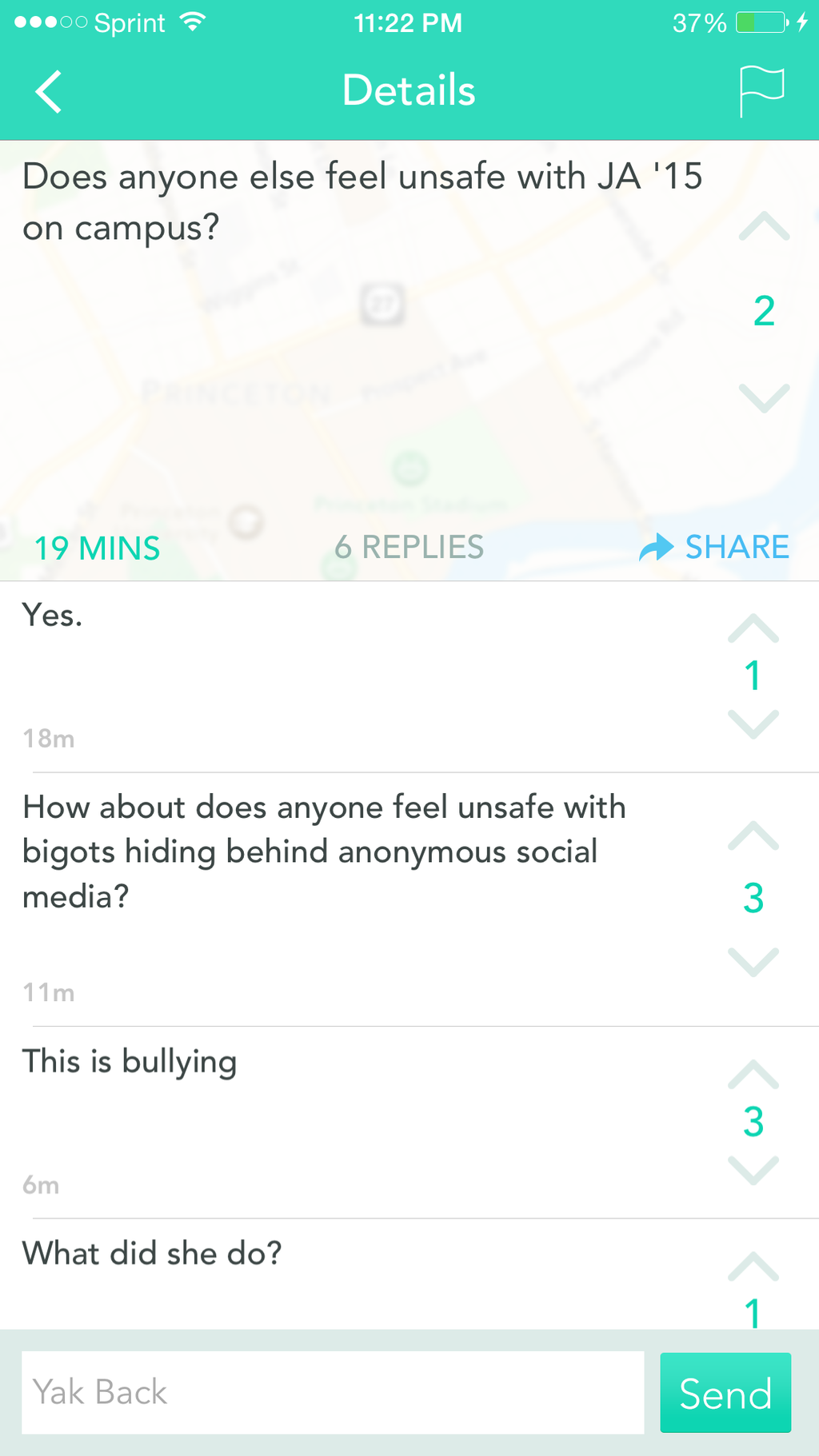 "In addition to being emotionally unsafe, campus also becomes physically unsafe for the students who were hostilely targeted," Holt said.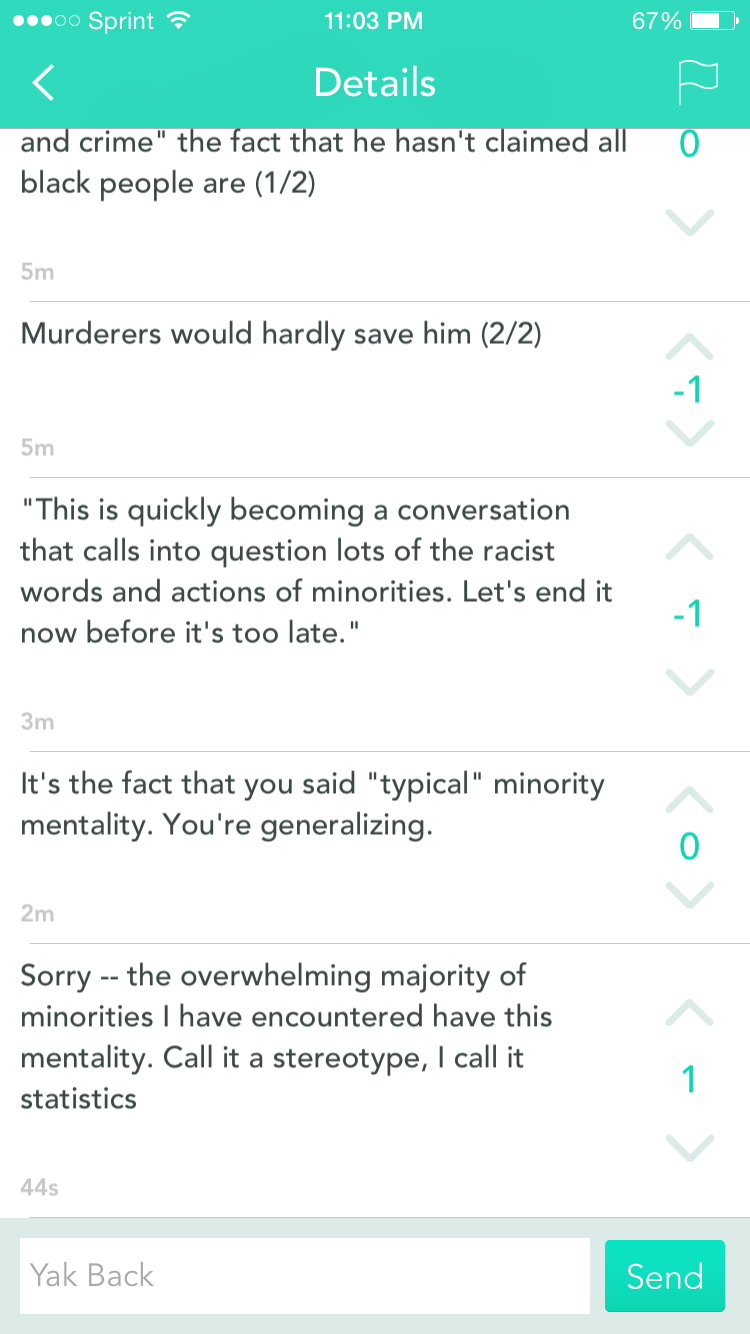 Holt said that Yik Yak made the campus more unsafe by targeting and naming specific students, most of whom were black and vocal about being offended by Urban Congo.
"The campus is already unsafe because you know students are here who took the time and effort to post these outrageously offensive and racist thoughts," Holt said. "But you take it to the next level when you start calling out specific people, especially calling them out for telling their campus community about their experiences with racism."
Princeton spokesperson, Daniel Day, told BuzzFeed News that the university checks Yik Yak occasionally, but does not "consistently monitor it."
"The university does not condone bullying or intimidation, and if anyone feels personally threatened — through social media or any other means — they should alert our Public Safety office, Day said.
In an email to students, obtained by BuzzFeed News, Michele Minter, Vice Provost for Institutional Equity and Diversity, said she was "appalled by the offensive exchanges" on Yik Yak and elsewhere, "particularly those targeting fellow students directly."
"This has no place in our community and degrades our campus climate," Minter wrote, asking students to report harassing behavior to university officials.
The Yik Yak posts "encapsulates the depth of racial hostility on our campus," said Tenkiang.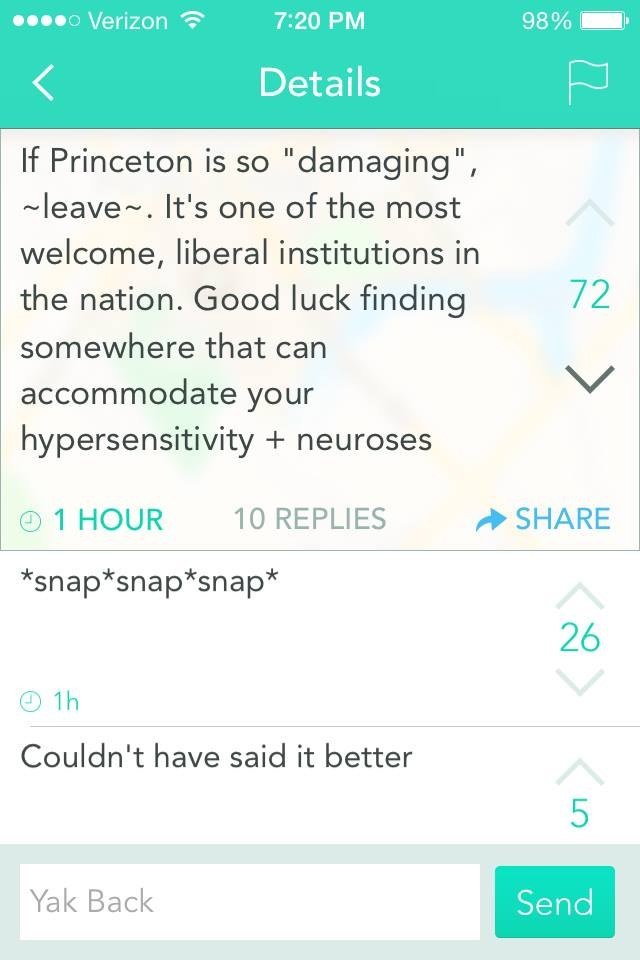 Hilary McQuaide, the Director of Communications for Yik Yak, told BuzzFeed News that the app uses filters to screen out inappropriate words such as slurs.
"We empower communities to self-moderate by downvoting any offensive posts (at -5, a post automatically disappears from the feed), McQuaide said. "We also make it easy for users to report a post for removal, and Yik Yak moderates this 24/7."
The conversation on Yik Yak also "reflects a good population of the students who felt that there was nothing offensive about Urban Congo's performance," Tanjong said.
The anonymous app was used by Princeton students as a "breeding ground that allowed racism and ignorance to thrive," said Tanjong.
While social media was key in calling out Urban Congo for its racial insensitivity and getting it to disband, Yik Yak was where the "aftermath happened," said Holt.
He added, "it did not seem like they valued the offended students of color and their experiences."
Some students were also frustrated with the university's lack of response to the issue.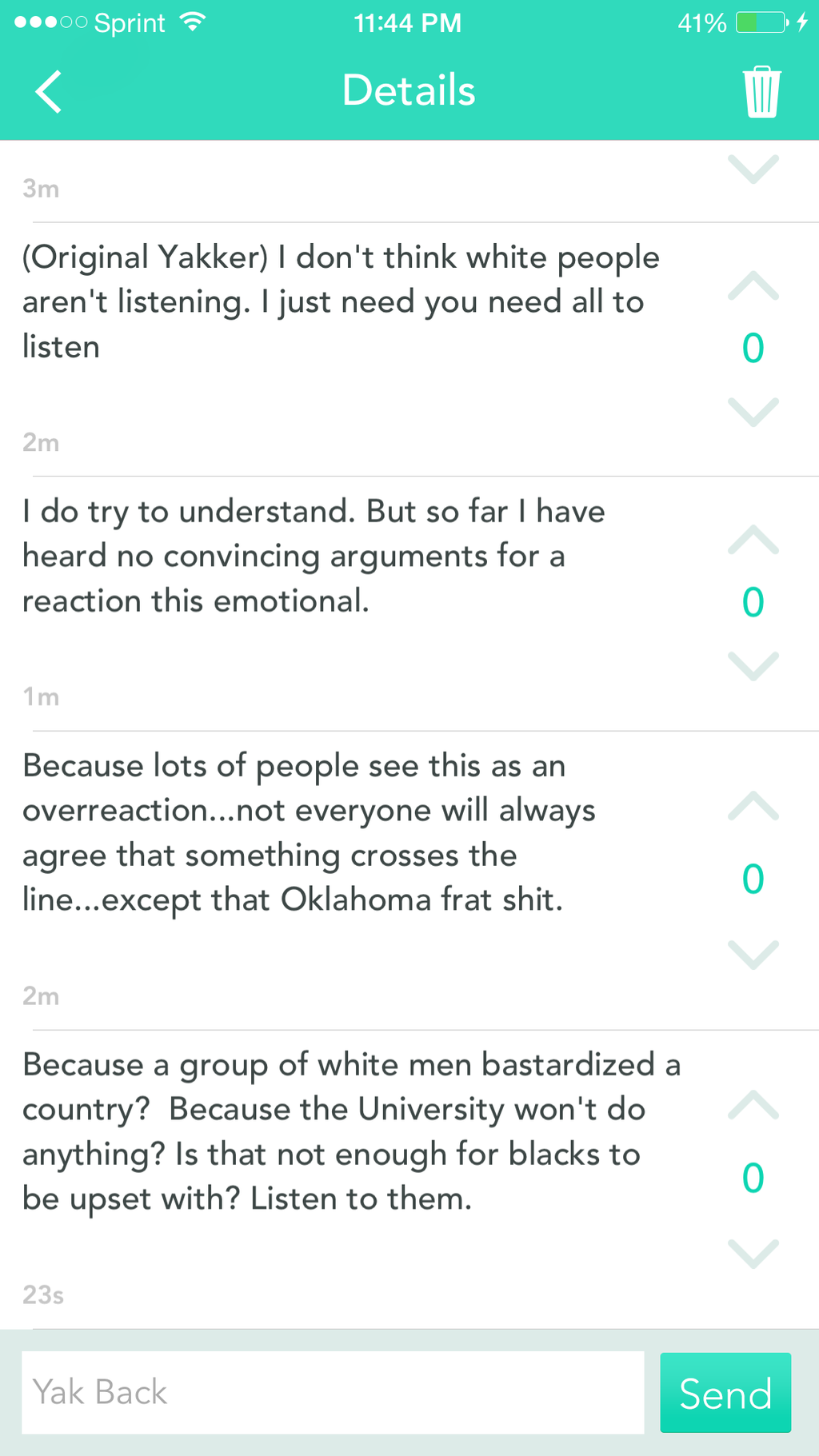 Princeton has said it would not take any action against Urban Congo's members.
Day, the university spokesperson, said that a student group does not have to be "serious" to achieve recognition and that "Urban Congo's objective was was more dining hall than Carnegie Hall: They aimed to use 'found instruments' — trash cans, salt shakers, etc. — to make their music on campus."
All Yik Yak screenshots were provided by Princeton students to BuzzFeed News.