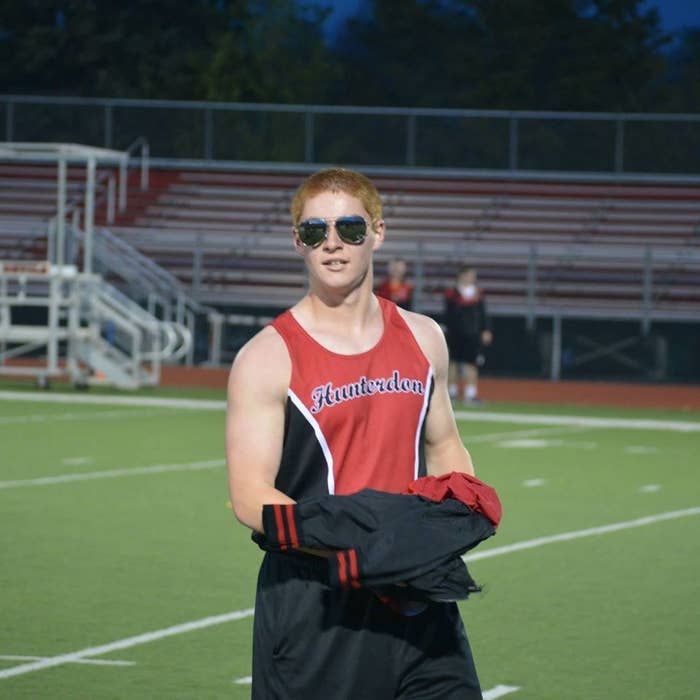 A judge on Friday dismissed the most serious charges against members of a Pennsylvania State University fraternity for their alleged roles in the hazing death of Timothy Piazza, a 19-year-old sophomore.

Twelve of 16 brothers, along with the fraternity chapter, will face trial on lesser charges. All charges were dismissed for four members.

Penn State's Beta Theta Pi fraternity chapter and 18 of its brothers faced more than 850 charges for Piazza's death after an alcohol-fueled hazing ritual in February.

Judge Allen Sinclair's decision marked the end of a tense and volatile preliminary hearing that was spread over seven days in the span of three months, owing to the large number of defendants and the volume of charges in the case.

The purpose of the hearing — held at the Centre County Court in Bellefonte, Pennsylvania — was to determine if the brothers would face trial and on what charges. Two of the 18 brothers, who waived the preliminary hearing, will also face trial along with the12 members and the fraternity chapter.

Sinclair dismissed the most serious charges of aggravated assault and involuntary manslaughter against eight of the brothers, while he let stand lesser charges including, reckless endangerment, hazing, tampering with evidence, and furnishing alcohol to minors.

Prosecutors — led by Centre County district attorney Stacy Parks Miller — had argued that each of the brothers had a role to play in Piazza's death following the fraternity's pledging ceremony where he suffered a series of falls after being made to consume "a life-threatening amount of alcohol."

In a statement, Parks Miller said the judge's decision to dismiss the serious charges was "disappointing, unexpected and in our view, not supported by the evidence."

Parks Miller said she would refile the involuntary manslaughter charges, adding that Sinclair made an "error of law" in his judgement.
Tom Kline, the Piazza family attorney, told BuzzFeed News that "the headline here is that 14 of these 18 men are going to be held over for trial, of which 10 face hazing charges, seven face reckless endangerment, all of which carry potential jail time of years."

"A judge saw fit to hold all of these men over for trial and that is a significant step forward in this process," Kline said.

He said Piazza's parents were "processing a very complex decision in a very emotional time" but were "convinced" that the process would deliver "complete justice" for their family.
Based on the testimony of the case's lead investigator, David Scicchitano, Parks Miller argued that the brothers waited12 hours to call for medical help after Piazza first fell down a flight of steps, and then attempted to cover up their role in his death by deleting their online exchanges and clearing evidence of alcohol consumption at the fraternity house.
Lawyers for the 16 brothers and the fraternity chapter asked the judge to dismiss all or some of the charges against their clients as they attempted to minimize the brothers' participation in the "gauntlet" — a hazing event in which fraternity pledges were made to consume four to five drinks within a few minutes at a series of drinking stations — and the "social party" that followed.

They said that their respective clients had minimal interactions with Piazza during the event. Surveillance footage from the fraternity house was played in court.

The defense attorneys argued that Piazza "voluntarily" attended the pledging event and consented to drink alcohol there. They said that Piazza knew beforehand that the purpose of the event was to get pledges drunk.

The lawyers also contended that the brothers had no intent to cause Piazza's death by serving alcohol to some minors or by running the drinking stations for the "gauntlet." They said that the fraternity members were unaware of the potentially fatal risks of drinking alcohol and were also unlikely to understand the extent of Piazza's injuries through the night.
The defense then sought to shift blame to Tim Bream — a university employee who served as the chapter's live-in adviser. Bream — who was not charged in the incident — testified that was asleep in his room and unaware of the hazing ritual at the fraternity house where he lived.

DA Parks Miller accused the lawyers of "victim-blaming" and dismissed their arguments as irrelevant to the "accomplice theory" she was presenting to Sinclair at the hearing.

Under Pennsylvania law, she said, if an individual aids, abets, or assists someone else in a crime, then that individual is guilty for the "whole crime."

She argued that the brothers who ran the different drinking stations for the gauntlet were part of a "whole chain" and were responsible for the consequences.

Parks Miller said the event was not voluntary as the pledges were instructed what to wear, when to arrive, and were supplied alcohol by the fraternity brothers.

Rocco Cipparone Jr., an attorney for Michael Bonatucci, told BuzzFeed News in July that the prosecution's argument was "too much of a stretch," and that the charges against his client, including aggravated assault and involuntary manslaughter, were a "huge overreach."

"For my client to be guilty of aggravated assault he's got to know his conduct is almost certain to bring about death," Cipparone said. "Now all he did, to the best of their evidence, was bring a case of beer from one room to another and hand out five beers to five people who were not Timothy Piazza. I don't know how anybody could conclude that that's conduct that's almost certain to bring about death."


CORRECTION
Rocco Cipparone Jr.'s name was misspelled in a previous version of this post.
Read BuzzFeed News's coverage of the case: