Leslie McCrae Dowless, a political operative with a criminal past who is at the center of North Carolina's election controversy, "works for everybody's" campaigns in the town, according to a local sheriff who paid him thousands of dollars to work on his successful reelection run this year.

The North Carolina Board of Elections is investigating the results of the 9th Congressional District election between Republican Mark Harris and Democrat Dan McCready after allegations of "irregularities and fraudulent activities" relating to absentee by-mail ballots surfaced. The board could decide to hold a new election.
Sworn affidavits from voters and election workers of Bladen County submitted Nov. 29 to the state board by an attorney for the state Democratic Party appear to suggest that absentee ballots were manipulated and falsified in the race. One of the affidavits names Dowless, saying he would receive a bonus if Harris won.

BuzzFeed News reached out to Bladen County Sheriff James McVicker because public records showed he hired Dowless for get-out-the-vote efforts. McVicker's name does not appear on the affidavits submitted to the election board.
McVicker's race was on the same ballot as the Harris–McCready race. He paid Dowless $8,800 between 2017 and 2018, as part of Dowless's "get out to vote" efforts for McVicker's reelection campaign, according to campaign finance records.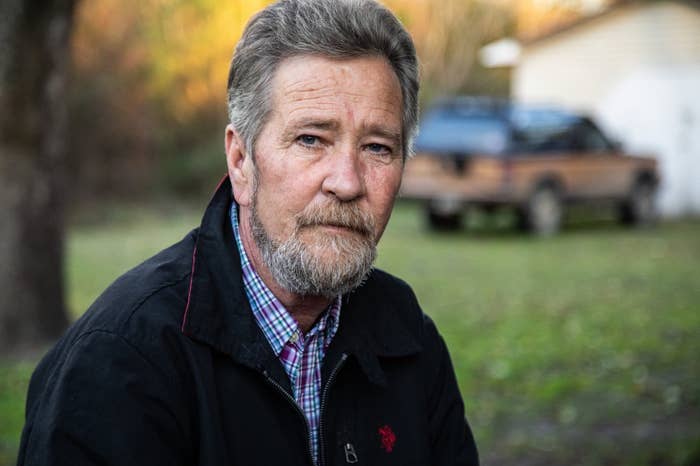 When reached by phone on Monday, McVicker told BuzzFeed News he would answer every question related to Dowless's work for his campaign with a "no comment."
McVicker — who beat his Democratic opponent, Hakeem Brown, by 1,388 votes — said that his campaign had "nothing [to] do" with Dowless's election controversy related to the US House race.
"[Dowless] works for everybody's election campaign in this town," McVicker said, adding that Dowless picked up signs for him and "did a lot of things for me."
Dowless was paid by at least nine candidates for get-out-the-vote efforts, the Charlotte Observer reported, citing public records. Those candidates were not just Republicans — he also worked for Democratic candidates in past cycles.
McVicker told BuzzFeed News that "you are making a mountain out of a molehill."
McVicker also asserted that he was the sheriff and that he "did not appreciate you calling my people" and "dragging my name" into this.
Campaign finance records show McVicker paid Dowless checks totaling $5,800 in 2018 and $3,000 in 2017 under "operating expenses" for "get out to vote" efforts in Bladen County.
Martha McVicker Jolly, who was also paid by McVicker's campaign, told BuzzFeed News that she did not know Dowless.
However, when asked to address the Dowless controversy, she added, "This whole ridiculous stupid mess is coming from a lady over at Bladen County who's putting all this mess out here. She's been ridiculous through the whole campaign," Jolly said, adding that she could not recall the woman's first name, but she said her last name was Sheppard.
It is unclear who she was referring to, but Dwight Sheppard, a fire inspector in Bladen County, was one of the people who submitted an affidavit claiming that he overheard people at a polling site say that Dowless would receive a bonus of $40,000 from the Harris campaign if Harris won the election.
In their affidavits to the state election board, some voters alleged that they were visited by a woman who collected their absentee ballots from them, but never submitted them. The woman, Lisa Britt, allegedly worked for Dowless, Sheppard told WECT, and she also appeared as a signed witness on several absentee ballots, Popular Information first reported. Britt didn't return a request for comment.
Copies of more than 160 absentee ballots flagged as having common signatures were provided to BuzzFeed News. They show that a handful of people served as witnesses on absentee ballots dozens of times — some having signed their name more than 40 times.
Dowless worked as a contractor for Red Dome, a political consulting firm that was paid more than $428,000 by the Harris campaign, WSOCTV.com reported.
McVicker's campaign also paid Red Dome a total of $8,000 in 2018 for "get out to vote" efforts.
Andy Yates, the founder of Red Dome, told the Charlotte Observer that Dowless was an independent contractor who "worked on grassroots for the campaign, independent of the campaign ... as he's done for a number of campaigns over the years." Yates did not respond to an email and phone call from BuzzFeed News.
Dowless — who serves as the executive vice chair of the Bladen Soil and Water Conservation District, which is an elected position — has a criminal past. He was convicted for felony fraud in 1992 and spent six months in prison, records show. He was also convicted on misdemeanors related to writing bad checks and failure to pay taxes, records show.
This is not the first time Dowless has been involved in voter fraud allegations — in 2016, he was the one making them. Despite having won his election as Soil and Water Conservation District supervisor that year, Dowless filed a formal protest with the Bladen County Board of Elections alleging voter fraud, citing the high number of write-in votes for his Democratic-backed opponent.
The protest was dismissed after Dowless testified before the state board of elections and was evidently unprepared to defend his claims. But in a twist, the same hearing revealed that Dowless himself faced complaints of voter fraud in the 2016 election, including allegations that he was paying workers to request and file absentee ballots on behalf of voters, which is illegal.
Alexis Levinson contributed to this report.