Aaron M. Schlossberg, the Manhattan attorney who was caught in a viral racist rant against people speaking Spanish, has been caught on video and in photos being a bigot in at least four more instances over two years.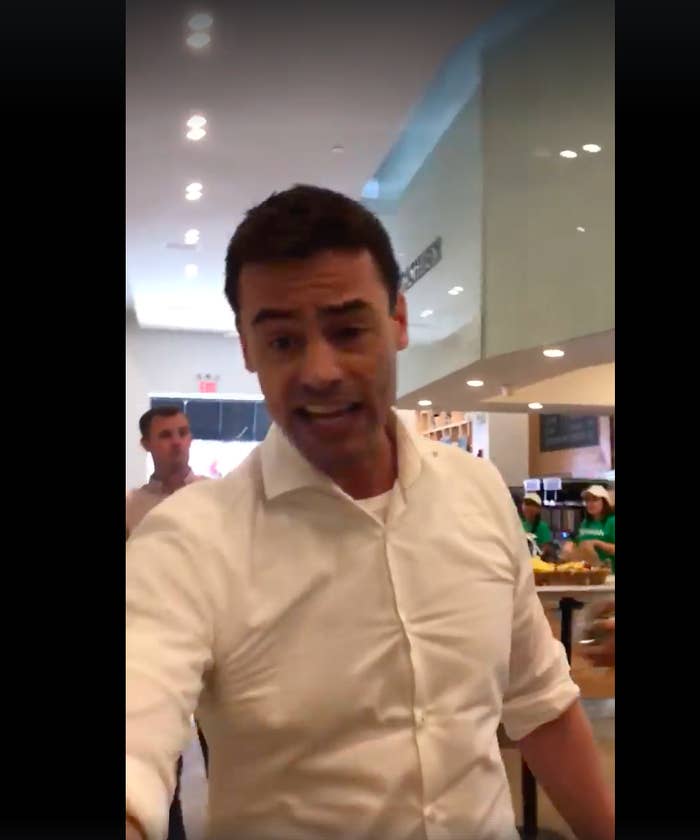 The latest video — shared on Facebook by the husband of one of the people he insulted — showed Schlossberg berating employees and customers at a Fresh Kitchen for speaking Spanish and threatening to report them to immigration officials to get them "kicked out of my country."
"Your staff is speaking Spanish to the customers. They should be speaking in English," Schlossberg told a manager at Fresh Kitchen, which is located next to his law firm. "My guess is they're not documented, so my next call is to ICE to have each of them kicked out of my country."
"Every person I listen to — he's speaking it, she's speaking it," Schlossberg continued. "This is America! If they have the balls to come here and live off my money...I pay for their welfare. I pay for their ability to be here. The least they can do is speak English."
A spokesperson for the George Washington University Law School confirmed to BuzzFeed News that Schlossberg graduated from there with a Juris Doctor in Law in 2002.
According to his LinkedIn profile, Schlossberg was involved in the Spain Study Abroad program at the university and was also a member of the Alpha Tau Omega fraternity. The fraternity said Friday that his membership had been permanently suspended.
"His racist remarks as expressed in the video in your story are abhorrent and are in sharp contrast to the ideals and principles of Alpha Tau Omega," Wynn Smiley, the CEO of the national fraternity, told BuzzFeed News in a statement.
One of his classmates at George Washington University Law School — who did not wish to be identified — told BuzzFeed News on Wednesday that she had never seen him behave in a similar way in law school, but "I guess a lot can change in 15 years."
He was a 1998 graduate of Johns Hopkins University, a spokesperson confirmed.
In his 1994 yearbook from the Haverford School — a private boys school in Pennsylvania — Schlossberg wrote about how he was "outside the lines" and credited a "Mr. Mac" for guiding him through the wall and "within the boundaries."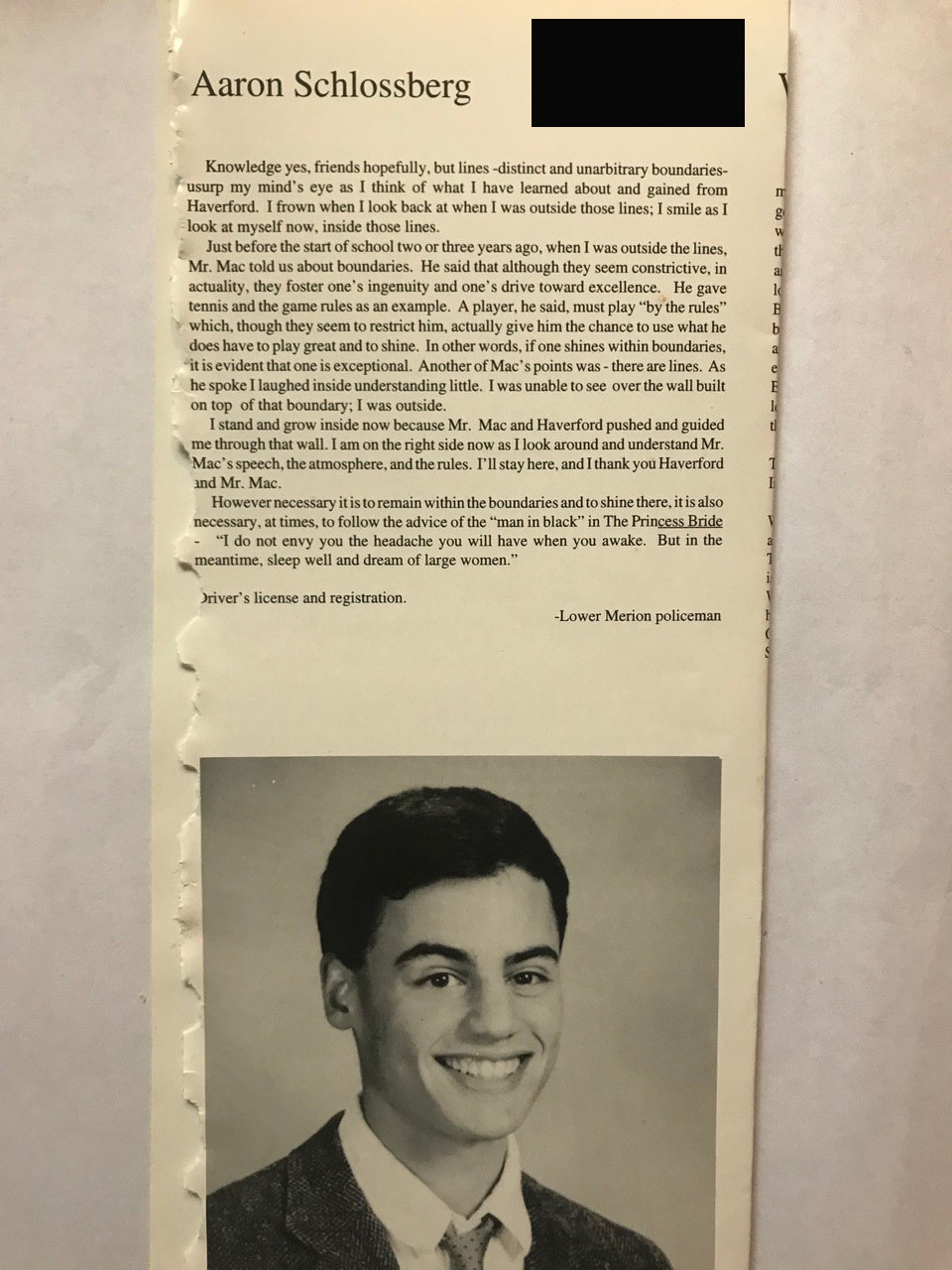 Schlossberg's behavior prompted US Rep. Adriano Espaillat on Thursday to file a formal complaint against him with the state court's disciplinary committee for his "bald-faced racism" and "vile" attack against people in the restaurant.
Espaillat told BuzzFeed News that Schlossberg's "clear pattern of misconduct" — as evidenced in the video and other past instances — violated the code of ethics that governed New York attorneys as officers of the court.
Espaillat said he hoped the committee would take the "appropriate disciplinary action" against Schlossberg, which could include probation or even suspension of his license.
"This individual has had a troubling history of hateful behavior," Espaillat said in a statement. "We are sending this grievance to say that you cannot engage in xenophobia, bigotry, hate and get away with it. Such behavior should never be tolerated."
And Hayim Grant, president of Corporate Suites, the company that provides Schlossberg's office space, told BuzzFeed News on Thursday it kicked the lawyer out and terminated its agreement with him.
Since the restaurant video went viral, several people have come forward to say they noticed Schlossberg's behavior or were victimized by him.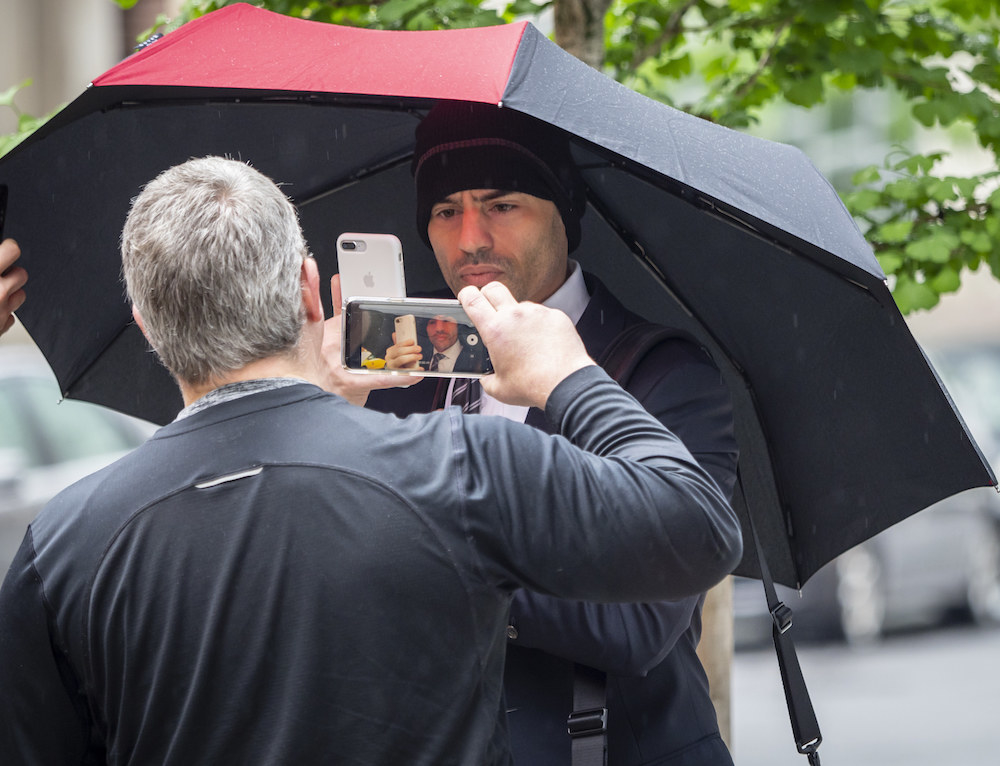 Schlossberg has not responded to multiple calls and emails from BuzzFeed News, but Thursday he emerged from his Manhattan residence wearing a black ski cap and shielding himself with an umbrella from reporters.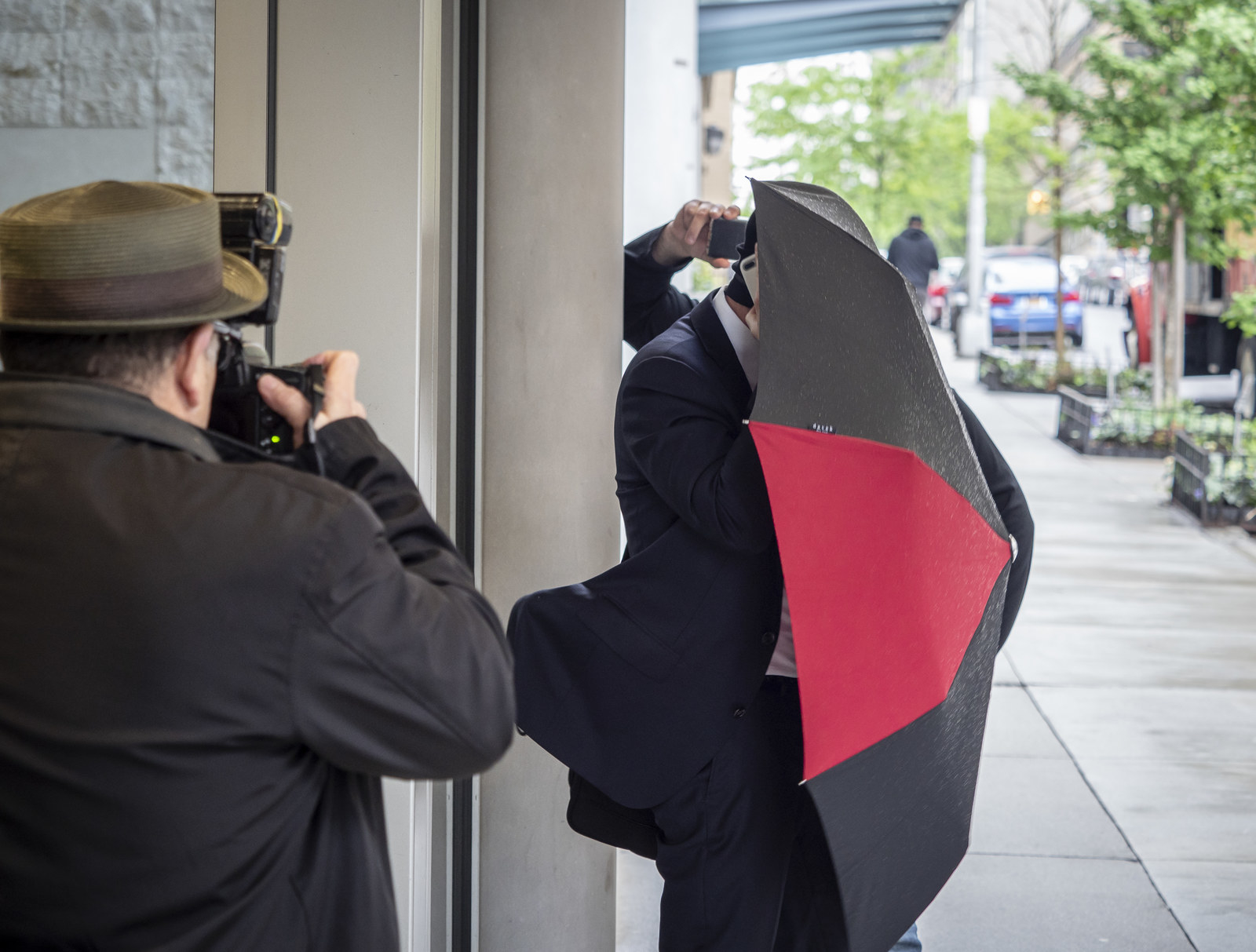 He didn't say anything when a reporter approached him outside court in Queens on Thursday.
And he ran away from an NBC News reporter.
In at least four separate instances over nearly two years, Schlossberg has been recorded or seen engaging in racist behavior in New York. Two of those incidents were recorded at rallies where he was seen among a group of Trump supporters.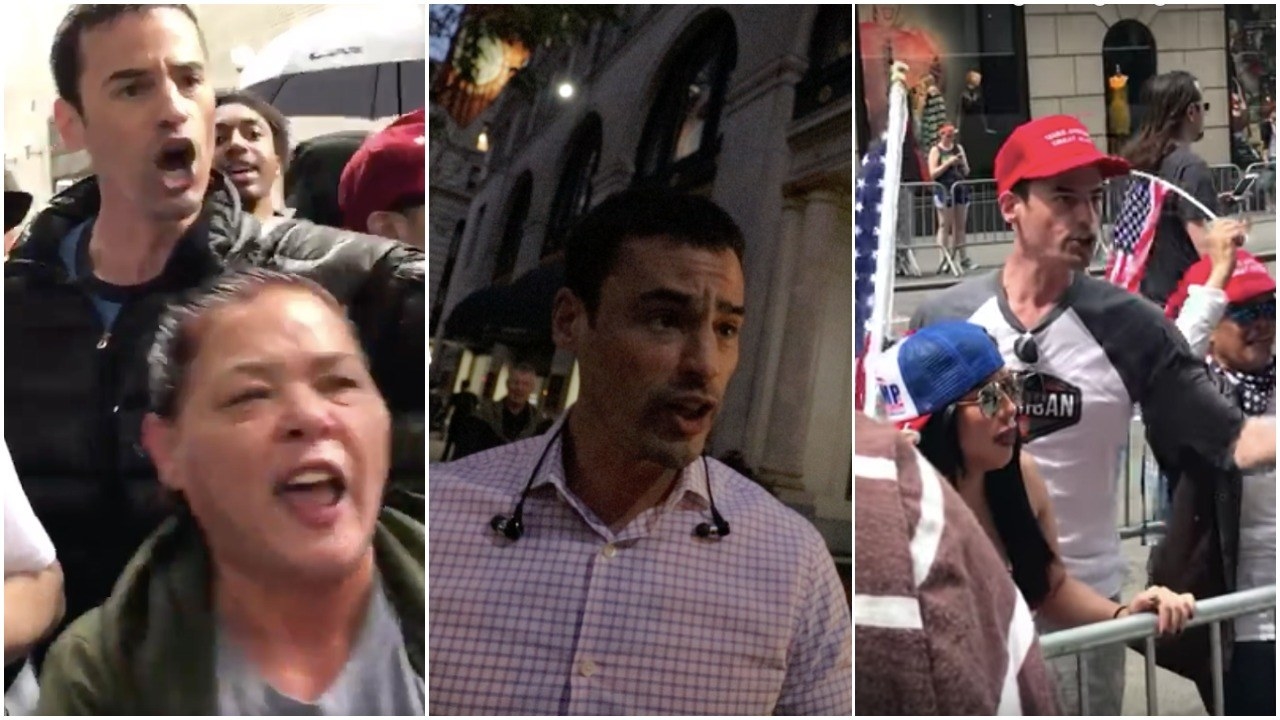 In April 2018, a woman told BuzzFeed News she saw Schlossberg screaming "go home, we don't want you here, you're what's ruining America" at a person who appeared to be an Eastern European tourist on the subway. The woman took this photo:
Schlossberg was also identified as a man seen among a group of Trump supporters at a May 2017 New York rally to protest Muslim American activist Linda Sarsour.
An editor with A Plus, Isaac Saul, spotted Schlossberg in the video. He's seen yelling "you're a fake Jew" at a member of a group of Orthodox Jews who were there to support Sarsour.
In an A Plus report describing the confrontation at the time, Saul wrote that some of the Trump supporters confronted a Haredi rabbi who was part of the Neturei Karta International, "a group of Orthodox Jews who oppose Zionism and the state of Israel."
In the video, Schlossberg — seen in a black jacket — chanted "you are not a Jew" and said that the rabbi was "pretending to be Jewish." He then identified himself as a Jewish person and said that he had been to Israel twice. He also began chanting Milo Yiannopoulos's name.
In an April 2017 video obtained by Vice, Schlossberg was seen confronting anti-Trump protesters while wearing a MAGA hat. "You should be getting down on your knees and thanking me for letting you come here," Schlossberg is heard yelling at them.
Schlossberg was part of a group of Trump supporters holding a counter-rally in New York during the "100 Days of Failure" national protest in 2017 where hundreds of people marched to demand action on climate change on Trump's 100th day in office.
"He's insulting my president," Schlossberg was heard telling an anti-Trump protester during an expletive-laden tirade. "How dare you question my president...I don't give a fuck about your country...You should just say 'Thank you for letting me in your motherfucking country.'"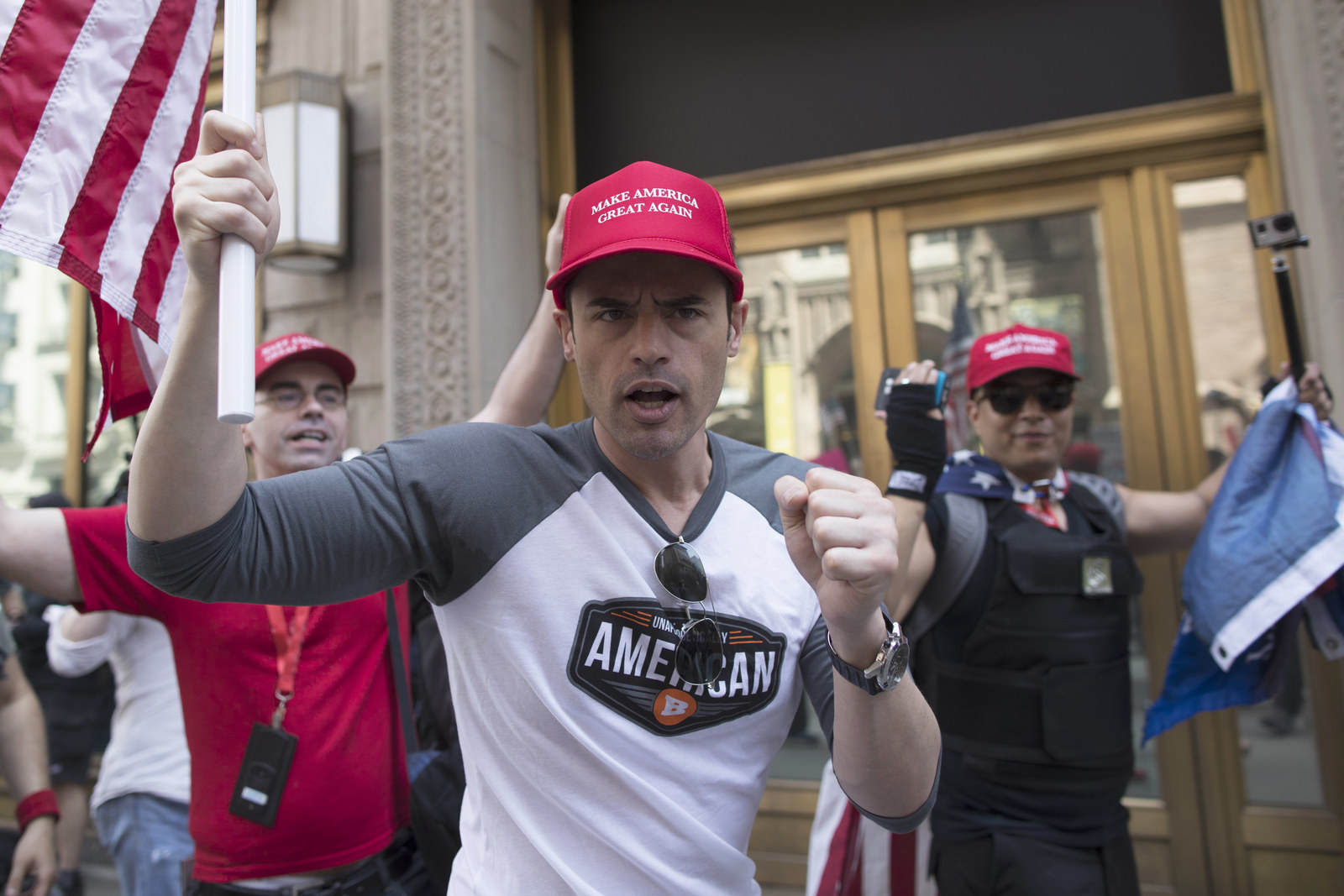 Photos from the protest appear to show Schlossberg taunting one of the organizers of the 100 Days of Failure march and being escorted by a police officer.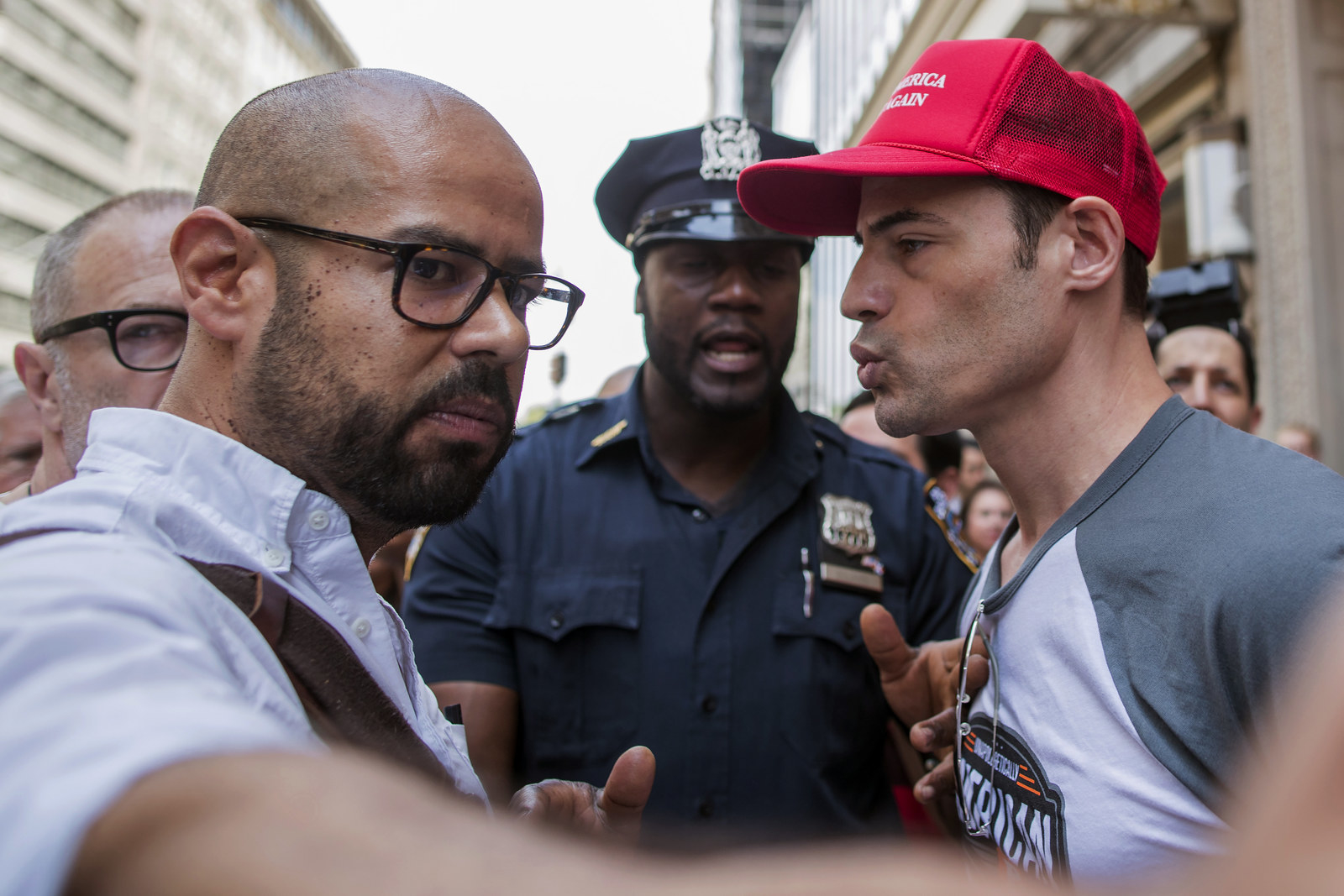 Schlossberg also donated $500 to Trump's presidential campaign in 2016, according to a Federal Election Commission database.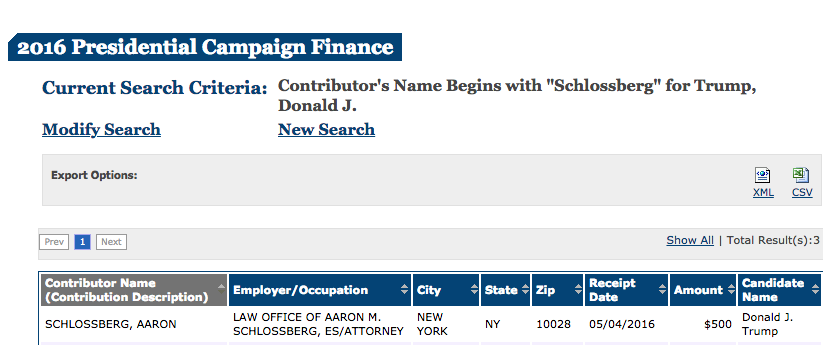 In October 2016, Schlossberg was caught on video calling a stranger "an ugly fucking foreigner" after accusing him of running into him on a sidewalk in Manhattan.
video-player.buzzfeed.com
The stranger was Willie Morris, a white man from Massachusetts, who recorded the bizarre encounter in October 2016 and posted it on YouTube.
Morris told BuzzFeed News on Thursday that he was walking up a sidewalk in Manhattan with his girlfriend — now wife — Heide Morris.
He said he made eye contact with Schlossberg as they passed each other on the street, which prompted the attorney to turn around and get in Morris's face.
"We were walking up Fifth Avenue and out of nowhere this man charged at us, pushed his briefcase up against Wille and started screaming at him," Heide Morris told BuzzFeed News.
Willie Morris said he began filming Schlossberg just in case the incident escalated.
"What country are you from," Schlossberg is heard yelling at Morris in the video. "I'm going to call the police ... you don't run into people. I'm a citizen here, you're not. You're an ugly fucking foreigner. Fuck you. You're not allowed to walk on the wrong side of the street, bump into a lawyer."
Heide and Willie both said they first thought they were being pranked, but once they realized what was happening, Heide said they tried getting out of the situation.
"It was a shock to the system," she said.
When Willie saw the now-viral video from Fresh Kitchen pop up on his Twitter feed, he said he pulled up his 2016 clip and played the two videos side-by-side on a screen and immediately recognized Schlossberg.
One of Schlossberg's former clients, Headline Talent Agency, issued a statement Wednesday, saying the company had parted ways with him "after a major disagreement" and "would never recommend him to anyone."
Ben Jordan, a partner at the agency, said they had been a client of Schlossberg's more than three years ago.
Jordan's business partner, Erica Bines, had left a testimonial on Schlossberg's website calling the lawyer "an incredibly efficient and effective attorney" with an "impressive work ethic."
"The testimonial is quite old," Jordan told BuzzFeed News on Thursday. "We stopped working with him due to a lot of disagreements, mainly about his approach to the business."
Jordan did not elaborate on the nature of the disagreements but said he never experienced Schlossberg do or say anything racist.
"He wasn't someone we wanted to work with anymore," Jordan said, adding that the now-viral video of Schlossberg is "despicable."
"He's not a good person to work with and wouldn't recommend him to anyone," Jordan said.
Jordan and his partner have asked the testimonial be removed from Schlossberg's website.
Schlossberg's law firm associate, Catherine Lyster, did not respond to BuzzFeed News' request for comment.
Online court records matching Schlossberg's name and birth date indicate he was arrested in Philadelphia in 2009 for disorderly conduct. The charge was dismissed about two months later.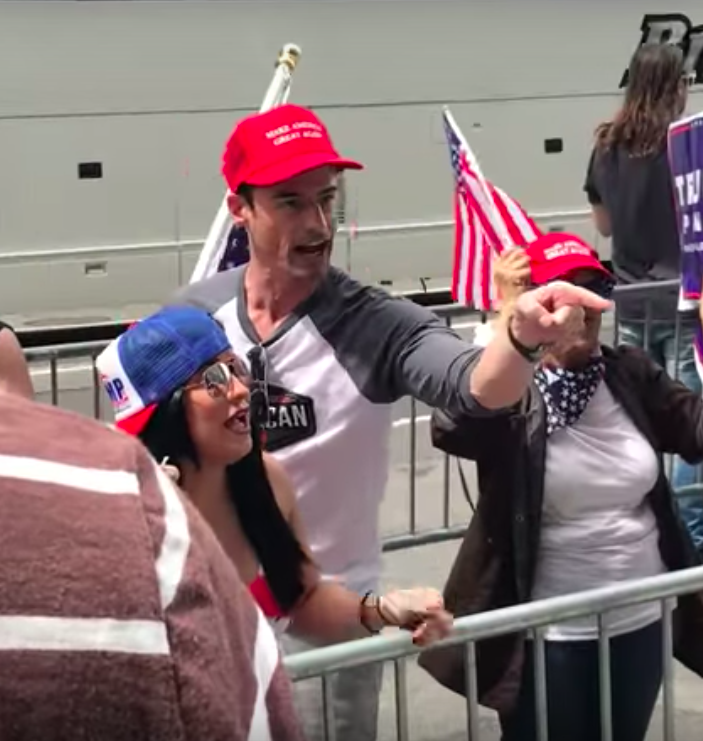 According to the police incident report Schlossberg was at a Citizens Bank Park during a Phillies game and was disturbing other patrons. A Phillies security officer asked him to stop and told him he'd be ejected from the game.
Schlossberg then reportedly "jumped in the face" of a Philadelphia police officer and said, "you're fucking dead."
He was then arrested and moved to a police room inside the ball park.