New Tamir Rice Report Says Fatal Police Shooting Was "Tragic But Reasonable"
This third report, like previous reports, says a rookie police officer was justified in shooting the 12-year-old boy who was playing with a toy pistol in an Ohio park.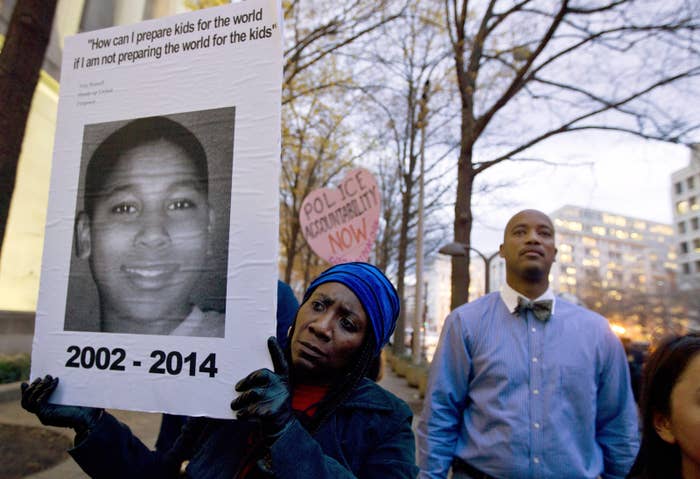 A new report on the death of 12-year-old Tamir Rice in Cleveland last year, finds that a rookie police officer made an "objectively reasonable decision" to shoot Rice, who was carrying a toy pistol in a park.
This is the third report submitted to the Cuyahoga County Prosecutor's Office which is investigating the shooting. Two other reports released in October also justified the shooting.
The latest report, submitted on Nov. 12, was compiled by W. Ken Katsaris, a Florida law enforcement officer and instructor who has previously served as a police officer, a deputy sheriff, a highway patrol trooper and a Chief Law Officer in Florida.
"This unquestionably was a tragic loss of life, but to compound the tragedy by labeling the officer's conduct as anything but objectively reasonable would also be a tragedy, albeit not carrying with it the consequences of the loss of life, only the possibility of loss of career," Katsaris wrote in the report.
A new surveillance video showing a different angle of the shooting was released along with the report.

On Nov.22, 2014, Rice was shot in the torso by 26-year-old rookie officer, Timothy Loehmann, after a 911 caller reported that a "guy" kept pulling a pistol out of his pants and pointing it at everybody in a park. "It's probably fake, but you know what? It's scaring the shit out of me," the caller said.
Rice was playing in the park with a toy pistol that had the orange indicator removed.
In the report, Katsaris noted that the 911 dispatcher did not inform Loehmann and his training officer, Frank Garmback, 46, that the caller had indicated that the pistol might be fake and the person carrying it was "probably a juvenile."
The two officers pulled up within feet of Rice, and Loehmann, who was in the passenger seat, opened his door and shot him. The police later said that the officers had asked Rice to raise his hands but that the boy had reached for the gun at his waist.
Rice later died at a hospital, prompting outrage at what was seen by many as yet another incident of excessive police force. A grand jury is hearing evidence to determine if Loehmann and Garmback should be criminally charged in the case.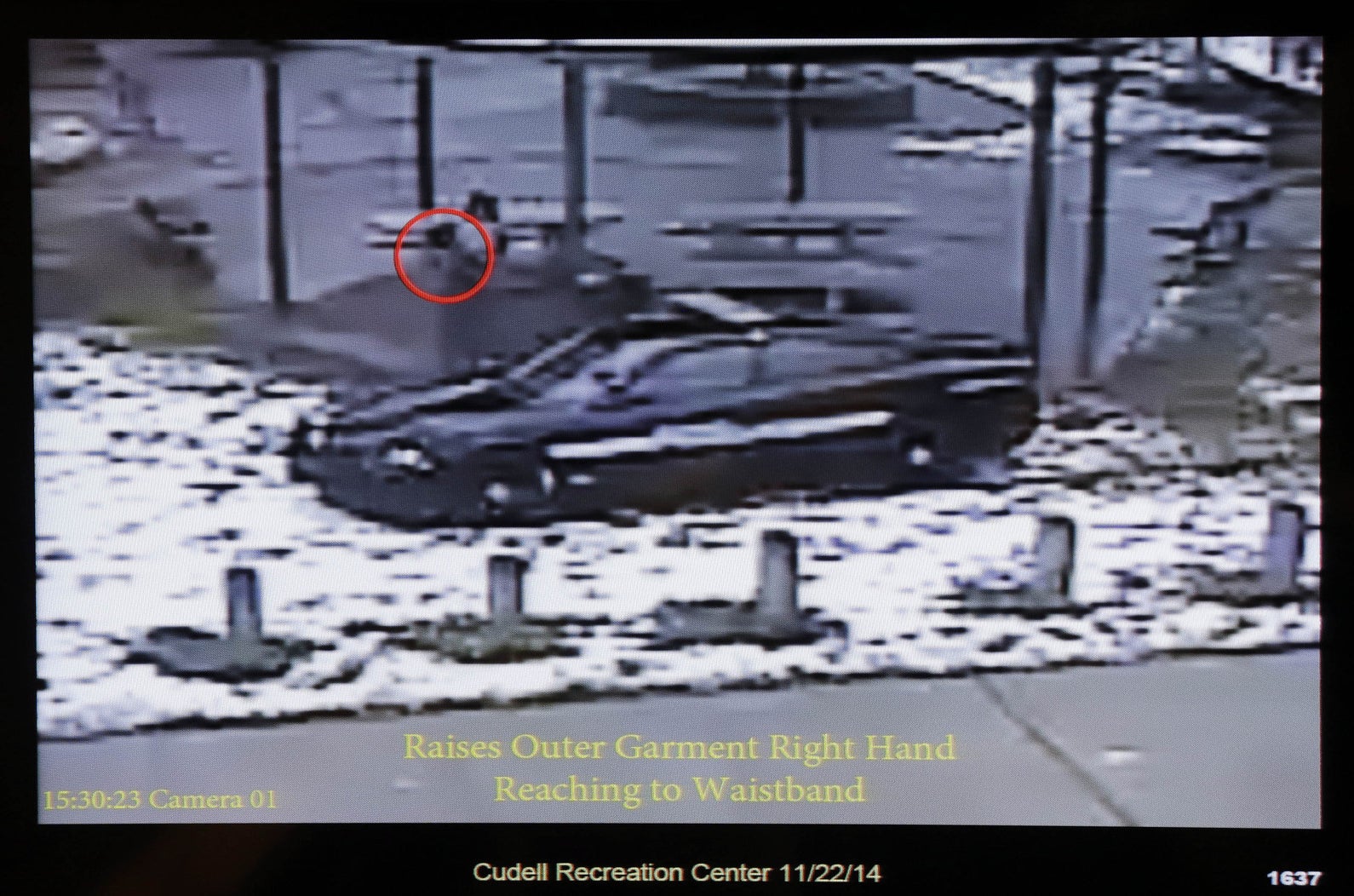 In his report, Katsaris wrote that given the circumstances, "the only objective reasonable decision to be made by Loehmann was to utilize deadly force and depoly his firearm."
"Given the split second decision Officer Loehmann had to make, observing the approach of a 5'7", 195 pound male, matching the description of the "guy with a gun," who "keeps pulling it out of his pants, and pointing it at people," the officers focus, threat assessment, movement of Rice towards Loehmann, possibly not reacting to Loehmann' s commands, and though not perfectly clear, appears to be reaching for his waist under his shirt/jacket (video), the only objectively reasonable decision to be made by Loehmann was to utilize deadly force and deploy his firearm."
Katsaris said that it was "simply obvious" that the officers believed that Rice was armed and that the boy's actions "provided no other alternative" to Loehmann than to apply deadly force.
Attorneys for Rice's family have previously criticized Cuyahoga County Prosecutor Tim McGinty's decision to release the two "biased, pro-police reports that purported to justify the shooting."
"Regrettably, with the release of yet another utterly biased and shamelessly misguided 'expert report' the County Prosecutor is making clear his intention to protect the police from accountability under the criminal laws, rather than diligently prosecute them," the family's attorney Jonathan Abady said Thursday in a statement provided to BuzzFeed News.

McGinty justified the release of the report, saying, "This is a far more thorough investigation than has ever been done in this county, and there has never before been such an open process."
"When it comes to police use of deadly force cases, I could simply make a ruling as to whether a police officer's actions were justified by law or violated the law, with no need to explain my decision," McGinty said in his statement Thursday. "Instead, in all fatal use of deadly force cases, I have chosen to use a process by which evidence is carefully investigated by another separate and neutral police agency (in this case, the Cuyahoga County Sheriff's Office)."