More than 160 counties gathered at the United Nations on Friday to sign the historic Paris agreement on climate change, with the main goal of keeping a global temperature rise well below 2 degrees Celsius this century.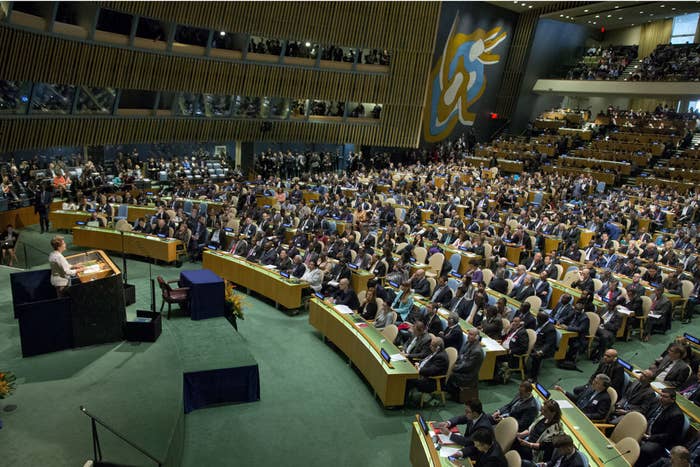 A record number of countries — a total of 175 — signed the agreement that was convened at the COP21 climate summit in Paris in December.
The agreement was hailed by the UN as a landmark given that it set a single-day record for number of nations signing on.
The number of signatories surpassed the previous record of 119 signatures for an opening day signing of an international agreement set in 1982 by the Law of the Sea in Montego Bay, according to the UN.
The main aim of the agreement is to keep the global temperature rise below 2 degrees Celsius and to limit the temperature increase even further to 1.5 degrees Celsius above pre-industrial levels.
"The 1.5-degree Celsius limit is a significantly safer defense line against the worst impacts of a changing climate," the UN stated.
"We are in a race against time," UN Secretary General Ban Ki-moon said at the signing ceremony. "I urge all countries to move quickly to join the Paris Agreement."
U.S. Secretary of State, John Kerry, signed the agreement — which he called "the strongest, most ambitious climate pact ever negotiated" — with his granddaughter in his arms.
"Climate change will test our intelligence, our compassion, and our will," Canadian Prime Minister Justin Trudeau said in his address. "But we are equal to that challenge."
"You are the last, best hope of Earth," Oscar winner and UN messenger of peace, Leonardo DiCaprio, said at the signing ceremony. "We ask you to protect it, or we, and all living things we cherish, are history."