An Air National Guard Officer Was Fired For Wearing A Dinosaur Hand Puppet While Taking A Military Oath
Two other National Guard officers were also disciplined after a video showing Sgt. Robin Brown taking an oath with a hand puppet went viral last week.
A Tennessee Air National Guard officer was fired Wednesday for wearing a dinosaur hand puppet while taking a military oath during her reenlistment ceremony last week, officials said.
Sgt. Robin Brown, a senior noncommissioned officer (NCO), was fired from her full-time position with the Tennessee Joint Public Affairs Office, according to a statement from Army Maj. Gen. Terry Haston, the adjutant general for the Tennessee National Guard. The statement, posted on Facebook, said that "other administrative actions are underway."
BuzzFeed News could not reach Brown for comment.
The unidentified colonel who administered the oath was demoted to the rank of lieutenant colonel and "immediately retired," Haston said.
The senior noncommissioned officer who made the recording was removed from his position as first sergeant and was officially reprimanded, but remains at the Tennessee Air National Guard, according to Haston.
The video of the reenlistment ceremony went viral with more than 2.7 million views after an unofficial Air Force forum posted it on Facebook on Saturday, saying, "Remember when the Profession of Arms was taken seriously??"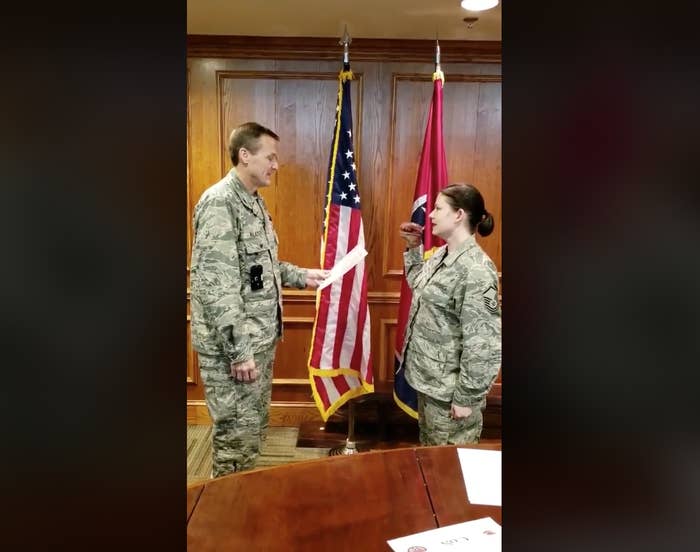 The video showed Brown using the dinosaur hand puppet to recite the Oath of Enlistment while the colonel conducting the ceremony read it to her from a piece of paper.
"I am absolutely embarrassed that a senior officer and a senior NCO took such liberties with a time-honored military tradition," Haston said in his statement. "The Tennessee National Guard holds the Oath of Enlistment in the highest esteem because that oath signifies every service member's commitment to defend our state, nation and the freedoms we all enjoy. Not taking this oath solemnly and with the utmost respect is firmly against the traditions and sanctity of our military family and will not be tolerated."
According to some claims made online, the video was made for Brown's children to watch, while others speculated that it was not an official reenlistment ceremony.
However, a spokesperson for the Tennessee Joint Public Affairs Office, Sgt. William Jones, told several media outlets that it was an official reenlistment ceremony.
"This was not typical [behavior] for a re-enlistment ceremony by any means," Jones told the Washington Post. "It was very unusual."
However, the director of the Tennessee Joint Public Affairs Office on Thursday declined to confirm whether it was an official ceremony. He told BuzzFeed News that there were no children present at the ceremony, but did not provide additional information.
The video sparked criticism from many people, one of whom commented, "This deserves a good throat punch to all those involved."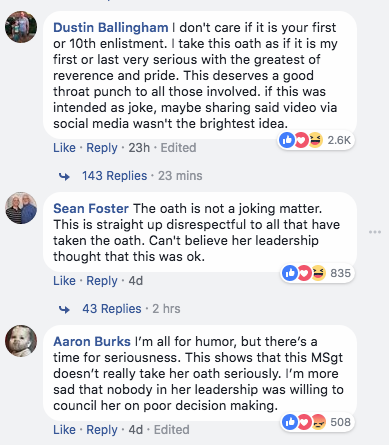 The actions of the officers in the video also prompted strong statements from other high-ranking officials, including Air National Guard Director Lt. Gen. Scott Rice, who said, "I'm equally shocked and dismayed by this event that mocks such a cherished and honorable occasion."
In a Facebook post, Chief Master Sgt. Ronald Anderson, the command chief master sergeant of the Air National Guard, said the act "in no way represents who we are as a force."
"It does not negate the professionalism and dedication exemplified everyday by the Airmen who have sacrificed and dedicated themselves to our Air National Guard, our community, state and nation," he said.