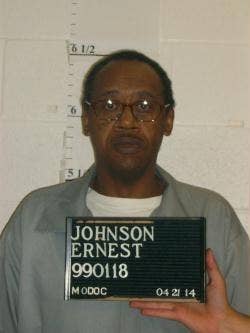 UPDATE
The Supreme Court halted Ernest Lee Johnson's Tuesday night execution, pending the outcome of his appeal currently before the 8th Circuit Court of Appeals.
In granting the temporary stay of execution, the court — in a somewhat unusual move — detailed some of the specifics of Johnson's claim.
"Petitioner's complaint alleges that Missouri's method of execution violates the Eighth Amendment as applied to a person with his particular medical condition. A supporting affidavit by a medical expert states that '[a]s a result of Mr. Johnson's brain tumor, brain defect, and brain scar, a substantial risk of serious harm will occur during his execution as result of a violent seizure that may be induced by [the] Pentobarbital injection,'" the unsigned Supreme Court order states.
Because the trial court ruled against Johnson's claim at the earliest stage of litigation — dismissing the case "for failure to state a claim" — the Supreme Court went on in its order to note the "the State was not required to submit any evidence refuting this allegation."
The Supreme Court order then concluded: "In the currently pending appeal [at the 8th Circuit], the Court of Appeals will be required to decide whether petitioner's complaint was properly dismissed for failure to state a claim or whether the case should have been permitted to progress to the summary judgment stage," at which point the state would have to submit evidence attempting to refute Johnson's claim.
The 8th Circuit had denied Johnson's request for a stay pending his appeal on Oct. 30. In its decision, the court held that "Johnson has not shown a significant possibility of success on his claim that the method of execution used by Missouri 'presents a risk that is sure or very likely to cause serious illness and needless suffering.'"
The Supreme Court's decision will allow Johnson to present a full appeal on the question of whether he provided enough information in his complaint that — if all of his presented claims are true — he could mount a successful case. If so, the complaint should not have been dismissed by the trial court at that stage in the litigation and the state will have to counter Johnson's claims with evidence of its own.
The Supreme Court denied Johnson's request for a stay relating to his claim of intellectual disability.
ORIGINAL REPORT
Ernest Lee Johnson is set to be executed in Missouri on Tuesday for murdering three people during a robbery in Columbia in 1994.

Johnson, 55, was sentenced to death for killing Mary Bratcher, 46; Mable Scruggs, 57; and Fred Jones, 58 — all three of whom worked at the convenience store that Johnson robbed.
Johnson stabbed Bratcher's hand with a screwdriver at least ten times and repeatedly struck her skull with a hammer, killing her in the store's bathroom, according to court documents. She was found on the floor with a 4-inch cut on her face, a broken skull, a brain injury and several wounds around her nose, mouth and head.
He also killed Scruggs in the same bathroom, striking her head with the hammer more than eight times, leaving her with a cut face, fractured skull, and injured brain.
Johnson then smashed Jones' hand in the store's cooler door, shot him in the face and then fatally struck him in the head multiple times with the hammer. He cut Jones' face and his brain, broke and fractured his skull, and left his body in the cooler.
If executed, Johnson will be the seventh person to die by lethal injection in the state this year.
The courts had previously vacated two death sentences, one over concerns that Johnson had inadequate representation and a second over questions of his mental capacity to be executed. However, he then was sentenced to death a third time.
Johnson has now asked the U.S. Supreme Court to stop the execution on the grounds that the lethal injection drugs Missouri uses will cause him severe pain because of his brain tumor. A second appeal, filed late Monday night, said that Johnson was too intellectually disabled to be executed.

According to his request before the Supreme Court, Johnson underwent a surgery in 2008 for a brain tumor, a portion of which could not be removed.
His lawyers have submitted an affidavit from Dr. Joel Zivot, a professor at the Emory University School of Medicine, who examined Johnson's medical records. Zivot said that Johnson was missing approximately 15 to 20% of his brain tissue due to the tumor and the surgery.
Zivot went on to say in the affidavit that the drugs used in Missouri's lethal injection protocol — pentobarbital and midazolam — posed a significant risk of triggering a "violent seizure" due to Johnson's tumor, brain defect and brain scars.
Missouri has a one-drug execution protocol that uses pentobarbital. However, a St. Louis Public Radio investigation found that the state also used a controversial sedative, midazolam, in all its executions from November 2013 until September 2014, despite top correctional officers testifying that they did not use the drug in executions. State officials said that the drug would only be used from then on if the inmate requested it. Midazolam — used in problematic executions Ohio, Arizona, and Oklahoma last year — was the the center of a Supreme Court ruling in June that allowed the use of the sedative in Oklahoma's executions.
"Mr. Johnson faces a significant medical risk for a serious seizure as the direct result of the combination of the Missouri lethal injection protocol and Mr. Johnson's permanent and disabling neurologic disease," Zivot wrote in the affidavit.

Johnson's appeal states that such an "uncontrollable" seizure would result in a "severely painful execution," thereby violating the Eighth and Fourteenth Amendments to the Constitution.
In its response, Missouri said that Johnson has failed to show facts that would establish that pentobarbital "is sure or very likely to cause serious illness and needless suffering" — the standard established in the two most recent Supreme Court cases addressing the question.
Johnson's appeal also argued that lethal gas was an alternative and feasible method of execution. State law allows lethal gas, but there is no gas chamber in Missouri. The state responded saying Johnson failed to prove that Missouri could readily implement the lethal gas method.

In May 2014, the U.S. Supreme Court stopped the execution of another Missouri inmate, Russell Bucklew, who claimed that the state's lethal injection drugs would cause a substantial risk of him suffering "grave adverse events" — including hemorrhaging, suffocating or experiencing excruciating pain" — due to tumors in his head and neck.