Missouri Executes Convicted Murderer Amid Competence, Racial Bias Concerns
Andre Cole was executed for the 1998 murder of his ex-wife's friend. The Supreme Court and Missouri Gov. Jay Nixon refused to intervene on Tuesday.
Update at 11:30 p.m. ET April 14: Andre Cole has been executed.
"Andre Cole was executed by lethal injection at 10:15 p.m. [CT] on Tuesday, April 14, 2015 at the Eastern Reception, Diagnostic and Correctional Center in Bonne Terre, Missouri for the 1998 murder of Anthony Curtis. He was pronounced dead at 10:24 p.m. [CT]," a Missouri Department of Corrections spokesman told BuzzFeed News.
Missouri Attorney General Chris Koster said in a statement, "Andre Cole planned and carried out a brutal act of domestic violence because he did not want to provide financial support for his child and his child's mother. It is my hope that the sentence carried out tonight brings those forever impacted by this tragedy a sense of justice and a measure of closure."
Update - 10:50 p.m. April 14: The Supreme Court denies a stay of execution to Andre Cole.
Missouri Gov. Jay Nixon also denied clemency to Cole, meaning his execution can proceed.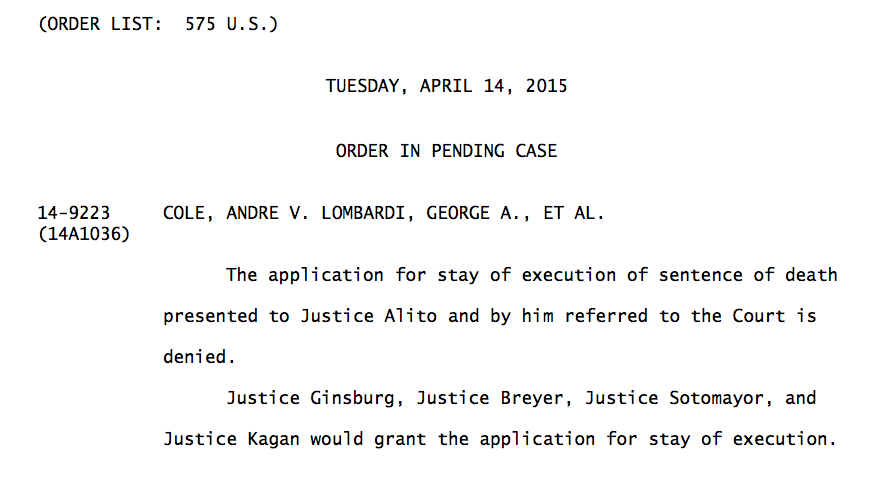 Andre Cole is set to be executed on Tuesday for the 1998 stabbing death of Anthony Curtis in Missouri.
Cole, 52, stabbed Curtis more than 20 times in a fit of anger over Cole's child support payments to his ex-wife, Terri, who was also stabbed by Cole but survived.
Cole's attorneys have filed three appeals with the U.S. Supreme Court to stop the execution, one of which claims that Cole suffers from psychosis and is incompetent for execution, the Associated Press reported.
The Missouri Supreme Court ruled last week that Cole was competent for execution. His lawyer, Joseph Luby, told the AP that Cole heard voices everywhere, including the TV and the prison intercom and believed that Gov. Jay Nixon and St. Louis prosecutor Bob McCulloch were giving him messages about the case.
His lawyers and advocates also have raised concerns about racial bias in the jury selection process in Cole's capital murder case.
A coalition of clergy, legislators, and advocates — including the NAACP and the American Civil Liberties Union — have called on Nixon to stop the execution and convene a Board of Inquiry to investigate evidence that all potential black jurors were removed from the jury by St. Louis prosecutors.
In an April 2 letter to Nixon, the coalition said that Cole was an African-American defendant who was sentenced to death by an all-white jury in a county that is 24% African-American. They claim that prosecutors used their preemptory strikes to remove all three potential black jurors. They noted that one potential black juror was removed because he was divorced but a white juror who was divorced and paying child support was not removed.
While referring to "the deeply troubling events of recent months" in Ferguson, the letter urged Nixon to investigate "the systemic exclusion of African-American jurors in death penalty cases from St. Louis County, particularly by all-white decision-makers."
Cole was convicted and sentenced to death for stabbing Anthony Curtis to death in a fit of rage over child support payments in 1998.
Cole was ordered to pay child support for his two children after divorcing from his wife of 11 years, Terri, in 1995, according to court documents. The estranged couple often had disputes over his failure to make those payments and over his visitations with the children.
He was upset after his wages were garnished to cover nearly $3,000 in unpaid child support and forced his way into Terri's house on August 21, 1998, by throwing a tire iron through the glass door.
Curtis, who was visiting Terri at that time, confronted Cole and asked him to leave, court records show. Cole then stabbed and slashed Curtis more than 20 times, fatally wounding him with an eight-inch deep knife wound to his back.
Cole also stabbed his ex-wife repeatedly in the stomach, breasts, back, arms and hands as she attempted to defend herself. Terri survived and later testified at Cole's trial. After the attack, Cole fled the state for a month, but returned to St. Louis and surrendered to the police.