Missouri Executes Inmate Convicted Of Raping And Killing Teen
David Zink, a Missouri man convicted of raping 19-year-old Amanda Morton, tying her to a tree and then killing her, was executed by lethal injection Tuesday despite the last ditch efforts of his attorneys.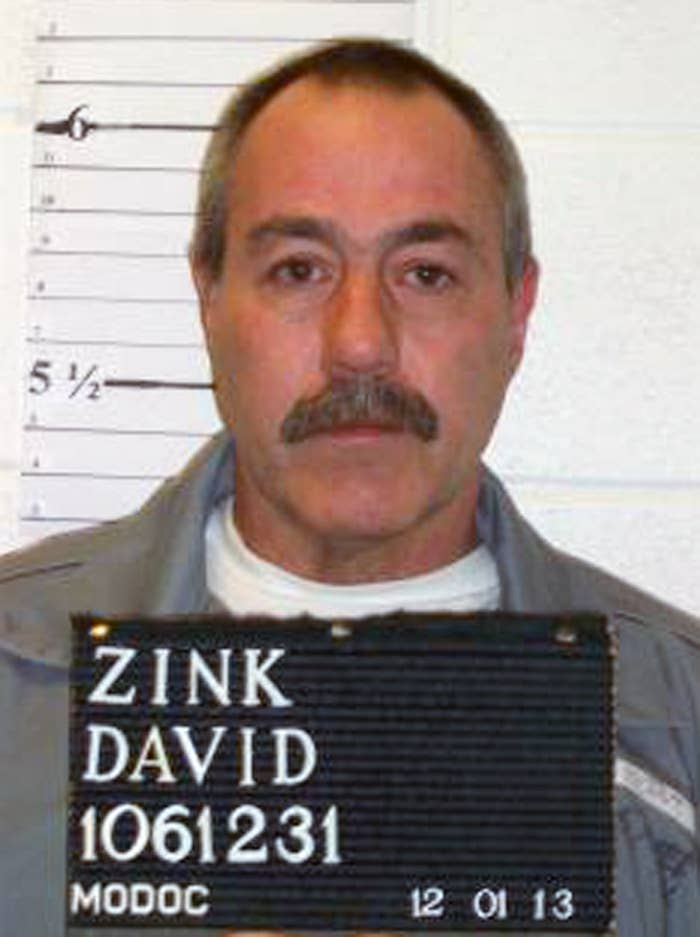 Missouri on Tuesday executed a man convicted in the brutal rape and murder of 19-year-old Amanda Morton after an exhaustive legal effort to keep him alive failed.
The Missouri Department of Corrections released a statement shortly after David Zink was pronounced dead:
David Zink was executed by lethal injection at 7:33 p.m. on Tuesday, July 14, 2015 at the Eastern Reception, Diagnostic and Correctional Center in Bonne Terre, Missouri for the 2001 murder of Amanda Morton in St. Clair County.

He was pronounced dead at 7:41 p.m.
Zink admitted to killing Morton in two videotaped confessions, which were submitted to the jury during his trial.
In 2001, Zink who had been recently released from prison after serving 20 years on rape, abduction and escape charges, rear-ended Morton's car on an exit ramp after she had just left her boyfriend's home in Springfield. Worried of going back to prison if she called the police, Zink then abducted and killed her as he was, according to court documents.
According to prosecutors, Zink drove Morton to a cemetery, where he tied her to a tree, broke her neck, strangled her, and stuffed her mouth with mud and leaves. He then dragged her body with a rope tied to her neck to bury her. Worried that she would revive, he stabbed the back of her neck in an effort to cut her spinal cord. He then covered her body with dirt and leaves, according to court documents.
After being arrested at his parent's home, Zink confessed to the murder and showed police the spot where he buried Morton.
"If I think that you're going to pose a threat to my freedom, it is set in my mind I want to eliminate you," Zink says in his videotaped confession.
Morton's autopsy showed eight of her ribs broken, her right lung partially deflated, and more than 50 blunt force injuries on nearly all parts of her body. DNA tests showed that Zink had also sexually assaulted her.
A jury sentenced Zink to death in 2004.
In a statement after Zink's execution, Missouri Attorney General Chris Koster said the "horror and fear" that Morton must have felt after being kidnapped on that July night "is truly unimaginable."
"David Zink callously took a young woman's life, and it is fitting he pay by losing his own," Koster said.
At 7:55 p.m., the Supreme Court had denied all pending requests to stay Zink's execution:

Unlike in some executions in the past year, no justices dissented from the stay denials Tuesday night.
The Supreme Court decision came minutes after Gov. Jay Nixon denied clemency:
In addition to Zink's attorneys asking the U.S. Supreme Court to halt his execution, they had filed two petitions asking the justices to reconsider whether the death penalty itself is constitutional.
"Because of the evolving standards of decency and the increased appreciation for the right to human dignity, the death penalty now violates the Eighth Amendment," Zink's lawyers wrote on Tuesday. "It is time to end 'tinkering with the machinery of death' and declare it unconstitutional once and for all."
The Missouri Supreme Court on Monday had already refused to stop Zink's execution, leaving it up to the Supreme Court to take up the case, or Nixon to grant clemency.
The move from Zink's comes less than a month after Supreme Court Justice Stephen Breyer — joined by Justice Ruth Bader Ginsburg — wrote a dissent in a case upholding Oklahoma's use of the drug midazolam in executions by arguing that "rather than try to patch up the death penalty's legal wounds one at a time, I would ask for full briefing on a more basic question: whether the death penalty violates the Constitution."
Zink's lawyers did just that, noting in their filing: "Two weeks ago, Justice Breyer, joined by Justice Ginsberg [sic], utilizing these and other criteria, deconstructed present-day capital jurisprudence and determined ... that the death penalty likely violated the 8th Amendment and thus is inconsistent with today's 'standards of decency.'"
Missouri's lawyers opposed the request, writing, "Zink's entire claim is premised off a two-justice dissent in Glossip," the Supreme Court case decided in June.
The very direct issue the justices were asked to address:
The state, in reframing the question, made its view clear in its response:

Zink's lawyers submitted several other requests to the Supreme Court seeking to have the execution stopped as well. The related to questions about whether Zink had previously received "ineffective assistance of counsel," or bad lawyering, and whether Missouri officials are violating the law in its execution process.
Amnesty International also started a petition to stop Zink's execution, expressing concern about his legal representation at the trial and the fact that the jury did not hear evidence of the link between his childhood illness and brain damage.