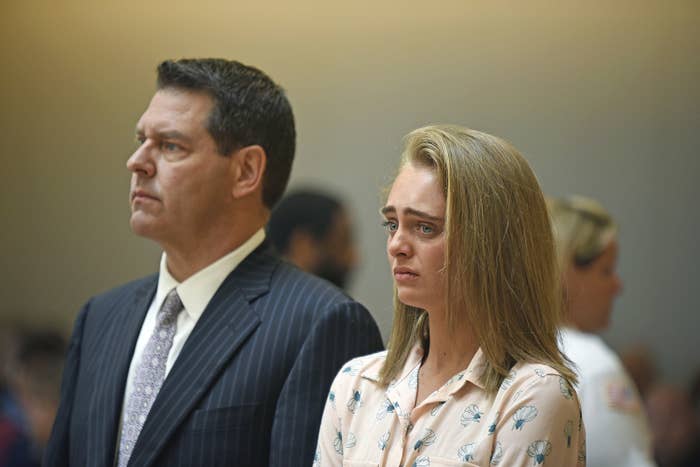 The words of 17-year-old Michelle Carter encouraging her boyfriend to kill himself were "protected speech," lawyers for the now 21-year-old woman have argued in an effort to overthrow her involuntary manslaughter conviction.
A Massachusetts judge found Carter guilty of involuntary manslaughter last June for sending 18-year-old Conrad Roy text messages urging him to kill himself. She was sentenced to two and a half years in prison, of which she will serve 15 months after her state appeals are exhausted.
Roy — who had a history of mental illness and had previously attempted suicide — killed himself July 12, 2014, by inhaling carbon monoxide produced by a water pump in his truck.
Judge Lawrence Moniz largely rested his guilty verdict on a text message that Carter sent her friend more than two months after Roy's death, her lawyers argued, where Carter said that she told Roy to "get back" into the truck after he got out because he was "scared" of going through with his plan to kill himself.
Now, Carter's lawyers are appealing to the state's highest court to throw out her conviction. They argue that while her words encouraging Roy to kill himself were "distasteful" to the court, they were "protected speech."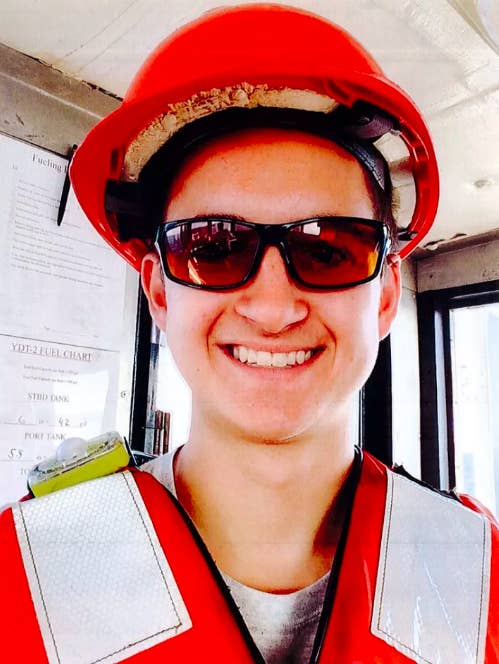 In a brief filed to the Massachusetts Supreme Judicial Court last week, Carter's lawyers argued that interpreting involuntary manslaughter as "encouraging suicide with words alone" infringed Carter's right to free speech. The court agreed to review her appeal in a hearing that will likely be scheduled for later this year.
"Because the judge convicted Carter for what she said, or failed to say, not what she did, this case implicates free speech under the 1st Amendment," Carter's appeal said.
During the trial, prosecutors argued that through text messages and phone calls, Carter pressured Roy to kill himself, instructed him as to when and how to do it, assuaged his concerns over killing himself, and chastised him when he delayed doing so. They said that Carter used Roy as a "pawn in her sick game of life and death" and wanted to be "the grieving girlfriend" to gain her peers' attention and sympathy, which she always craved.
Some of the text messages that Carter sent Roy during their three-year long-distance relationship included:
"All you have to do is turn on the generator and you will be free and happy."
"People who commit suicide don't think this much. They just do it."

"You'd better not be bullshitting me and just pretending."

"Tonight is the night, it's now or never."
However, citing a Minnesota court's analysis in a similar case, her lawyers said that Carter "engaged in protected speech by verbally encouraging Roy to go through with his suicide plan."
Carter's appeal also questioned the credibility of the critical text message on which Moniz rested his guilty verdict.
In the text message Carter sent to her friend Sam Boardman after Roy's death, she said, "Sam his death is my fault like honestly I could have stopped him I was on the phone with him and he got out of the car because it was working and he got scared and I fucking told him to get back in Sam because I knew he would do it all over again the next day and I couldnt have him live the way he was living any more."
In his verdict, Moniz said that Carter's actions constituted "wanton and reckless conduct" when she instructed Roy to get back in his truck despite knowing that it was a toxic environment "inconsistent with human life." He said that her conduct caused Roy's death.

"She instructs Roy to get back in the truck knowing of all the feelings he has exchanged with her; his ambiguities, his fears, his concerns," Moniz said. "This court finds that by instructing Mr. Roy to get back in the truck constitutes wanton and reckless conduct by Ms. Carter, creating a situation where there is a high degree of likelihood that substantial harm would result to Mr. Roy."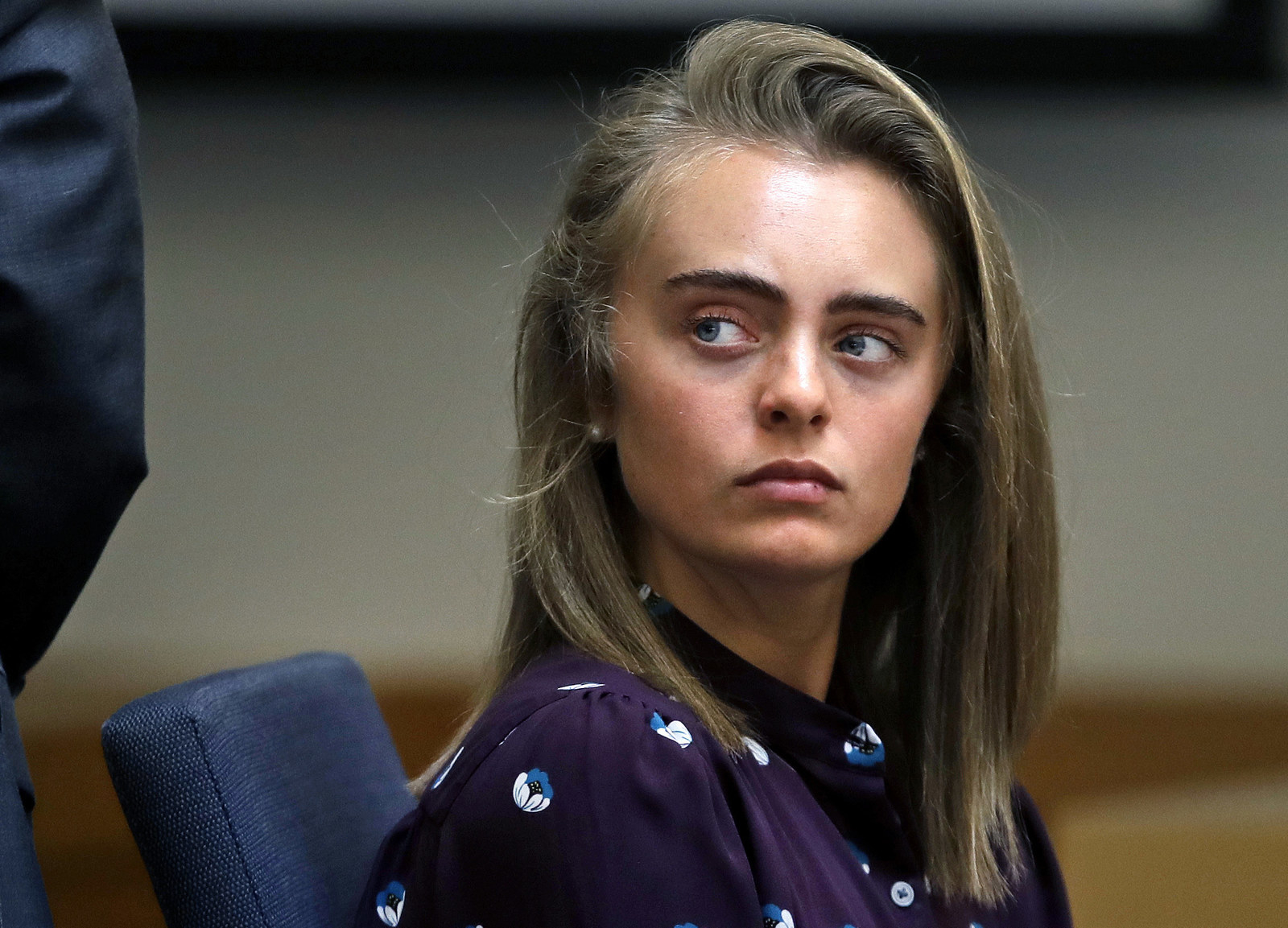 In their appeal, Carter's lawyers said there was "no reliable record" of what Carter or Roy said to each other in their last two phone calls before Roy's death. The appeal said that the text message that Carter sent Boardman about telling Roy to get back in his truck was not a "contemporaneous account but an uncorroborated 'confession'" that was not supported by physical evidence. Her lawyers also argued that it was the only text message among hundreds that Carter sent her friends about Roy's death where she claimed that she told him to "get back" in his truck.
Her lawyers noted that Carter was the first person to ever be convicted under such "unusual circumstances" and that Massachusetts would be the only state to uphold an involuntary manslaughter conviction where "an absent defendant, with words alone, encouraged another person to commit suicide."
The lawyers also said that no other state in the country had criminalized such speech to interpret its involuntary manslaughter law or assisted suicide statute.
"No defendant has ever been convicted for encouraging suicide where the defendant neither physically participated nor provided the means," the appeal said.
The National Suicide Prevention Lifeline is 1-800-273-8255. Other international suicide helplines can be found at befrienders.org.