Martin Shkreli Fires His Entire Defense Team, Hires Attorney Like Tom Cruise From "A Few Good Men"
The notorious "pharma bro" replaced his legal team, pushing back his court date by two weeks.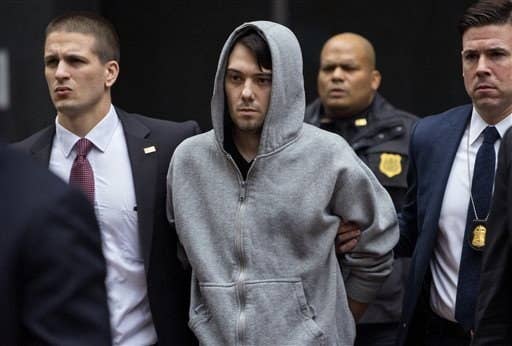 Martin Shkreli, the pharmaceutical executive and former hedge fund manager charged with securities fraud, fired his entire defense team on Monday, pushing back a Wednesday court date by two weeks.
Shkreli's legal team requested a two-week continuance so he can transition to his new attorneys, but the team did not disclose why Shkreli is replacing them.
"Mr. Shkreli has indicated that he wishes to replace our firm as counsel and is in the process of retaining new counsel," Marcus Asner of the law firm Arnold & Porter wrote in a letter to Judge Kiyo A. Matsumoto. The judge granted the motion and adjourned the court conference until Feb. 3.

Asner and his team were by Shkreli's side when he was arrested on Dec. 17 for allegedly using assets of new companies to pay off debts from bad trades he made while running two hedge funds. He pleaded not guilty and was released on a $5 million bond. He faces 20 years in prison if convicted.
Shkreli made headlines last year when he raised the price of a life-saving drug from $13.50 to $700 a pill and defended the move as a "good business decision." In December, he paid about $2 million for the only known copy of the Wu-Tang Clan's new album, Once Upon a Time in Shaolin. The former pharmaceutical executive allegedly has at least $45 million in his E-Trade account.
In a YouTube live stream on Tuesday, Shkreli, 32, told viewers that "unforeseen circumstances" had prompted him to change his attorneys.
He also warned the media not to follow him during his next court appearance. "I would suggest paparazzi stay out of my way, that's all I'm going to say," he said.
Shkreli did not reveal details about his new defense team but said that one of his lawyers was a "military attorney," the New York Daily News reported. "He was like Tom Cruise in A Few Good Men," he said.