"Love Always Wins": Hundreds Of New Yorkers Gather To Support Russia's LGBT Community
"Russia, Russia we love you, won't you love your people too?"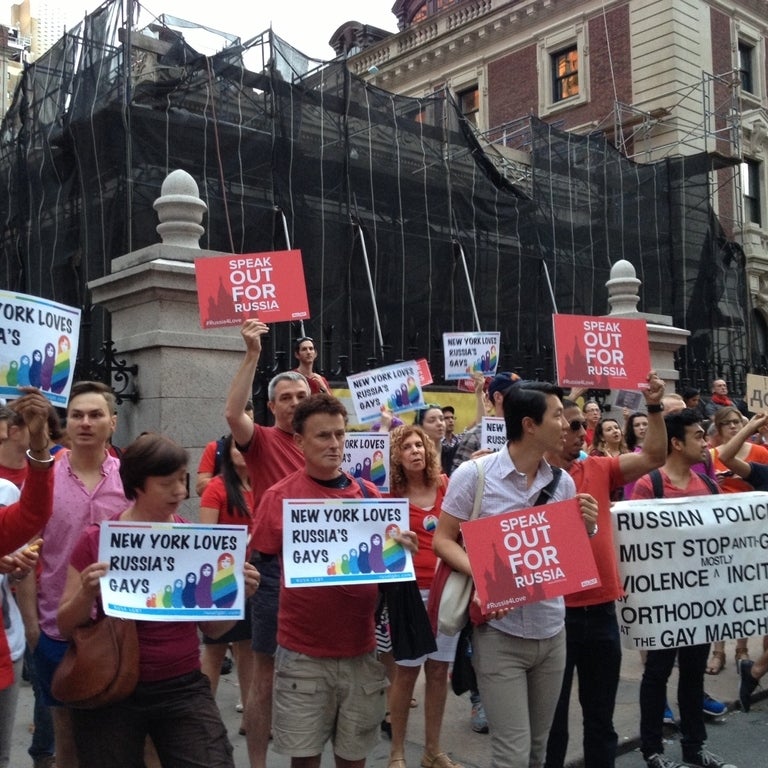 Around 150 New Yorkers formed a sea of red in front of the Russian Consulate at Madison Avenue on Tuesday. They bore signs that read "Shame on Putin" and "New York loves Russia's gay." They collectively chanted, "Russia, Russia we love you, won't you love your people too?"
New York was one of nearly 33 cities in more than 20 countries across the world voicing their concern, love, and support for Russia's LGBT community under President Vladimir Putin administration's anti-gay laws. The Global Speak Out for Russia was an attempt to get world leaders attending September's Group of 20 Summit in St. Petersburg to put pressure on Putin to repeal the country's discriminatory laws.
Andre Banks, co-founder and executive director of All Out, the nonprofit organization behind the event, told BuzzFeed, "We want them to know that love, equality and human rights need to be protected." His message for Putin: " Love always wins."
BuzzFeed spoke to six New Yorkers who wanted to show Russia's gays that they are not alone.