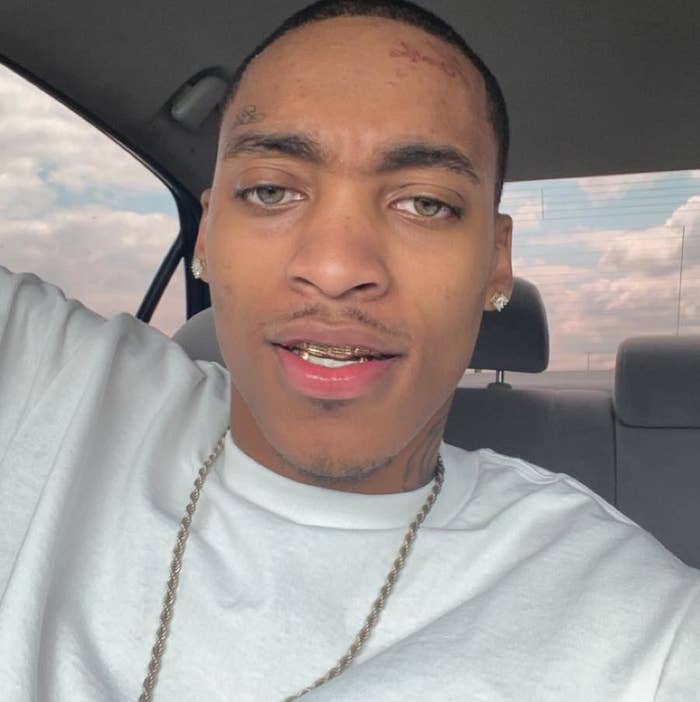 An Indianapolis man involved in a high-speed car chase and foot chase was shot and killed by a police officer in an encounter that was reportedly livestreamed by the victim and watched by thousands of people.

The Indianapolis Metropolitan Police Department said deputy chief Kendale Adams, who was driving home in an unmarked police vehicle, observed a gray Toyota Corolla "driving recklessly" at close to 90 miles per hour on I-65 at around 6 p.m. Wednesday.

"The vehicle had almost struck other vehicles while it exited the interstate," a police press release said.
Adams and the department's police chief, Randal Taylor, both began pursuing the car in separate unmarked vehicles. The driver continued "at a high rate of speed and disobeying all traffic signals," police said.
As per standard procedure, Taylor and Adams stopped the pursuit after marked police vehicles began chasing the vehicle.
At 6:10 p.m. the pursuit was terminated by a supervisor, and officers backed away from the vehicle, police said.
About six minutes later, another officer observed the Corolla pull into the back of a building and saw the driver jump out of the vehicle while "disregarding the officer's verbal commands to stop," police said.
The officer began a short foot chase, during which he deployed his Taser against the man, police said.
According to the police's account of the shooting, there was a "confrontation" between the driver and the officer, during which gunshots were exchanged.
"Initial information indicates the officer deployed his taser. At which point there was an exchange of gunfire between the driver and the officer," police said in a press release.

Chris Bailey, assistant chief of police, later told reporters that the man began firing at the officer, who returned fire and killed him around 6:16 pm.
The man was pronounced dead at the scene. The officer was uninjured, police said.
A gun was found near the man that did not belong to the police, according to Bailey.
Police said the driver and officer were the only ones at the scene of the shooting.
Authorities did not identify the victim or the officer but said they were both black men.
The officer has been placed on administrative leave per standard procedure, Bailey said.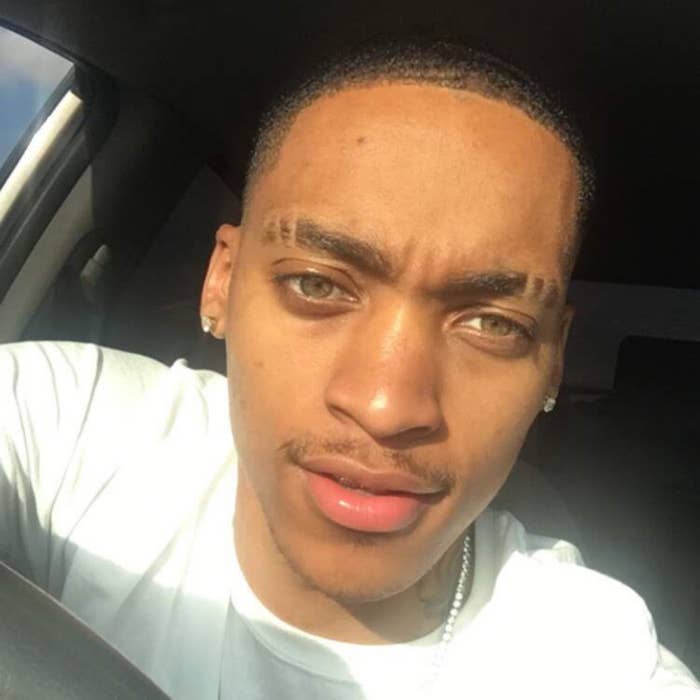 Friends and family identified the man killed by police as 21-year-old Sean Reed.
His sister, Jazmine Reed, told WTHR that Reed was a Lawrence North High School graduate.
Along with thousands of others, she said she saw her brother's fatal encounter with police on his Facebook Live video that was called "High speed chase lol."
"I guess [Sean] decided for whatever reason he wanted to do high speed," Jazmine told WTHR. "He didn't think. He was dumb. He didn't always think before doing certain things, which is wrong."

But she said that instead of shooting him, police officers "could have tased him, beat him up."
"He could be behind bars, but now he'll be in a casket the next time I see him," Jazmine said.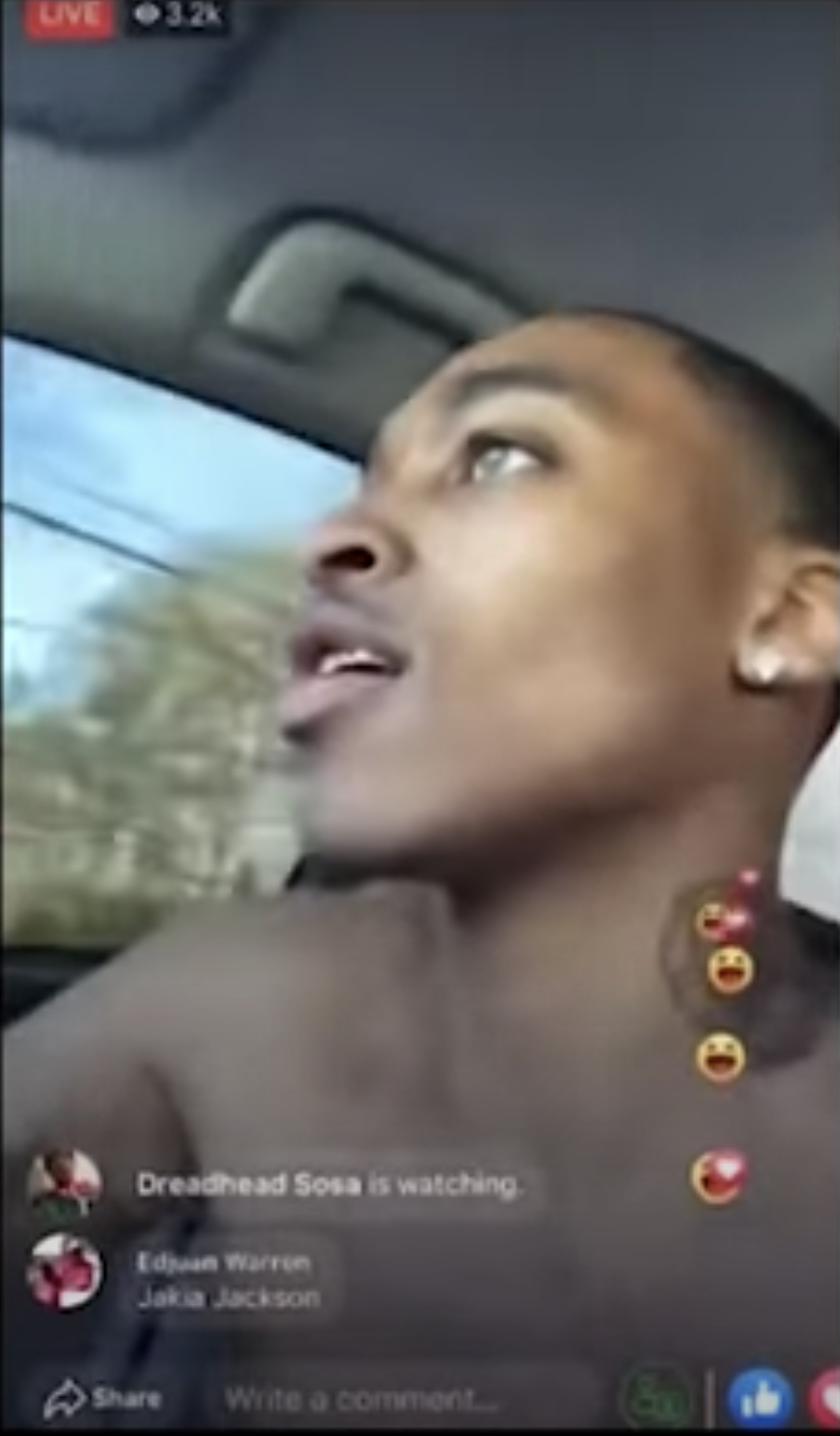 The Facebook Live video, which has been deleted from Reed's Facebook accounts, was widely shared on social media after his death.
The video showed him driving his car shirtless during the police chase.
"Almost lost him, y'all!" he says in the video in an apparent reference to the police car chasing him. "Almost got rid of his ass!"
He later shouted, "I'm not going to jail today!"
Reed then said he was going to park his car and pleaded for someone to come get him.
"I'm going to park this motherfucker and get the fuck out," he said. "Somebody come get my stupid ass. Please come get me. Please come get me," he repeatedly said, identifying his location as "62nd and Michigan."
The video showed him parking his car, saying, "I just parked this motherfucker. I'm gone."

He repeated, "Please come get me!"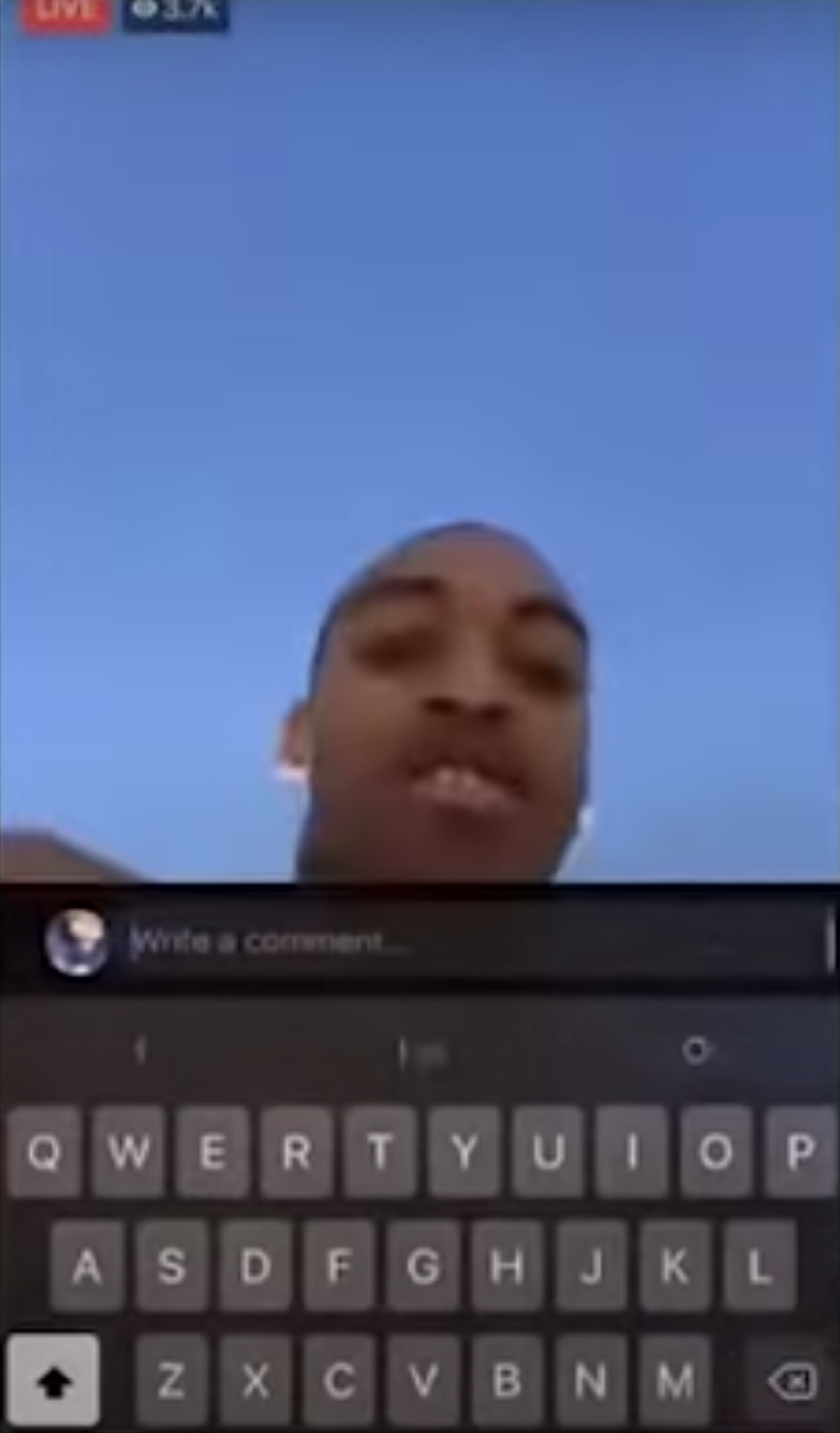 The video appeared to show him running for about 25 seconds, during which a voice can be heard saying, "Stop. Stop!" In response, another voice is heard saying, "Fuck you."
At that point, Reed appeared to fall to the ground, after which a voice can be heard saying "shit!" followed by the sounds of at least 12 gunshots, a brief pause, and then two more shots.
Reed's phone fell to the ground and continued recording the scene while facing the sky and a rap song began playing from the device.

Nearly 4,000 people were watching the livestream during the encounter.
Social media users shared a disturbing comment that was faintly heard on the video after the shooting.
A man's voice is heard saying, "Think it's going to be a closed casket, homie."
It is unclear who made the comment, but social media users accused a police officer of saying it.
Bailey told reporters that police were aware of the Facebook video.

"Both the officers and the detectives have done their due diligence in preserving that evidence through the proper legal channels, and if it's associated that there's information on there that's appropriate for the investigation, they'll utilize it," he said.
More than 100 people gathered at the scene to protest the officer-involved shooting with chants of "no justice, no peace."
Reed's sister Jazmine told WISH-TV that she drove to the scene after watching her brother's video.
"I feel like to lose a life, especially at a young age, it's never going to be justice," she said, "'cause he's gone. ... It's never justice for that."