Impeachment Process Begins Against Alabama Governor Over Sex Scandal
Gov. Robert Bentley has admitted making sexual statements to a top aide, but denied having a physical relationship with her.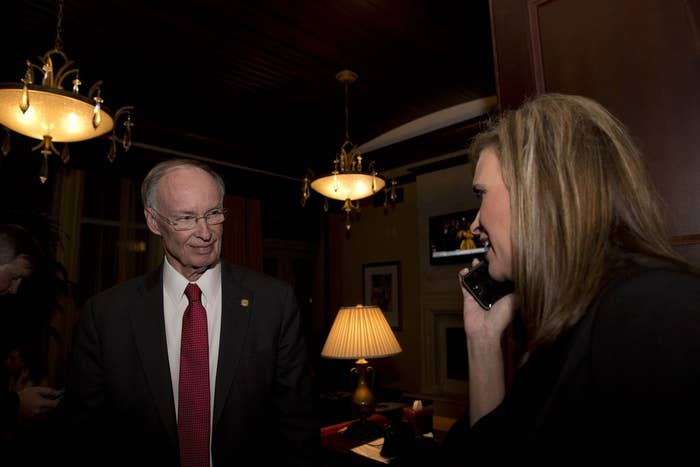 Alabama lawmakers announced Tuesday they had began an impeachment process against Gov. Robert Bentley amid a sex scandal.
"The articles of impeachment will be presented today on Gov. Bentley," State Rep. Ed Henry, who is leading the effort, told reporters at a news conference.
"We've never tried to impeach a governor before," he said, adding that "the process begins today."
On March 30, Henry announced that he would start the impeachment process against the governor, who admitted last month to making inappropriate and sexual comments to his top aide, Rebekah Mason, but denied having a physical relationship with her. On the same day, Mason resigned from her position as a senior political advisor to Bentley.
The two-term governor was accused by Spencer Collier, the state's former law enforcement secretary, of making sexually charged comments and having an improper relationship with Mason, while he was married to his wife Dianne. Bentley's wife filed for divorced last fall. Collier's accusations came after he was fired about the possible misuse of state funds.
The governor, who apologized for saying "some inappropriate things," has insisted that he did not do anything illegal and has refused to resign. In a statement released Tuesday that condemned the impeachment process.
"There are no grounds for impeachment, and I will vigorously defend myself and my administration from this political attack," he said. "Today's press conference is nothing more than political grandstanding intended to grab headlines and take the focus away from the important issues the Legislature still has to address before the end of the session."
In audio recordings from 2014 released to AL.com, Bentley can be heard talking to a woman about how he liked touching her breasts. Collier also said that Bentley had told him "he was still madly in love with Rebekah Mason."
"We're looking at this governor who has betrayed the trust of the people of Alabama through actions and lies that have caused us to have some doubt about his leadership," Henry said at Tuesday's news conference. "The only course the people of Alabama have to address this issue is through the impeachment process and the process is going to start today."
"We know what was going on in that relationship," Henry said. "It's hard to believe that hasn't clouded his judgement and that he hasn't used his office to cover up those allegations. This calls into question everything the governor does."
Henry said that after introducing the articles of impeachment lawmakers would begin to "dig and investigate ourselves what has been done."