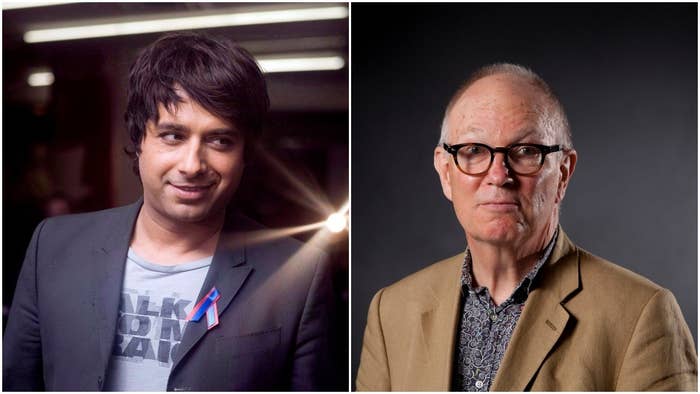 Ian Buruma, the editor of the New York Review of Books who sparked outrage after publishing an essay by Jian Ghomeshi, no longer works at the magazine, an NYRB spokesperson told BuzzFeed News on Wednesday.
Buruma had defended his decision to publish Ghomeshi's essay in a widely criticized interview with Slate just five days before his ouster at the literary magazine. It is unclear if he resigned or was fired. He was named the editor of the magazine last May, following the death of NYRB's editor and cofounder Robert B. Silvers.
Ghomeshi, a former Canadian radio host who has been accused of sexual assault by more than 20 women, penned a 3,400-word essay for NYRB titled "Reflections from a Hashtag."
In the essay, Ghomeshi wrote about his name becoming a "metonym for everything from male privilege to the need for due process" and about being shamed and humiliated in the wake of the sexual assault allegations against him.
Ghomeshi was fired in 2014 by the Canadian Broadcasting Corporation after several women said he assaulted, choked, and punched them — without their consent — during sex.
Ghomeshi was acquitted of all charges related to some of the accusations in 2016 after a judge said the women who testified against him had changed their stories. He also avoided a separate criminal charge after signing a peace bond and apologizing to the victim.
Following the essay, many people criticized NYRB for giving Ghomeshi a platform to speak about his experience as a victim of "mass shaming."
In a Sept. 14 interview with Slate's Isaac Chotiner, Buruma justified the decision to publish the essay, saying that he was interested in Ghomeshi's experience of turning into a "public villain."
"This seemed like a story that was worth hearing — not necessarily as a defense of what he may have done," Buruma told Chotiner. "But it is an angle on an issue that is clearly very important and that I felt had not been exposed very much."
When asked about his feelings on the numerous sexual assault allegations against Ghomeshi, Buruma said, "All I know is that in a court of law he was acquitted, and there is no proof he committed a crime. The exact nature of his behavior — how much consent was involved — I have no idea, nor is it really my concern. My concern is what happens to somebody who has not been found guilty in any criminal sense but who perhaps deserves social opprobrium, but how long should that last, what form it should take, etc."
Many accused Buruma of being tone-deaf and a male apologist in defending the essay.