During a news conference with Jordan's King Abdullah II on Wednesday, President Trump touched on the many world crises that he said he had "inherited."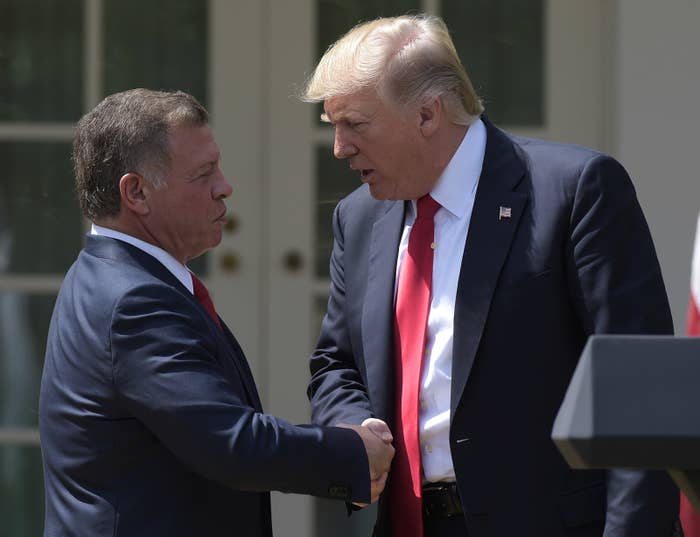 In his own words, here are the president's most current thoughts on dealing with these world crises.
On whether the Syrian chemical attack crosses a red line for him.
It crossed a lot of lines for me. When you kill innocent children, innocent babies, babies, little babies, with a chemical gas that is so lethal, people were shocked to hear what gas it was, that crosses many, many lines, beyond a red line, many, many lines. Thank you very much.
On how he would distinguish his policy and actions in Syria from those of the Obama administration, which he has criticized.
I like to think of myself as a very flexible person. I don't have to have one specific way and if the world changes, I go the same way. I don't change. Well, I do change.

And I am flexible. And I'm proud of that flexibility. And I will tell you, that attack on children yesterday had a big impact on me. Big impact. That was a horrible, horrible thing. And I've been watching it and seeing it, and it doesn't get any worse than that. And I have that flexibility, and it's very, very possible, and I will tell you, it's already happened, that my attitude toward Syria and Assad has changed very much.
On his past reluctance to intervene in Syria and whether it has changed since the chemical attack.
One of the things I think you've noticed about me is militarily, I don't like to say where I'm going and what I'm doing.

I'm not saying I'm doing anything one way or the other. But I'm certainly not going to be telling you.
On his likelihood of success in resolving the Israel-Palestine conflict.
I have to just say, the world is a mess. I inherited a mess. Whether it's the Middle East, whether it's North Korea, whether it's so many other things, whether it's in our country, horrible trade deals. I inherited a mess. We're going to fix it. We're going to fix it. Okay.
On whether he has a message for the Iranian militias in Syria who are supporting the Syrian regime.
You will see. They will have a message. You will see what the message will be.