These Are Some Of The Heroes Of The Orlando Shooting
"As soon as there was a break in the shots, I kind of just pushed her and said 'Come on, let's go.'"
At least 49 people were killed, and 53 injured, when Omar Mateen opened fire inside Orlando's crowded Pulse nightclub early Sunday, making it the deadliest mass shooting in U.S. history.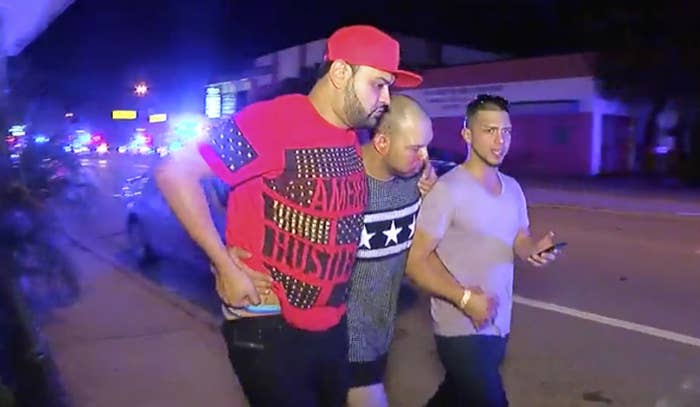 When the shots first rang out, Imran Yousuf, a bouncer at Pulse, recognized the sound of the gunfire, he told CBS News. Yousuf had left the Marine Corps just last month, and his training instinctively kicked in.
In a Facebook post Wednesday, Yousuf said it is now "time to recover and build each other to be even stronger than ever."
Joshua McGill, Christopher Hansen, and Ray Rivera also helped save others during the shooting.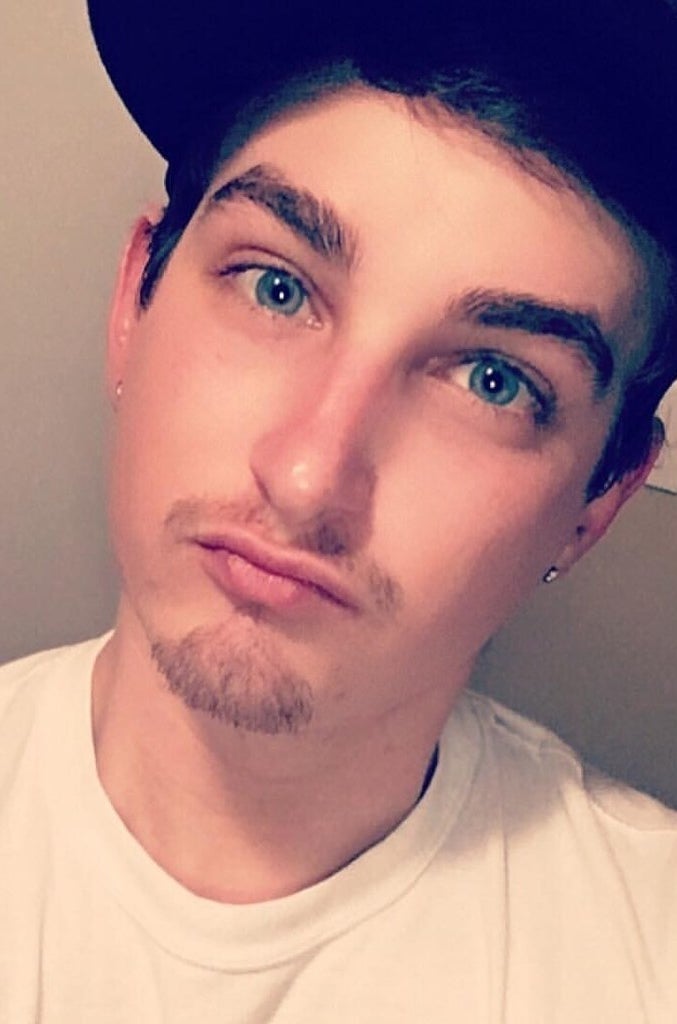 BuzzFeed News did not immediately hear back from the men on Monday, but on social media, they described their harrowing ordeals.
In a Facebook post Sunday, Joshua McGill said that when he found a victim who was shot, he tied both their shirts over the victim's wounds to stop the bleeding and got him to the nearest officer.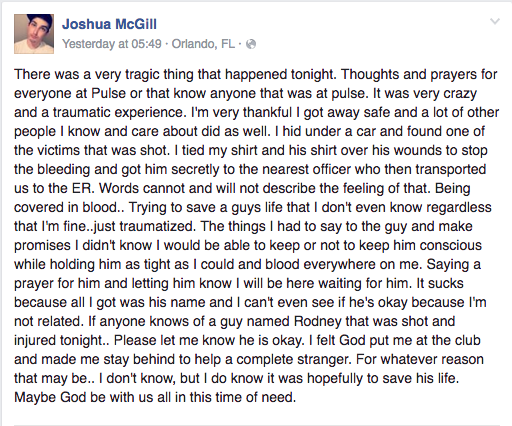 "Trying to save a guys life that I don't even know regardless that I'm fine...just traumatized," McGill wrote. "The things I had to say to the guy and make promises I didn't know I would be able to keep or not to keep him conscious while holding him as tight as I could and blood everywhere on me."
McGill said that he only got the first name of the victim — Rodney.
"I felt God put me at the club and made me stay behind to help a complete stranger. For whatever reason that may be....I don't know, but I do know it was hopefully to save his life," McGill wrote.
The stranger whose life McGill ended up saving is 27-year-old Rodney Sumter, who was bartending at Pulse.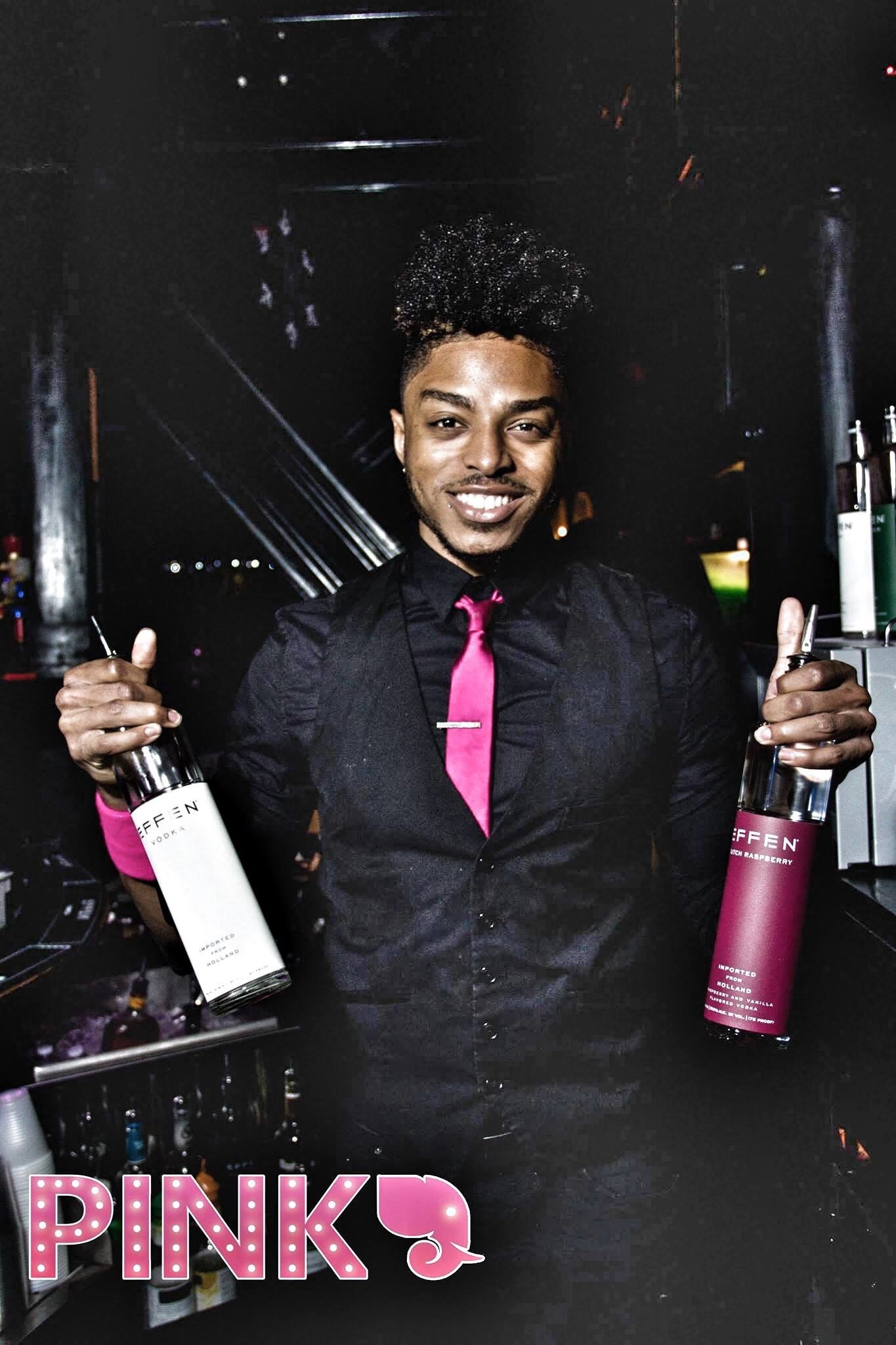 Sumter, a father of two who was shot during the attack, was scheduled to undergo surgery Monday, his family members told Action News Jax.
Sumter's mother said that her son was hit by bullets in both arms and in the back as he was running away from the nightclub.
Marquel Sumter, told Action News Jax that his brother is "alive and overwhelmed."
McGill, who visited Rodney Sumter at a local hospital, told Good Morning America the bartender was stable as of Sunday night and scheduled to undergo a surgery early Monday.
As he led Sumter through the parking lot, McGill said he applied pressure on his bullet wounds and walked him to the nearest officer, who told McGill to stay with Sumter in the patrol car and squeeze his back to constrict the flow of blood.
"I can hear the police officers in the front seat saying, 'Keep him conscious, talk to him,'" McGill told GMA. "That's when I learned his name."
He said a prayer with Sumter, telling him, "Stick with me. You're going to be fine. I promise you, everything is going to be OK."
Christopher Hansen, who crawled on the floor to escape when the attack began, helped two people who were bleeding and injured outside Pulse even as the shooting continued inside, he told multiple media outlets.
Hansen was enjoying his first time at Pulse when he heard the shots.
He told reporters that he hit the ground and crawled outside the club. Across the street, "there was blood, blood everywhere," he said.
Hansen first helped a bleeding man who was lying on the ground.
"I wasn't sure if he was dead or alive," Hansen said of the man, who did not speak English. "I took my bandana off, put it in a knot, and shoved it in a bullet hole in his back."
He then helped put the man on a stretcher before he was taken away by medical crews.
Hansen then helped a woman who was shot in the arm, telling her: "I'm not leaving you until they actually move you."
"I am so proud of my son. Both as a man, and as a gay man," Hansen's father, Bill, wrote on Facebook.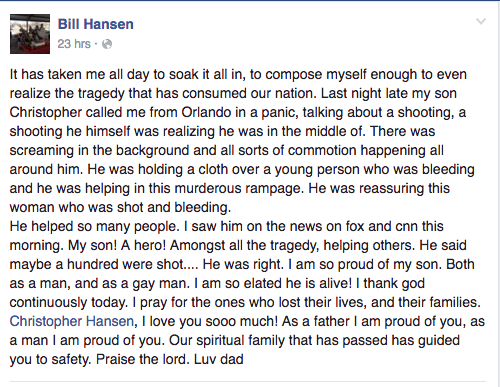 "He helped so many people," Bill Hansen wrote. "My son! A hero! Amongst all the tragedy, helping others."
Hansen's mother also expressed her love and pride.
"We just talked to our son Christopher Hansen," she wrote on Facebook. "It was real nice to hear his voice. We are so thankful he is safe. Proud of him for helping other victims. We are sorry for the victims that were hurt and the lives that were lost. We love you Christopher Hansen."
Ray Rivera, who was performing as a DJ at Pulse when the attack began, helped usher a panicked woman to safety as shots rang out and chaos ensued.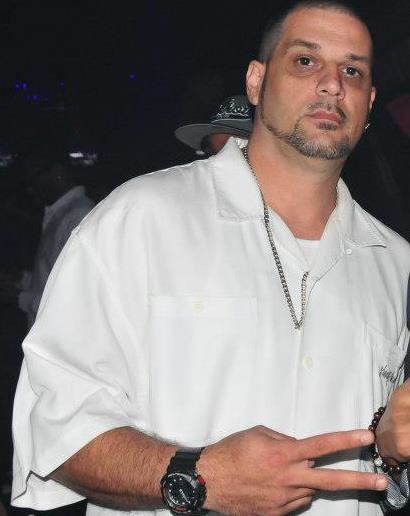 Rivera, also known as DJ Infinite, was spinning tracks when he heard the shots go off, he told The Daily Beast.
"I ducked behind my DJ booth," Rivera said. "People were running from the main room, out to the patio, which leads into the parking lot… It emptied out quickly. Basically everybody was just panicking… I looked inside and saw people were laying on the floor in the main club."
Rivera told CNN that a man and a woman hid beneath his DJ booth when the attack began.
"The guy took off and the girl was down there panicking," Rivera said. "I told her she needed to be quiet. As soon as there was a break in the shots, I kind of just pushed her and said 'Come on, let's go,'" Rivera said.
The two then managed to get out of the nightclub where officers escorted them to safety.
"I'm no hero," Rivera said in a Facebook post. "Just wanted to get out safe to my family."