French officials identified Mohamed Lahouaiej Bouhlel, 31, as the driver of the truck that slammed into a crowd of revelers gathered for a Bastille Day fireworks display in Nice, France, killing at least 84 people, including as many as 10 children.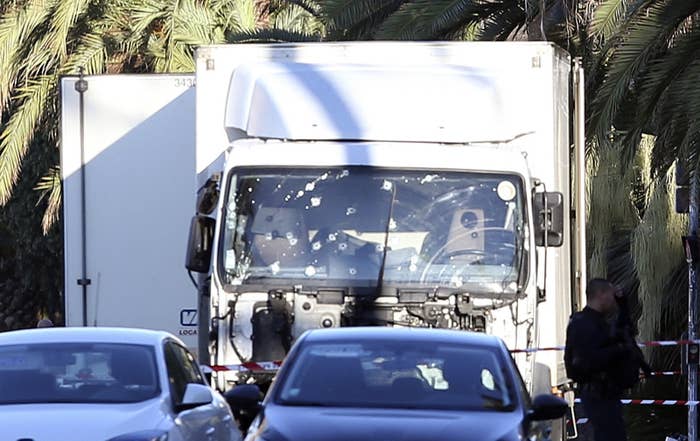 Paris prosecutor François Molins said Bouhlel's driver's license and bank card were found in the truck.
Bouhlel, a Tunisian national who was living in Nice, worked as a delivery driver and had children. His estranged wife was arrested and is being held in custody, Molins said. The AP reported that Bouhlel was in the process of a divorce, and it's unclear if the divorce was finalized.

Bouhlel was known to police for a history of violence and theft dating back to 2010. He received a six-month suspended sentence on March 24 for violent acts with weapons committed in January, Molins said. He was not known to national or international intelligence services and had not raised any red flags for radicalization, the prosecutor said.
Molins said that Bouhlel fired a gun multiple times at three police officers during the attack. Police returned fire, killing him. He was found dead in the passenger's seat of the truck.

Authorities found a bike, an automatic pistol, bullets, cartridges, a fake pistol, two replica assault rifles, and a mobile phone in the truck.

Molins said that on July 14 surveillance video showed Bouhlel on a bike arriving at the eastern part of the city where the truck had been parked since the previous day. The same bike was found in the truck after the attack.
French intelligence is in close contact with Tunisian officials and "other allied services" and the investigation is ongoing, an intelligence official told BuzzFeed News.
Bouhlel used to frequently visit Tunisia and last went there eight months ago, a Tunisian security force told BBC Arabic. His parents are divorced and live in France.
Though French prosecutors have said Bouhlel had no known ties to terror groups, French Prime Minister Manuel Valls told an evening news program, France 2, on Friday night that he was "probably linked to radical Islam one way or another."
"Yes, it is a terrorist act, and we shall see what the links there are with terrorist groups," he said.
An AFP reporter tweeted photos of a 12th-floor apartment that authorities were reportedly searching and appeared to belong to the suspect.
Neighbors told the AP that the man hasn't lived there in three years and that his estranged wife lived there. According to BFMTV, Bouhlel's neighbors said he was not particularly interested in religion, was unhappy about the divorce, and had financial issues. He was described as "depressed and unstable, even aggressive" of late.
According to a BBC reporter, Bouhlel's father told reporters that his son had a history of mental illness.
This is a developing story. Please check back for updates and follow BuzzFeed News on Twitter.