Oklahoma Man Charged With Murder For Beheading Co-Worker
Police said Alton Nolen attacked two co-workers last week after he was suspended from his job at a food distribution facility. His Facebook page was filled with Islamic extremist references.
Update — Sept. 28, 6:37 p.m. ET: Family of the Oklahoma man accused of beheading a co-worker said they had never known him to be violent. They asked for prayers and said they were also praying for the victims.
Alton Nolen, the man accused of beheading a co-worker in a Vaughn Foods processing plant, regained consciousness on Friday, CNN reports.
A spokesperson for the Moore police department in Oklahoma said that detectives interviewed Noel in the hospital on Friday. Information gathered in the interviews has not yet been released.
Police say that Nolen will be charged with first-degree murder and assault and battery with a deadly weapon on Monday, potentially facing federal charges.
Alton Nolen, 30, allegedly attacked two women Friday after he was fired from Vaughan Foods in Moore, Oklahoma, police said. Nolen beheaded 54-year-old Colleen Hufford, and repeatedly stabbed 43-year-old Traci Johnson, police said.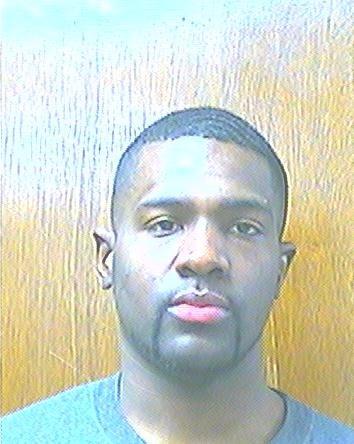 Nolen was fired just before he went on the stabbing rampage. He then drove his vehicle from the human resources building to the front office where he attacked the women with a knife that was regularly used by employees at the food plant, according to local police. He stabbed Hufford with the knife and severed her head.
He then stabbed Johnson multiple times, before he was shot by the company's chief operating officer, Mark Vaughan, who is also a reserve sheriff's deputy, according to reports.
Both Johnson and Nolen were taken to the hospital and are in a stable condition.
The FBI is investigating the incident after co-workers told police Nolen had been trying to convert them to Islam.
Nolen was a production line employee at the plant. He "became angry" after being fired and picked his victims at random because they were in his way, police said.
Moore Police Sgt. Jeremy Lewis said that Vaughan saved Johnson's life. He said, "This guy was definitely not going to stop. He didn't stop until he was shot."
In a statement, Vaughan Foods said they are "shocked and deeply saddened" by the incident.
A Facebook page appearing to belong to Nolan includes predictions that "sharia law is coming." The posts on the page range from alarming to bizarre.
The owner of the page now goes by the name Jah'Keem Yisrael and began posting about Islam in April 2013. On March 7, he posted a picture of an apparent beheading. The picture includes a quote from the Qu'ran about instilling terror, and claims that beheading is a "precedent bestowed by their Prophet."
Then in May, he posted a picture of the Statue of Liberty that apparently criticizes American culture for things like same-sex marriage. The post ends by saying that "SHARIA LAW IS COMING."
Another post promises that "She (The statue Of Liberty) is going into flames. She and anybody who's with her." More bizarre posts include an explanation that UFOs are actually angels, and the claim that the pyramid on the dollar indicates that "America is nuthn but an prison camp to all the Israelites."
The banner on the top of the page, which was uploaded in March, features three men carrying assault rifles and rocket launchers. And on March 30, three photos of Osama bin Laden were uploaded to the page.
Several of the posts on the Facebook page also deal with sex and gender.
One post includes a picture of a condom and cites an Old Testament scripture about stoning adulterers to death.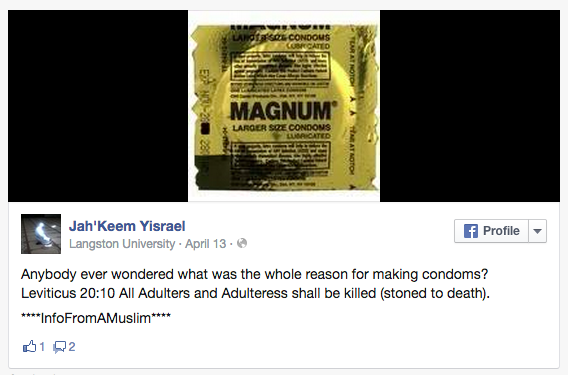 In July, the owner of the page posted several more times about sex, saying among other things, "It is forbidden for an individual Muslim who has comitted [sic] adultery or fornication to marry a believer who has not." Another post says that "AMERIKA AKA BABYLON HAS" turned black women "INTO HOES," among other things.
As of Friday night, the most recent post on the page was from Sept. 23.