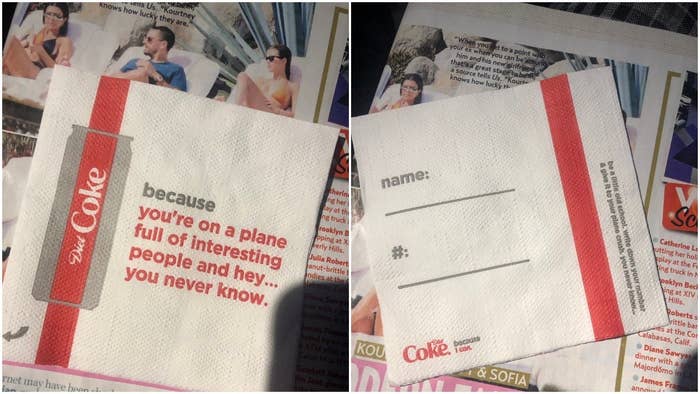 Delta and Coca-Cola are apologizing after a marketing campaign that encouraged passengers to flirt with each other during flights prompted strong reactions from people on the internet.
Passengers on some Delta flights received a napkin that asked them to write down their phone numbers and pass it along to their "plane crush" because "you're on a plane full of interesting people and hey...you never know."
The napkins have since sparked a furious debate between people who are offended by the napkins and people who are offended by those who were offended by the napkins.
In a statement, Delta said, "We rotate Coke products regularly as part of our brand partnership, but missed the mark with this one. We are sorry for that and began removing the napkins from our aircraft in January."
Coca-Cola also apologized to "anyone we may have offended" and said they were replacing the napkins with other designs.
Some people said they found the napkins "unintentionally creepy" and that no one "appreciated unsolicited phone numbers" from passengers who were "gawking" at them on a plane.
One person said the napkins "practically encourage affairs" on flights.
Another passenger who got the napkin on a flight also found it weird, saying, "Dude, I don't even want to *look* at other pax" on a flight.
Some said that encouraging "unwanted advances" from passengers constituted harassment.
The airline industry had a decadeslong problem of sexism and sexual harassment on flights, which companies recently began addressing publicly following the #MeToo movement.
A 2017 survey of more than 3,500 flight attendants from 29 US airlines found that 68% of flight attendants had experienced sexual harassment during their careers.
Of these, 35% experienced verbal sexual harassment from passengers including "nasty, unwanted, lewd, crude, inappropriate, uncomfortable, sexual, suggestive, and dirty" comments as well as being subjected to passengers' "explicit sexual fantasies, propositions, request for sexual 'favors' and pornographic videos and pictures."

However, many others found the napkins inoffensive and fun and were annoyed that Delta and Coca-Cola were made to apologize for them.
One person said she loved the idea because she once dated a guy she met on a plane after they exchanged smiles and numbers on an airplane napkin.
Mike Huckabee, the former Arkansas governor and father of White House press secretary Sarah Huckabee Sanders, joked that "many flight attendants and nice looking women" kept giving him napkins on his Delta flight.

Some praised the two brands for "encouraging people to talk to each other and make new friends," while one person thought that the napkins could even lead to new job offers and business opportunities.
One Delta passenger said he laughed when he got the napkin and said it didn't make him feel encouraged to "do anything with other passengers."

"I am an old school romantic," said one person who praised Delta and Coca-Cola for "helping love take flight."
One woman even started a hashtag to #BringTheNapkinsBack.
And this person was just pissed off that they could not shoot their shot any more.