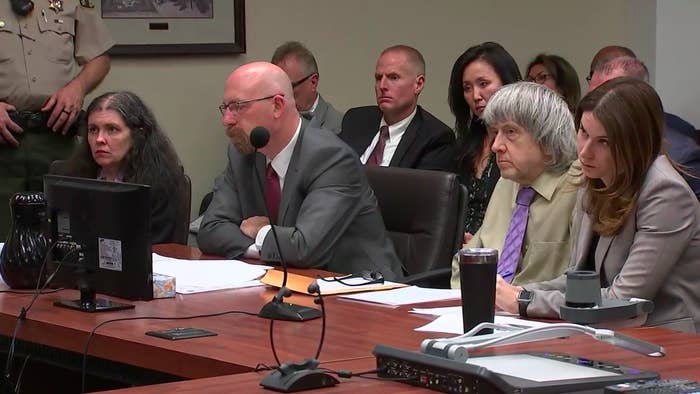 A California couple who shackled, tortured, and starved 12 of their children in squalid conditions for years were sentenced to 25 years to life in prison on Friday.
David Allen Turpin, 57, and Louise Anne Turpin, 50 — who have 13 children in total — pleaded guilty in February to 14 felony counts that included torture and child endangerment, roughly a year after their then-17-year-old daughter escaped their filthy Riverside home and contacted authorities.
Before issuing his sentence, Judge Bernard Schwartz addressed the Turpins in court, calling the treatment of their children "selfish, cruel, and inhumane."
"Their lives have been permanently altered in their ability to learn, grow, and thrive," Schwartz said. "To the extent that they do thrive ... it will be not because of you both, but despite you both."
During the emotional hearing, some of the children spoke on their own behalf for the first time.
"My parents took my whole life from me," one of the adult daughters — who was not identified — told the court while fighting back tears. "But now I'm taking my life back."
The daughter said she was now living independently, going to college, and "hanging out with friends."
"I saw my dad change my mom, and they almost changed me," she said. "I immediately did what I could not to become like that. I'm a fighter. I'm strong."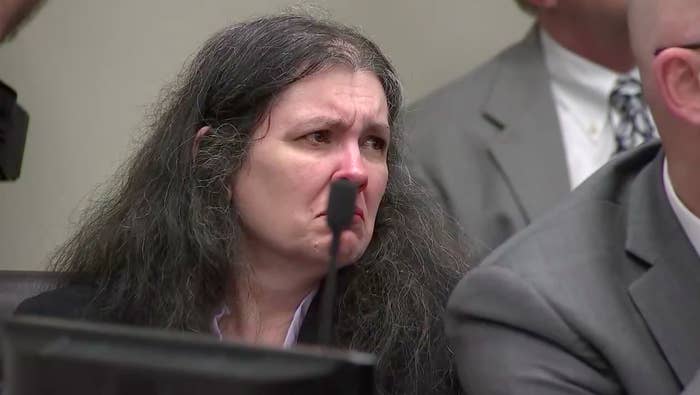 One of the adult sons read a statement on behalf of another sibling, who wanted the court to know that "although it may have not been the best way of raising us," she still loved and forgave her parents.

For his part, the son said he could not describe in words "what we went through growing up."
"I still have nightmares of what happened, including my siblings being chained up," he said. "But that is the past, and this is now. I love my parents, and have forgiven them for a lot of the things they did to us."
The son said that after being rescued, he had learned how to ride a bike, advocate for himself, eat healthily, and prepare a balanced meal.

He said that he was getting his bachelor's degree in software engineering and was planning to get a job as a software engineer.
An advocate for another sibling read out the girl's statement in court in which she said "25 years is too long" for her parents.
"I believe my parents tried their best to raise all 13 of us and wanted to give us a good life," her statement said. "Everything they did was to protect us."
In his statement, David Turpin said his "homeschooling and discipline" for his children "had good intentions" and that he never intended to harm them.
Louise Turpin told the court through tears that she looks forward to the day when she can hug her children "and tell them I'm sorry."

"I want to say I'm sorry for everything I've done to hurt my children," she said. "I love my children so much and I'm blessed to be the mother of each one of them."
The judge told the Turpins that "any punishment given to you today will pale in comparison to the fact that you will not have an opportunity to spend your years with your children as a normal parent would."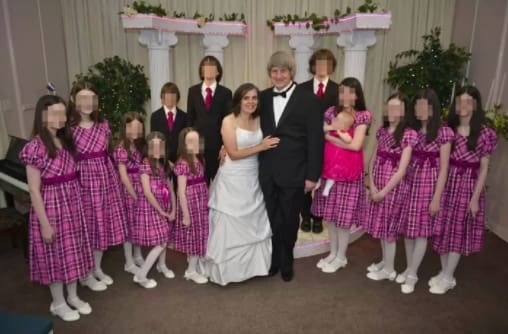 Prosecutors said the children — who ranged in age from 2 to 29 when they were found — were almost always either shackled to their beds or kept in separate rooms, and were allowed to shower only once a year.
They were punished with beatings and strangulations and were so severely malnourished that police officers initially thought all of them were minors. One child, aged 12, was the weight of an average 7-year-old, while a 29-year-old sibling weighed 82 pounds.
Several of the siblings also had cognitive impairment and nerve damage from being chained and beaten, authorities said.

Jack Osborn, an attorney for the adult Turpin children, told reporters that the children had gained weight and strength and that they were living in apartments, going hiking, and taking an interest in sports.
He said that they all loved their parents but that some of them didn't want to speak to their parents for a long time.
"Our clients are most of all survivors, not victims," Osborn said.